As an expectant mother, you start thinking about how you're going to raise your precious child. You see other mothers with their children and try to imagine yourself in similar situations. Some of the kids' actions, and the parents' reactions, make an indelible mark on us and get slotted in the imaginary 'dos and don'ts' section of our brains. My husband and I would also observe other parents dealing with their children and make mental notes. Most of the problems, we observed, came from the child's insecurities, based on lack of attention, sleep, hunger and extra screen time.
Out of all the situations we saw, my husband and I knew one thing – we didn't want our child addicted to screens. We spent a lot of time reading parenting books and observing parents dealing with this problem. And everything came down to time management and being what you want your child to be.
Now that we have a 3-year-old who is not addicted to screens, or dependent on them to get through the day, I would like to share some tips and tricks on how to limit screen time. These have worked for us over the years and helped us keep our child away from this addiction.
1. Limit screen exposure from Day 0
Children are now born into a world of gadgets. It's inevitable that they will be surrounded by them. We can, however, limit their exposure. Till the age of 6-8 months, use screens only for video calling and photography. We follow a strict time slot for video calling relatives, and it has helped us plan our days better.
2. Switch off that TV
One of the first things we did was leave the TV. Yes, I did watch my series, especially while feeding, as it would take close to an hour every time. But I did that on my phone with headphones on. Don't worry, you don't need to throw the television out. Just watch it while the child is taking a nap. We made an early bed routine of 7.30 pm for our son, which helps us in getting some sane "grown up" time too.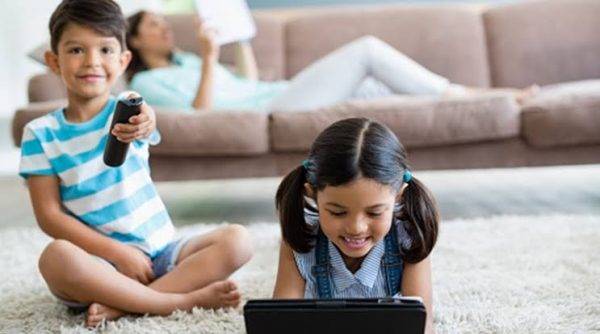 Image Source
3. Let them play
Let children play on their own, give them their space. If you're in the kitchen, and the child is taking everything out from drawers or trying to explore around, let them, as long as they're safe. Don't get upset, you can always arrange everything later. This will only benefit their cognitive skills. This independent exploration helps in creating self-directed play, which benefits their imagination, confidence, creativity, self discipline and problem solving skills.
This also gives you a break, so grab that cup of hot coffee and enjoy the show, or just read a book. Interfering in a child's plan will make them conscious and may interrupt their world of fantasy and magic. So relax, and let them be.
4. Plan your day
Planning your day will help in keeping your child occupied in constructive activities, rather than being glued to a screen. This may be tricky for working mothers, but caretakers can look after this aspect. When you assign a time slot for each activity, including time for doing absolutely nothing, you will realise you don't a screen as a distraction. We have a time table, with scope for alterations, and sticking to it helps me stay sane through the day. After my son gets back from school, he showers, eats, plays a bit, takes a nap, goes to the park, has a bath again, settles down for story time, and then he's off to bed. No time to watch anything!
5. Create an attractive play space
Giving the child a designated play area works quite well. Make it attractive by using bright colours and cartoons, anything that catches yours or your child's fancy. My son spends hours in the room, spinning stories around the dinosaur wall mural and the solar system painted on another wall. He even loves to invite other people to his room to show them these artworks.
6. Monkey See, Monkey Do
How can you deny the child your phone if they see you using it all the time? That's just unfair. The best approach is to not use the phone to watch any videos when they are around. Limit the phone usage to essentials, like calling or messaging. That way, the child knows you are not using it for entertainment. I had to tell my child that my phone doesn't have working internet and can't be used to watch anything, and that was the end of his demands. He does get tempted when he sees his peers watching videos on phones, and I do feel bad for depriving him of this sometimes. But I make up for it by giving him something else that gives him joy and is actually good for him.
7. Your child doesn't need the phone at meal times. They need you
Force feeding and distraction feeding with the help of screens also leads to screen dependency. Some children are fussy eaters and we need all the help we can get, but taking a shortcut will not help you. It will only add to your troubles. The ill effects of distraction feeding on the child's body and nutrition are well established. One trick that has worked for us is that, on the days he doesn't eat properly, we race and I win. I then tell him that he didn't finish his meal so he doesn't have any energy. On the days he eats well, I let him win. This way, he understands the concept of being able to perform tasks better if he has eaten well.
8. S.P.O.I.L them
We read about the S.P.O.I.L. system in an article by a parenting research foundation, and it stuck with us. The S.P.O.I.L. system guides you through the five most important activities you should engage in with your child each day. These are:
Social – Bonding with caregivers, siblings and peers
Play – Free play without any rules or interference
Outdoor – Parks, swimming, going for walks, etc
Independent – Eating, playing, wearing clothes, packing school bags, arranging toys without any help
Literacy – Reading, familiarity with books, picture cards, storytelling
9. Don't make screens your travel companion
In flights, airports, and trains, all you hear these days is the background score of a video for kids. Please stop this habit. I understand if it's a super long delay, and you have to wait at the airport for hours, but there is so much to do there, so much to see, so many escalators to go up and down! While on the road, we play a game of spotting things instead. Spot the type of vehicles, animals, number of waterfalls, cars of a specific colour, etc. If you're trying to figure out how to limit screen time while travelling, such games are quite effective.
10. Fuel yourself
To be able to do all of the above, you need to be prepared for it. Be mentally and physically fit to give them your best, and the result will be a happy child who gives you their best. So eat well, rest well, and read well.
However, screens aren't all bad. Limited screen time is fine for kids as long as the content is closely monitored. Here are a few ways in which you can make screens work for you without making your child dependent on them.
1. Make fixed timings and stick to them
Your child will automatically get used to this time table and will not complain when time is up, as long as you assure them that they can watch their videos at the same time the next day as well.
2. Put the phone in offline mode
Download pre-screened videos on your phone and hand it over in offline mode to your child. This prevents them from scrolling and watching random videos.
3. Make the phone part of a special occasion
We give our son the phone once a week, when we watch a movie not meant for kids in the movie hall. We download a movie of his choice and let him sit in the theatre with headphones meant for kids. Win-win situation!
4. Give them movies instead of random videos
Following the sequence of a story and the development of a character helps in boosting their creativity. Movies like Ferdinand, Toy Story, Finding Nemo and more have had a great influence on my son. He asks a lot of questions and has developed new interests after watching these movies.
5. Watch before you let them watch
Or at least watch with them. Supervision and content control is supreme. That way, you can answer their questions later.
6. Use videos as learning tools
After all, schools have a dedicated audio-visual programme too. Show them videos which help build a skill. Peppa Pig and Ben & Holly are excellent to develop language and sentence framing. There are many more. Just Google it.
7. Involve them when guests come over
Don't shut them in a room and hand them the screen. They are your family; let them be a part of the gathering. Yes, you may create a "movie date" for all the kids present and that could be fun. But not when the child is alone. It creates a sense of dependency on the screen to deal with the insecurity of being alone.
8. Make sure they know the phone is yours and not theirs
They should never have a sense of ownership towards the phone or any other device. This is one of the first rules to implement if you're trying to figure out how to limit screen time.
9. Give them an option when they ask for the phone
Sometimes, when my son asks for the phone, it's because he is completely out of ideas. So I come up with my own ideas, like "let's go to xyz's house and play with them" or "let's eat ice cream instead" or "let's water the plants".
10. You can recover from a day of screens
During an emergency at home, I had to make sure my son didn't leave my side while I was busy handling a tough situation. I didn't know any better and made him watch videos for almost 3-4 hours at a stretch. He was 15 months old, and the continuous idle time with the screen made him lethargic, cranky and irritable. If you find yourself in this situation, take a deep breath and give the child some one-on-one time when you can. They will forget those videos and the phone in no time. I say this with experience.
All the little ones need is your time, attention and love. They won't always listen to you, but they will always watch you and learn.
Click here for constructive ideas on how to spend time with your child when you're stuck inside the house.