Having a baby is no joke. It changes your life completely, and a baby comes with more than just a few adjustments. For a young mother, having a baby also comes with an impact on her career. While the mandatory six month maternity leave rule is a blessing for Indian women working outside the home, it is also a significant career break for them. Going back to work after maternity leave is more complicated than it sounds. Not only do you have to manage a delicate situation at home, you also have to catch up with months of changes at work.
We spoke to four moms about how they coped with the emotions, stress, and panic of it all. These young, ambitious, and career-driven women who are also mothers tapped into their personal lives to give us a realistic picture of what it's like for women to go back to work after a long break and a baby.
Image Source
What motivated them to go back to work?
When asked if she ever thought of quitting her job, Chiki Sarkar, the co-founder of publishing house Juggernaut and mother to a two-year-old boy, told us, "Work is an essential part of me, as essential as being a mom. It's not either/or. Of course, life was going to get tricky, but tell me, who doesn't have a hard time at some point in their lives?"
However, the hard times can trickle down to the workplace more than one would like. Often, careers get temporarily sidelined, especially during and after a long break.
Ruchika Sharma, a communications professional, tells us, "You have access to all the opportunities but, when you are a new mother, you can't leverage all of them. For example, there was a conference a few months ago in London but I couldn't go because my baby was only three months old. But my company has assured me that next year, around the same time, a similar opportunity will be offered to me."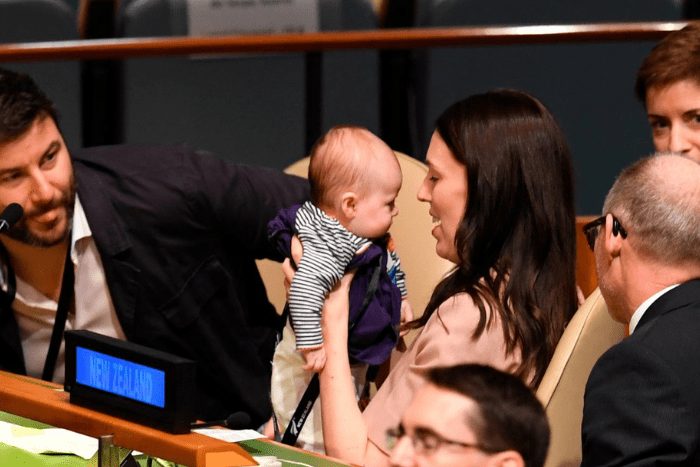 Image Source
It's easy to let go of a career that seems to have stalled, however temporarily. The temptation to not go back to work and stay at home with the child is strong for a lot of women, but it may not be right for the mother or the child.
As Divya Vaidyanathan, a former journalist and now a public health professional, tells us, "I wanted to quit my job and sit at home because my child had gotten into a routine that I certainly did not want to disturb. But I realised that, just as there is no 'perfect' time to have a child, there isn't one to go back to work either…I feel that quitting soon after motherhood is a natural instinct, but it's also important to remember that once you are financially independent, there are many other factors that play a role in whatever decision you take. I also feel that children of working mothers are more confident and naturally less dependent. Your kids value you and your time more and vice versa."
Scientific research backs this up. According to a study led by Harvard Business School professor Kathleen McGinn, daughters of employed mothers were 1.21 times more likely to be employed and 1.29 times more likely to have senior, supervisory roles. There is also good news for sons raised by employed mothers.
"Sons of employed moms also tend to choose wives who are employed, and they have more egalitarian gender attitudes about women and men in the workplace as well," Professor McGinn says. The study also says that sons of employed mothers are more likely to take on domestic chores and care for family members.
Image Source
How did they do it?
There's a lot to manage for a young mother who's just going back to work after maternity leave. When the problems pile up and solutions are nowhere to be seen, it seems impossible to get it all done. But, as thousands of women prove every day, it is completely achievable. You just need a little help from your friends. And planning.
The women we spoke to agreed that help from the family is crucial in maintaining harmony between their commitments as a professional and a parent.
"We lived in a joint family and I had a full time nanny," Divya says, telling us about the time her first child was born. "She was always surrounded by her grandparents and that gave them an opportunity to develop their own vibe with her."
There may be many flaws with the Indian system of joint families, but it does have its advantages too. "I have a well-trained nanny and a baby monitor," Ruchika says. "But I also have support from my in-laws. While they don't need to do the little things for the baby, their supervision makes a lot of difference."
Going to work every day is physically and emotionally difficult for new moms in the beginning. It's even harder for them to be apart from their children for months at a stretch, in another country. And that's where family support really comes into play.
Deenaz Raisinghani, a freelance writer and new mother, tells us, "I was studying and working for a few months in New Zealand while my child was back in India with my spouse and his parents. I was always connected by technology (despite the time zones), and I used to make sure she sees me at least once a day. I also used to send her a lot of stories and rhymes in my voice so she could listen to them whenever she wanted. I have a supportive family, and both sets of parents took care of my daughter really well, besides a cook and nanny that we hired to be around all the time."
Image Source
Do workplaces support new moms enough?
Apart from help at home, support from the workplace also goes a long way in helping new mothers.
"In my previous organisation, women were entitled to six months of maternity leave, something that other media houses did not even consider for the longest time," Divya says. "When I went back after six months, I did a five-hour shift for three months and gradually eased into nine-hour shifts. The organisation also ran a creche which was very convenient for me as I could drop my daughter off and keep an eye on her whenever I wanted."
In India, it is compulsory for organisations to give paid maternity leave of 26 weeks and have a creche on or near the office premises for children of employees. Some companies, however, are going above and beyond the mandate and ensuring that women don't fall out of the workforce because of motherhood.
"The kind of support I received (from my company) when I was pregnant was phenomenal and the support continues even now," Ruchika says. "The first thing they did was to allow me to work from home for about two months. I've chosen to work from home for one month. They're doing a lot of refresher sessions, meetings are happening on Skype to take me through all policy and regulation changes over the last six months. They offer all working mothers the option to work from home three days a week for as long as we want. So we have to come to office only twice a week. And they've made a well-equipped creche and a feeding room so you can get your child to work when they're breastfeeding. I think more companies should emulate this."
Ruchika's experience, however, is not the norm. With a startup culture permeating almost every industry, women are often pressured to come back to work or throw themselves into the grind faster than they would like.
"An extension (on maternity leave) of at least three months should be considered case by case," Divya suggests. "Women should be allowed to ease into their roles by doing limited hours as soon as they join without being made to feel guilty."
Image Source
Planning is the name of the game
Apart from the external support, these moms have realised the importance of planning and how far it can take them in the pursuit of a peaceful existence.
"I have a superb nanny who I trust," Chiki says. "I have become quite organised about meal planning and shopping a week ahead. Our driver and car are mostly my little boy's now, and my husband and I use taxis a lot. WhatsApp groups become terribly important suddenly – whether it's a mommy support group, playschool group or even groups for office discussions."
Managing a publishing house is hard work but Chiki Sarkar, like several other professionals, isn't slowing down.
"I know between 5.30 to 7.30 pm, I have to do less work and be there for my little boy if I am home," she says. "He just won't let me work. I have accepted that, but I can also pick up work post dinner, after 9 pm, which I do. I have a smaller social life, by choice, so it's not work or home that's suffered but it is going out. Sundays are harder to work during the day. I have pretty much given up on it, but I catch up on most weekdays post dinner and Sunday nights, if I need it. If I do need to finish a manuscript on Sundays, my husband and I take turns minding him."
Make your child's routine work for you
Planning isn't limited to just managing domestic chores and work. It's also about getting your child into a routine that suits you.
"My paediatrician had told me to keep my baby completely breast-fed for the first six months," Ruchika says. "But I told her that by the time she's seven months old, I would have to join office. So I started her semi-solids in her fifth month so that by the time I go back to work, she gets used to it and other people at home can feed her as well."
As Chiki points out, it's equally important to make time for yourself.
"I sleep trained my child when he was six months old so he has more or less slept through the night since then," she says. "He also sleeps in his own room and we keep a baby monitor in our room. Most Indian parents tend not to do this (and there may not be a spare room) but it's very useful if you want to get a good night's sleep, see something of your husband, want to chill out over Netflix with a drink, or have friends over for a meal. I love my little boy but I must say that I live for those silent, calm hours when I can do my own thing."
Image Source
Going back to work after having a baby is scary but, as these women continue to prove, you can do it. Ask for help, rally your troops, and live a wholesome life as a woman, a professional, and a mother. Your children will be inspired by your strength and commitment, and one day, they will thank you for everything you've taught them by living your life to the fullest.