Travelling in India is a memorable experience. When you combine the beautiful valleys, rivers, deserts, snow-capped mountains, and beaches with events, it becomes even more exciting. It's not easy to keep track of the several festivals happening around India at any given point. So we've done it for you. Here are all the exciting events and festivals in 2019 across the country, ranging from music to books and boat races.
You will want to make the effort of travelling to witness these unique spectacles.
January
Jaipur Lit Fest: The most popular literature festival in the country, JLF invites authors and book lovers from all over the world. This year, the festival will be held from January 24 to 28. Some of the speakers this year are Colson Whitehead, the winner of the Pulitzer Prize for Fiction 2017, Manisha Koirala, Meghna Gulzar, Javed Akhtar, Namita Gokhale, Usha Uthup and many, many more. Jaipur comes alive during this time and is an absolute delight for winter vacationers.
Click here for more information.
Image Source
Rann Utsav: If you like spending your nights under a clear, starry sky, the Rann Utsav is for you. This festival started in November 2018 and will be on till February 20, 2019. However, January is the best time to go to enjoy the full moon nights and the planned cultural activities. While attending this festival, you can stay in luxury tents on the Rann of Kutch in Gujarat.
Click here for more information.
Image Source
February
Sula Fest: Held in Nasik, the famous Sula Fest will take place on February 2 and 3 this year. This is a unique opportunity to camp at the Sula Vineyards and taste some of the finest wine from there. If you don't want to camp, there are several hotels near the vineyard. Some of the best artists in the country also perform at this festival. Among this year's performers are Shankar Mahadevan, Nikhil Chinappa, Divine, and many more.
Click here for more information.
Image Source
India Art Fair: If you have even an inkling of interest in art, this is where you need to be. India Art Fair starts on January 31 this year and will end on February 3. This is where you will get to see the best South Asian artists of our time and their defining work, all in one place. Large-scale, innovative installations, talks, performances, screenings – you'll see it all at India Art Fair. The fair will be held at NSIC Exhibition Grounds in New Delhi.
Click here for more information.
Image Source
March
Goa Carnival: Carnival time is the best time to be in Goa. Not only do you get to see the main parade, you will see Goa in its element during this lively, colourful festival. This year, the carnival is being held from March 2 to 5. The end of the festival marks the beginning of Lent, a period of abstinence for Christians. So Goa parties hard during the carnival. If you want an authentic feel of Mardi Gras in India, you know where to go.
Image Source
Kochi Biennale: The largest art festival of its kind in South Asia, the Kochi-Muziris Biennale is on till March 29, 2019. If you love art of any kind, Kochi is the place to be in March. Walk around this ancient yet modern city and take in the unique festive spirit. Apart from beautiful murals and installations, you will also have the chance to see some exquisite music performances around this time.
You can buy tickets here.
Image Source
April
Tulip Festival in Srinagar: Kashmir is an absolute delight at any time of the year. In April, however, the tulip gardens here come alive. The tulip festival starts on April 1 in Srinagar and continues till May. Apart from these gorgeous blossoms, the Indira Gandhi Memorial Tulip Garden also has a stunning view of the Dal Lake. There are several varieties of tulips on display here – a nature lover's and photographer's delight. While you're here for the Tulip Festival, you can also visit the nearby gardens in Srinagar which are equally stunning. The gardens are normally open from 9am to 7pm, but it is advisable to check timings before you go.
Image Source
Aoling Festival in Nagaland: This is a harvest festival celebrated by the largest tribe of Nagaland, in the district of Mon. Celebrated in the first week of April, this is the most important festival for the Konyak tribe and second only to the Hornbill festival in size. This six-day festival marks the new year for the Konyak Nagas and the arrival of spring. Visit Mon during this time if you want to witness the fierceness of the headhunting tribe and true Naga tradition. There will be dances, feasting, traditional attire and joyous faces all around. You can take a flight to Dibrugarh from Delhi or Kolkata. From Dibrugarh, Mon is about 160 kilometres away.
Image Source
Kasauli Rhythm and Blues: This is a relaxed music festival held in the hills of Kasauli. The popular Baikunth resort plays host for the two days of this festival. This year, the festival will be held on April 19 and 20. A combination of established and upcoming musicians, this festival is paradise for music lovers. In the past, Usha Uthup and Rabbi Shergill have also performed here. This is one of the rare music festivals in India that is also kid-friendly.
Click here to book tickets.
Image Source
May
Kottiyoor Vaishaka Mahotsavam in Kannur: This unique festival will start from May 17 this year and will continue till mid-June. Held in the tropical paradise of Kerala, this festival is a great way to get a peek into the state's rich heritage. Unlike other religious rituals, this tradition is not confined to a temple. Instead, it is held in the middle of a dense jungle near the roaring Bavali river in Kannur district. Witness the grandeur of the festivals with elephants being a major part of the rituals. As a spectator, this festival will leave you with countless memories.
Image Source
July
Karsha Gustor festival in Ladakh: Scheduled for July 30 and 31, this festival is heaven for mountain lovers. As if Ladakh wasn't stunning enough already, the Karsha Gustor festival makes it even better. Held in Karsha, the largest monastery in the Zanskar region, this is a two-day celebration of the victory of good over evil. It also celebrates the birth of Tsongkha-Pa, the founder of the Gelupka order of monks, identified by their traditional yellow hats. This monastery is near Padum, which is about 10 hours away from Leh airport and a day away from Palampur airport. Reaching Karsha involves a long journey, but it's really worth it.
Click here for more information.
Image Source
August
Snake boat race in Kerala: The famous Nehru Trophy boat race is scheduled for August 10 this year. You need to put this event in your calendar if you love the rush of adrenaline that comes with adventure. Imagine 100-120 feet long boats, with about 60-100 rowers each, racing each other in a high-powered contest. Every village in the region enters with their own boat in the race. The Nehru Trophy race is held on the Punnamda Lake, near Alleppey. If you can't make it for this one, don't worry. There are other boat races too around the same region which are held between July and September.
Click here for more information.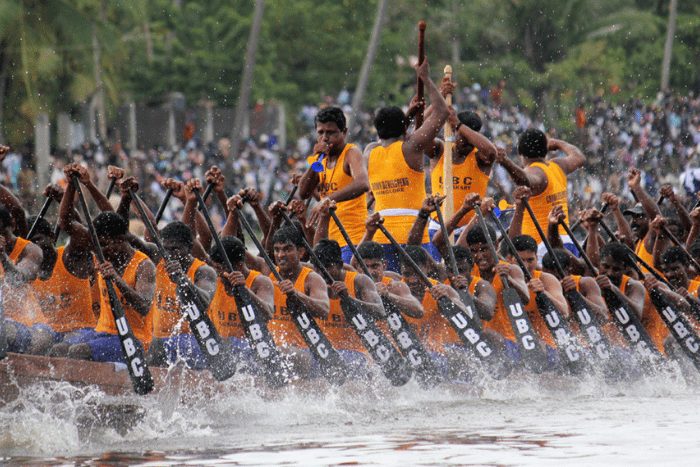 Image Source
September
Ziro festival in Arunachal: This is one of the most popular music festivals in India. Held in Ziro in Arunachal Pradesh, this festival is a heady mix of great performances and beautiful surroundings. The 2019 dates for Ziro are yet to be announced but you can keep tabs on their official website. The nearest airport is Guwahati airport, about 450 kilometres, and 12 hours, away. The nearest railway station is Naharlagun, about three hours away. You will need an Inner Line Permit to enter Arunachal Pradesh which needs to be arranged in advance.
Click here for more information on past line-ups and tickets for this year.
Image Source
October
MAMI film festival: One of the biggest film festivals in India, the MAMI film festival is held in Mumbai. This year, it is scheduled to take place from October 17 to 24. If you're a film buff, you can't miss this event in the maximum city. The festival is a showcase of independent cinema, cult movies and mainstream Bollywood and Hollywood fare. From Tarantino to Rajnikanth, cinema lovers of all kinds will find something here.
Click here for more information.
Image Source
November
Pushkar Camel Fair: Pushkar is a delightful place to witness Rajasthani culture and traditions. The annual camel fair is a lively, colourful event which attracts tourists from all over the world. Hundreds of camels and horses are part of the vibrant opening ceremony which you can watch from an elevated sitting area. You can even experience glamping here, to make your experience more memorable. This year, the Pushkar camel fair will be held from November 4 to 12.
Click here for more information.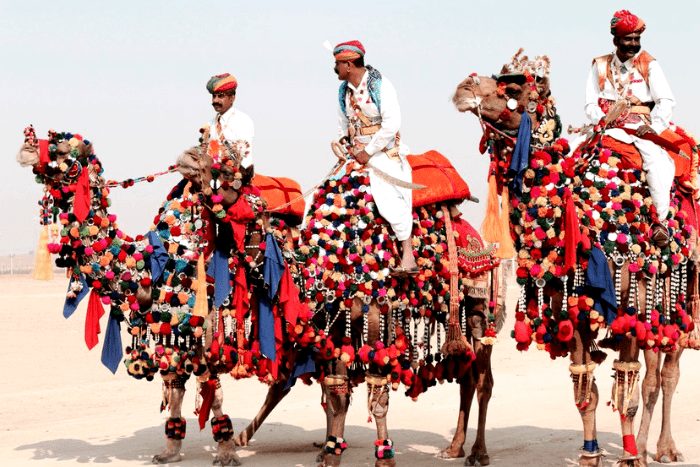 Image Source
December
Magnetic Fields: A music festival in a palace promises to be a magical experience. And Magnetic Fields does not disappoint. Held in Alsisar Mahal in Rajasthan, Magnetic Fields brings an eclectic mix of musicians under one banner. You can even stay in the palace if you book well in advance. The luxury tents on the palace grounds too are quite fabulous. Dates for 2019 have not been announced yet, but this festival is generally held in December.
Click here for more information.
Image Source
Enchanted Valley Carnival: If you live in Mumbai, you should not miss this carnival. Held in the gorgeous Aamby Valley, this carnival is the first in Asia to have a full-fledged campsite. You can book a tent there or carry your own and pitch it on a designated spot. The artist lineup in the past has included big names like Armin Van Buuren, Robin Schulz, Arijit Singh, Nucleya and many more. The dates for 2019 are yet to be announced, but you can keep tabs on their website. The Enchanted Valley Carnival is generally held in December.
Click here for more information.
Image Source
Hornbill: Named after the Great Indian Hornbill, this festival is considered the most important one for all the tribes in Nagaland. Every tribe's traditions and cultures are represented in this unique, beautiful festival. This year, it is scheduled to be held from December 1 to 10. The festival is held in the Naga Heritage Village in Kisama, Kohima. The Hornbill festival is a medley of cultural performances, music, films, craft bazaars and a lot more. You can take a flight from Delhi or Mumbai to Kolkata and an onward flight to Kohima.
Click here for more information.
Image Source
Dates of festivals and events are liable to change. Please check final dates, timings and venues before booking your travels.