It's the month of Ramzan, a period of fasting for Muslims around the world. It's also a period of feasting with Iftar dinners and small get-togethers being the norm. But this year is unusual. With social distancing and lockdowns, it's not possible for people living alone to call friends over or visit family. Fasting can become even more difficult in such times especially when you have to break your fast alone every day. But even if you can't be with the people you love, you can plan some delicious meals for yourself with these easy Iftar recipes for one.
Related: Authentic Indian Recipes For Desi Comfort Food, By 10 Indian Chefs
1. Chicken and brown rice bowl
Ingredients:
1 kg chicken, skinless and curry cut, marinated
3-4 onions, finely chopped
4-5 tomatoes, finely chopped
1 tsp cumin
1 cinnamon stick
2-3 pieces of star anise
1/2 tsp garam masala
1/3 tsp red chilli powder
1/2 clove garlic, finely chopped
2/3 tsp grated ginger
2 cups brown rice, washed and soaked
Salt, to taste
For marinade:
400 gms yogurt
1/2 tsp red chilli powder
1/3 tsp turmeric powder
1/2 tsp garam masala
1 clove of garlic, crushed
Method:
Mix all the marinade ingredients together in a large bowl. Once combined, add the chicken to this marinade and ensure all the pieces are coated evenly with the marinade. Cover and leave in the fridge overnight. Take the marinated chicken out of the fridge about 10-15 mins before you start cooking.
Take a large kadhai, put it on medium heat, and add ghee to it. Add cumin, a cinnamon stick, and star anise, and let it heat enough to make a crackling sound. Add onions, garlic and grated ginger to the kadhai, and mix well. Keep stirring to ensure the onions don't stick to the bottom. When the onions change colour, and become slightly brownish, add the tomatoes. Mix well.
Add garam masala, red chilli powder, about half a teaspoon of salt, and turmeric powder to this mixture. Stir occasionally. When the uncooked smell goes away, lower the heat, and add the marinated chicken piece by piece to the kadhai. Add the marinade to the kadhai, and ensure the masala and marinade are well combined. Add another half teaspoon of salt.
Add the brown rice to the kadhai, ensuring it's immersed in the curry and distributed as evenly as possible. Cover the kadhai, and let the chicken and rice cook on low heat for an hour. Stir every 15-20 mins until cooked. Check salt and add more, if needed.
Garnish with fried onions or coriander leaves.
This dish serves 4-5 portions, so you can store the rest in the fridge to eat over the next 2-3 days.
Related: Healthy Chicken Recipes Which Are Delicious And Full Of Nutrition
2. Mediterranean fish with green beans
Ingredients:
2 fish fillets, use fish of choice
1/2 cup tomatoes, cut into cubes
1/2 red pepper, roughly chopped
1 onion, roughly chopped
1 cup green beans, boiled for a few minutes but not fully cooked
1/2 clove garlic, crushed
1 bay leaf
1/4 cup olive oil
Salt and pepper, to taste
Italian seasoning, optional
Method:
Preheat oven to 360 degrees Fahrenheit. Use a big baking pan to ensure the ingredients are spread out and cook evenly. Season the fish fillets with salt and pepper and put on the pan. Sprinkle some Italian seasoning, if desired.
In a separate bowl, mix all the ingredients, except olive oil. Add salt and pepper per taste, and add this mixture to the baking pan. Drizzle everything on the pan with olive oil.
Bake for about 40-50 minutes or until you see a sauce forming. Add water during baking, if needed.
Serve with bread.
3. Roasted sweet potatoes with hummus
Ingredients:
1 sweet potato, cut into cubes
1 tbsp olive oil
1 cup spinach, roughly chopped
Shredded cheese
Hummus
Seasoning of choice
Method:
Preheat oven to 300 degrees Fahrenheit. Toss the sweet potato pieces with olive oil and seasoning. Place on a baking sheet and roast for 20-30 mins. Keep checking to ensure the sweet potato pieces don't burn.
In a separate bowl, mix the spinach, cheese, olive oil and seasoning. Use store bought hummus as an accompaniment with this dish. It's also easier than making your own hummus at home.
Serve everything on a single plate.
Related: Healthy Alternatives To Potato Fries Which Make For Yummy Snacks
4. Chicken stew with veggies
Ingredients:
500 gms chicken, curry cut
3/4 tsp salt
1/2 tsp pepper
2 onions, chopped finely
1 dried red chili, chopped
2 green chilies, chopped
2 tsp ginger garlic paste
2 medium tomatoes, chopped
2 medium potatoes, diced
200 ml coconut milk
1 tsp lemon juice
2 tbsp coriander, chopped
4 tbsp cooking oil of choice
Method:
Marinate the chicken pieces with salt and crushed pepper. Set aside for 30 mins.
Chop the onions, green chilies, dried red chillies, tomatoes, and coriander leaves. Peel and dice the potatoes, and soak them in water to avoid darkening.
Heat oil in a kadhai, and add chopped onions. Fry them on medium heat for 3-4 mins till they're soft. Add the chopped green chillies and red chillies, mix and fry for a minute.
Now, add the ginger-garlic paste, mix and fry for around 2 mins till the raw smell is gone. Then, add the marinated chicken pieces, mix well and fry on medium heat for around 5 mins till the chicken pieces are browned.
Put in the diced potatoes and chopped tomatoes, and mix well and add in 1/4 tsp salt and mix it again.
Cover and cook on low flame for around 3 mins till the tomatoes are soft. Now, add in the coconut milk, mix well, and cover and cook on low flame for around 15 mins or till the chicken is soft.
Once the chicken is tender, season with a pinch of pepper and salt, if required. Add lemon juice and chopped coriander leaves. Mix well and simmer for a minute or two.
Serve, and store the leftovers to eat the next day.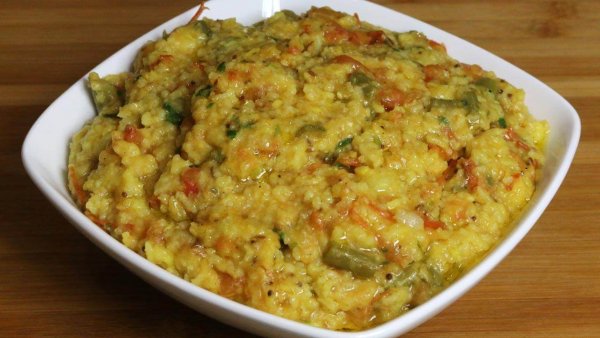 Image Source
5. Khichdi
Ingredients:
1/3 cup moong dal
1/3 cup rice
1 tbsp ghee
1/3 tsp cumin
1/3 tsp ginger paste
1 small onion, chopped
1/3 tsp red chilli powder
1 small tomato, chopped
Pinch of turmeric powder
Water
Salt, to taste
Method:
Wash the rice and dal together, and let them soak for a while before cooking.
Heat ghee in a pressure cooker on medium heat. Add cumin to the cooker and saute until you can smell it. Put ginger, onions, red chilli powder and turmeric in the cooker, and saute till the raw smell of onions disappears. Add tomatoes and salt. Saute for 4-5 mins.
Add the dal and rice, and saute for 4-5 mins. Pour 3 to 4 cups of water, depending on the consistency you want. Stir to ensure that the dal, rice and water are combined well, and add salt.
Pressure cook for 2-3 whistles on low to medium heat, and open to check.
Enjoy this khichdi with a dollop of ghee of top, and dahi or pickle on the side.
Related: Delicious And Easy One Pot Recipes For A Relaxed Dinner At Home 
6. Shahi Tukda
Ingredients:
1 1/2 cups full fat milk
3 bread slices, crusts removed
1/4 cup condensed milk
1/4 tsp cardamom powder
3 tbsp ghee
1/4 cup water
1/2 cup sugar
1 tbsp almond slivers
Method:
To prepare the shahi tukda rabdi, grind one slice of bread in a processor to make crumbs. Keep them aside to use later. Take a deep pan and boil the full fat milk in it. Keep stirring till the milk comes to a boil. Add the bread crumbs and condensed milk to this milk and stir well on low to medium heat. Once the crumbs and milk are well combined, add the cardamom powder and mix. Stir vigorously to avoid the mixture sticking to the pan. This whole process should take about 10-15 mins. Once done, keep this mixture aside to cool.
Next, you need to work on the bread. Take two slices of bread and cut them diagonally. Heat ghee in a pan and shallow fry the slices till they are light brown on both sides. Keep aside to cool.
For the sugar syrup, add sugar and about 1/4 cup of water to a pan. Cook this mixture on high heat for 8-10 mins and stir continuously. Take it off the heat when the syrup thickens.
To serve the shahi tukda in true shahi style, soak the fried bread slices in the sugar syrup for 2-3 mins. Keep turning till the syrup is uniformly absorbed. Shake off any excess and place the slices on a plate. Pour rabdi over the slices, and garnish with almond slivers.
Image Source
7. Chicken fry
Ingredients:
250 gms boneless chicken thighs, chopped into bite-sized pieces
1/3 tsp garam masala
1/2 tsp red chilli powder
1/4 tsp turmeric powder
1 tsp ginger garlic paste
1 tbsp ghee
1 onion, finely chopped
Salt, to taste
Method:
Marinate the chicken thighs in garam masala, red chilli powder, and turmeric. Leave it in the fridge overnight or about 6-7 hours.
Heat ghee in a pan, and add chopped onions and ginger garlic paste. When the onions are brownish, add the marinated chicken to the pan. Fry the chicken on low to medium heat till it's cooked. Keep stirring so that nothing sticks to the pan. Check after about 15-20 mins by cutting one piece. Add salt according to your preference.
Serve with roti, or eat the chicken fry by itself for a no carb meal.
In order to not shock your digestive system after a day of fasting, break your fast with a healthy and tasty fruit bowl every day. Keep changing the fruits in your bowl to avoid monotony. Add some chaat masala or any other flavouring element to the fruit bowl. It's the best way to re-hydrate your body after a day of fasting.
Happy cooking!