The festive season is in full swing and everyone loves doing up their space to celebrate the festivities. From bright lights, candle holders, and wall hangings to much more, it's time to give your home a festive makeover. After all, if you are planning to host card parties, family gatherings, and casual get-togethers, you've got to kill it. So, check out these budget-friendly Diwali decor ideas under ₹800 to brighten up your place.
Related: 10 Diwali Decor Pieces Under ₹1,000 To Make The Festivities Brighter
1. Diya holders
Artlik Handicrafts Geometric Hand-Painted Ceramic Diya Holder
Mini diya holders are one of the best Diwali decor ideas. They instantly brighten up any space without a lot of effort. These ceramic handpainted diya holders are so adorable and come in multiple prints. So, make a cosy corner at home and add these holders to brighten up your space easily.
2. String lights
Want to give your home a Pinterest aesthetic look? Check out these water drop string lights that will brighten up your decor in style. They can be easily put up indoors and outdoors to add a warm and charming look to your home.
3. Tea light holder wall hanging
Tealight Candle Holder Wall Hanging
Amp up your space with this stunning and chic tea light holder wall hanging. It adds an instant festive vibe to your place and is one of the best Diwali decor ideas to try on a budget. You can place these hangings on your balcony or terrace to create a gorgeous Instagram backdrop.
4. Table cover
A dainty, printed table cover is a great idea to give your dining space a festive makeover. And since all the guests usually sit around the dining table, you should get your hands on some soft, reusable, and gorgeous prints.
5. Table runners
Printed Reversible Table Runner
Why stop at table covers when you can pair them with some stunning runners? They add an elegant vibe and enhance your table decor with contrasting colours and prints. So, don't let the compliments run low this festive season and get some runners!
6. Cute planters
Indoor planters are a great option when you are in the mood to add colour to your home decor. They are convenient to place and can add a subtle charm. Add fresh some flowers to your decor in these cute planters and place them all over your home.
7. Printed rugs
Waymore Bright Coral Printed Rug
Welcome your guests by creating a warm, aesthetic space with some printed rugs. These are lightweight, easy to clean, and can be changed frequently. They add instant colour and character to any space and are perfect to level up your Diwali decor.
8. Curtains
Bunai Loose Weave Beige Cotton Curtain And Blinds
Since you are making your home festive ready, changing your curtains is a great way to give your space a fresh, new look. Opting for subtle neutral shades will allow you to make your space look bigger and airier. This loosely woven sheer curtain looks simple and elegant, perfect for a sophisticated Diwali decor makeover.
9. Candleholder set with wooden tray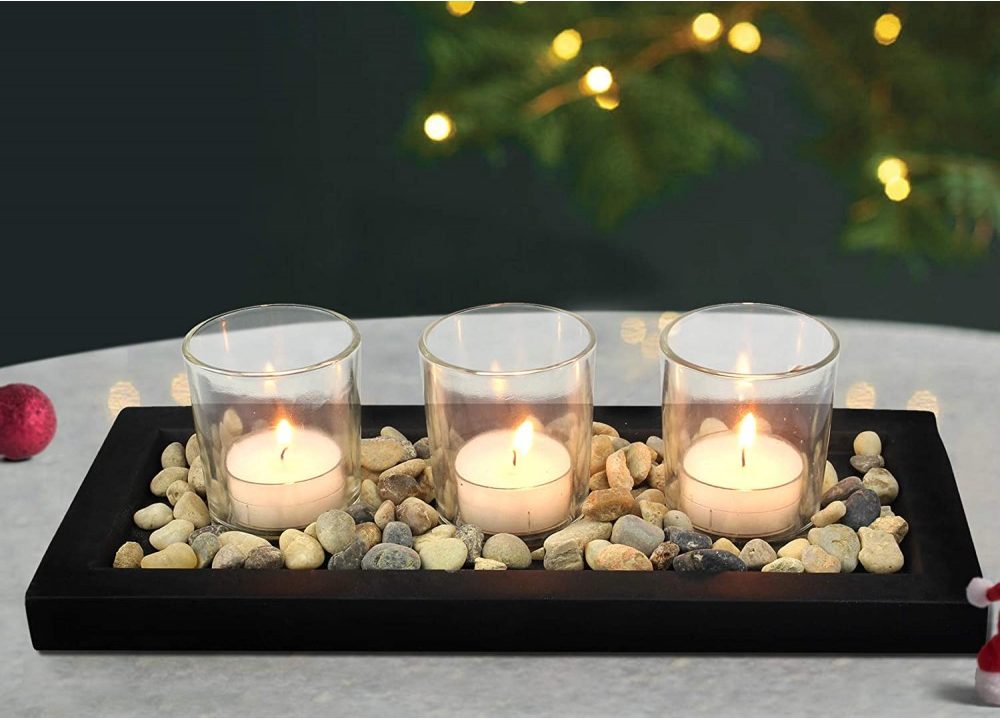 Glass Tealight Candle Holder with Wooden Tray Set
A statement piece is perfect to add a festive vibe to your home. Such items double up as decor and lighting and add a cosy, aesthetic vibe to any space.
Featured Image Source
Related: Trendy Styles, Customised Fashion, Unique Home Decor, And More: This Online Store Has It All