What's better than a refreshing glass of coconut water in the scorching summer? Add a dash of your favourite alcohol and it gets so much better! It's officially coconut season and if you're looking to use it to the maximum, we have some great cocktail recipes for you. So, get ready to sip away the summer blues and try these delicious coconut water cocktails for your next soiree.
Related: Love G&Ts? Here Are Indian Gin Brands You Need To Add To Your Collection
1. Coconut Peach Frost
Ingredients:
100 ml coconut water
30 ml vanilla syrup
100 ml peach juice
100 ml vodka
1 spoon powdered sugar
Handful of ice
Method:
Take a glass and keep it in the refrigerator for about 5-10 minutes. Meanwhile, take a small bowl and add some powdered sugar to it. Then, add all the ingredients to a cocktail shaker and shake till everything mixes well. Lastly, take out the glass, coat the rim with the powdered sugar and pour the drink into it.
2. Coconut Champagne Punch
Ingredients:
1 and 1/2 cups chopped fresh fruit of your choice
8 skewers
500 ml coconut water
1 cup pineapple or orange juice
1 bottle of champagne of your choice
Method:
Start by lining the fruits on the skewers and place them on a baking sheet. Then put them in the refrigerator for an hour to freeze them. Meanwhile, mix the coconut water with the juice and let it chill for an hour too. Then when you are ready to serve, add the coconut concoction, top it off with champagne, add the frozen fruits, and enjoy! This is a delightful coconut water cocktail to cool you down on hot days.
3. Coconut Pineapple Rum Cocktail
Ingredients:
50 ml white rum
15 ml Malibu rum
50 ml coconut water
100 ml pineapple juice
1 tbsp lime juice
100 ml club soda
Handful of ice
Method:
Take a tall glass and fill it halfway with ice. Add the rum, Malibu, coconut water, pineapple juice, and lemon juice. Now, give it a good stir, top it off with soda, and serve this delicious coconut water cocktail chilled!
4. Coconut and Spicy Tequila Cocktail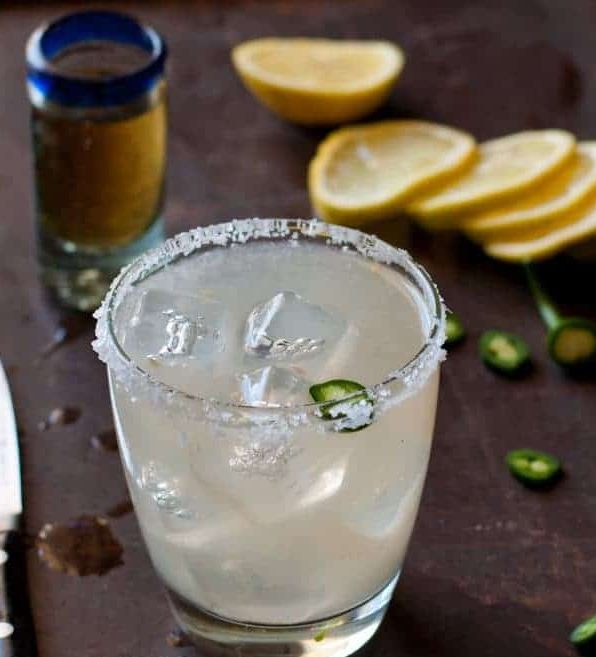 Ingredients:
30 ml tequila
150 ml coconut water
150 ml freshly made lemonade
1 jalapeno thinly sliced
Method:
Take a shaker, add ice and the rest of the ingredients, and shake well. Then, take a glass, fill it with ice, pour the drink over it, and enjoy!
5. Bluewater Breeze Cocktail
Ingredients:
30 ml shot vodka
30 ml coconut rum
1 cup coconut water
1 tbsp blue curacao
1/2 cup pineapple juice
Pineapple wedges and cherries for garnish (optional) 
Method:
Take a shaker with ice, and pour vodka, coconut rum, coconut water and blue curacao into it. Cover and shake vigorously till everything is well blended. Now, pour into a glass and top with pineapple juice and garnish with pineapple wedges and cherries, if desired.
6. Coconut Mojito
Ingredients:
1 bunch of mint leaves
2 cups coconut water
5 tbsp freshly squeezed lime juice
100 ml white rum
3 tbsp sugar
2 cups ice
Method:
Take a jar and muddle the mint leaves in it by twisting them lightly. Add the coconut water, lime juice, white rum, and sugar to it, and stir to combine well or until the sugar dissolves. Lastly, add the ice and serve the coconut mojito immediately.
7. Coconut Margarita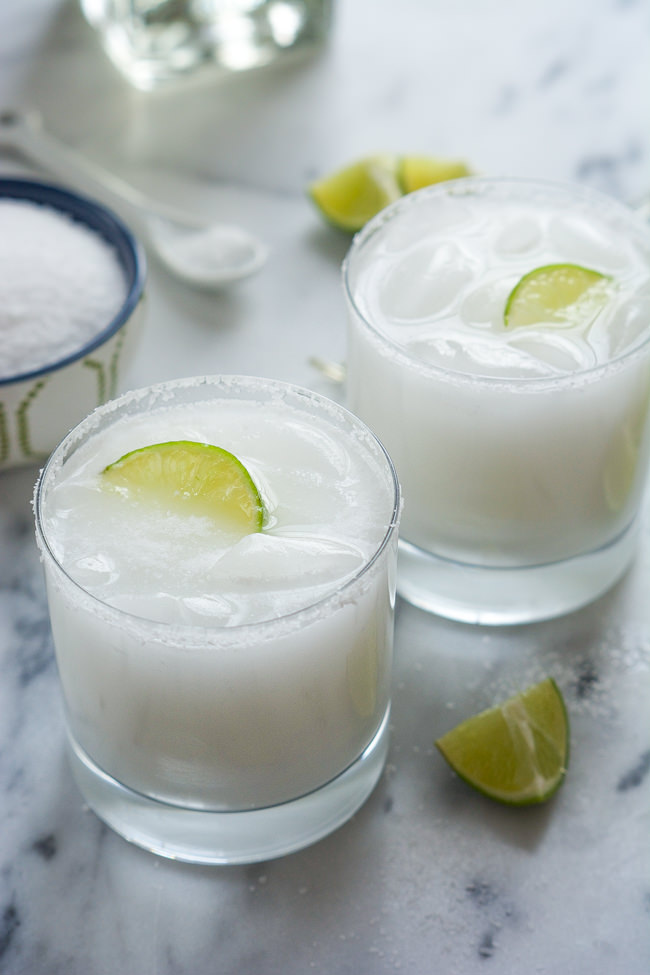 Ingredients:
100 ml lite coconut milk
100 ml Tequila Blanco
50 ml triple sec
250 ml coconut water
Lime wedges for serving
Method:
In a shaker, combine the coconut milk, tequila Blanco, triple sec, and coconut water, and shake until combined. Pour it into a glass and serve with lemon wedges on the rocks.
8. Coconut Gin and Tonics
Ingredients:
60 ml gin
60 ml coconut water
100 ml tonic water
Juice of 1/2 lime
Fresh mint or basil for garnish
Method:
Take a serving glass, add ice to it, and top it with lime juice, gin, tonic water, and coconut water. Stir and garnish with fresh mint or basil and enjoy this refreshing coconut water cocktail.