For a newborn baby, the most important thing is getting the right nutrition at the right time. However, not all new mothers are in a position to breastfeed their babies soon after childbirth. There are numerous reasons that may cause their milk to be unfit for their newborn. In situations like these, human milk banks come in as saviours. Breast milk donation in India may sound like a new concept but it's been around for at least three decades. The first human milk bank was set up in Mumbai on November 27, 1989, at Sion Hospital. It was, in fact, the very first human milk bank in Asia.
Even though this life-saving practice has been around for so long, there isn't enough awareness about the matter, especially among new and soon-to-be moms. So, today we're going to answer some of the most common questions around breast milk donation in India.
Image Source
What is a human milk bank?
Just like a blood bank works with blood, a human milk bank is a service that collects, screens, and stores breast milk from healthy lactating mothers. This service is usually attached to hospitals and nursing homes for milk to be readily available for newborn babies. The milk undergoes strict screening tests to ensure that it is nutritionally healthy and fit for newborn babies.
Who can be a milk donor?
Healthy lactating women who wish to donate their milk need to undergo certain screening tests for the following concerns:
HIV, VDRL (Venereal Disease Research Laboratory test), and hepatitis
Drug and medication interactions
Evidence of heavy alcohol interaction
Communicable diseases that may be passed on to the baby through the milk
Once the medical practitioner clears the lactating woman for the above concerns, she can then be considered an eligible milk donor.
Image Source
How does one become a breast milk donor?
Before becoming a milk donor, a lactating mother should first take her own baby into consideration. Only if the mother has enough to keep her baby fully fed, she can be considered as an eligible milk donor. The mother can either donate freshly pumped milk or also choose to donate duly dated frozen milk up to 10 months since the date of pumping.
While the process for signing up to become a breast milk donor varies from bank to bank, the common practice involves the following steps:
Fill up an online donor consent form
Submit a medical survey detailing any and all previous medical histories
Submit blood tests reports for HIV, VDRL, HbsAg, and HCV or as requested by the concerned milk bank
Once the application is processed by the milk bank and the applicant is approved as an eligible donor, they can expect to be contacted by the bank. Since the donated milk will be used to feed severely ill and premature babies, it is essential that the health quotient of the milk is verified by professionals. Thus, the donor would also be required to get confirmation forms signed by their doctor and their own baby's paediatrician to confirm that the mother and child are healthy and the milk is safe for donation. A DNA sample may also be collected for matching the donated milk with the donor.
Once all required tests and confirmations are completed and the donor has been verified as healthy and eligible, the milk bank will share all necessary steps that need to be followed for pumping, storing, and shipping the milk marked for donation. Upon receiving the milk, the bank will pasteurise it to remove any virus/bacteria to make it fit for consumption.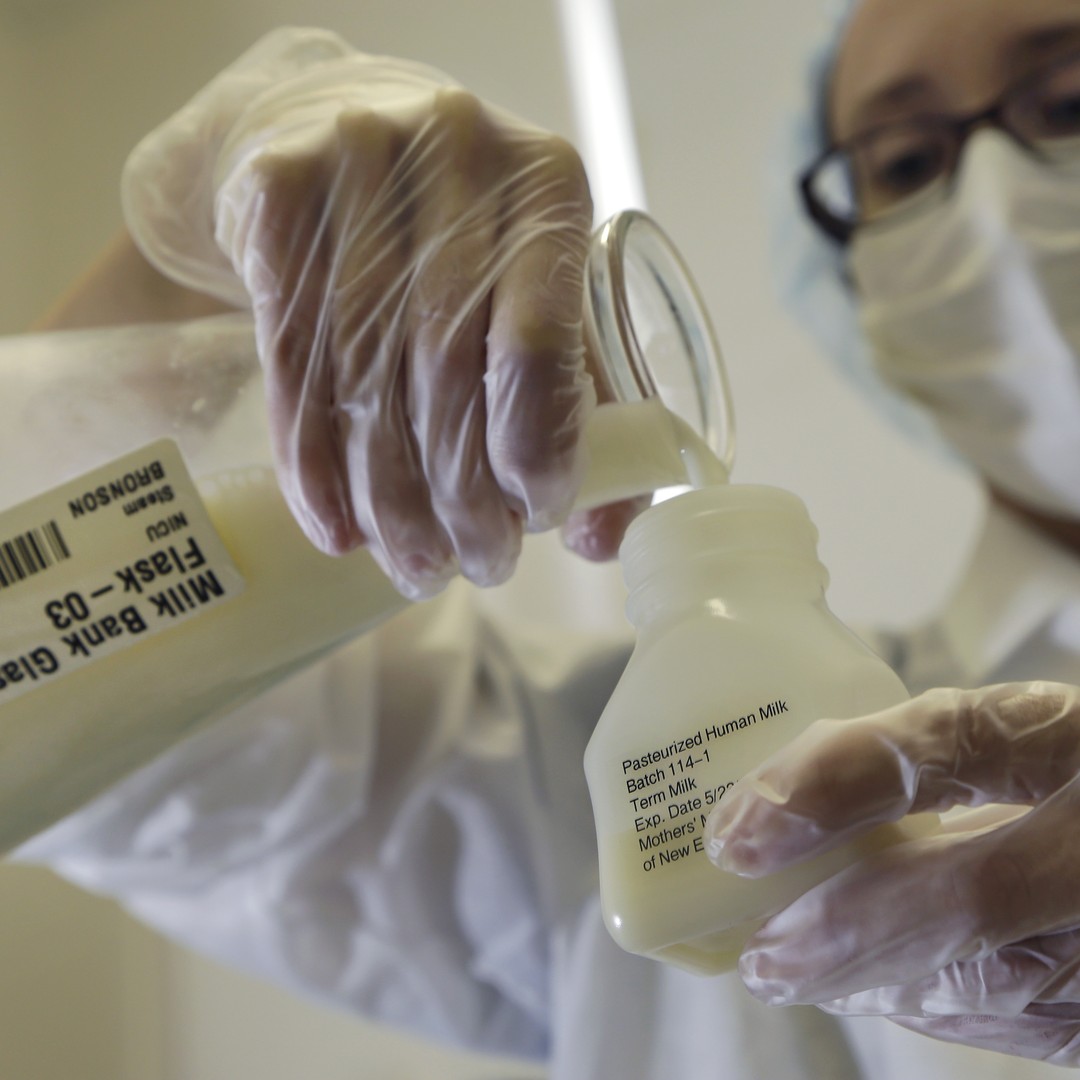 Image Source
Breast milk donation banks in India
1. Divya Mother Milk Bank, Udaipur, Rajasthan
Address: R.N.T Medical College, Panna Dhai Rajkiya Mahila Chikitsalaya, Udaipur — 313001
Website: http://www.divyamothermilkbank.org/
2. Amara Milk Bank (In collaboration with Fortis la Femme)
New Delhi address:  S- 549, Greater Kailash Part II, New Delhi – 110048
Bengaluru address: No: 62, Richmond Road, Behind Sacred Heart Church, Bengaluru, Karnataka — 560025
Website: https://amaara.org.in/
3. Lokamanya Tilak Hospital (Sion Hospital), Sion, Mumbai
Address: Dr Babasaheb Ambedkar Road, Sion (West), Mumbai — 400022
Website: http://www.ltmgh.com/frontview/index.aspx
4. Vijaya Hospital, Chennai
Address: New No 434, Old No 180, NSK Salai Rd, Vadapalani, Chennai, Tamil Nadu — 600026
Website: http://vijayahospital.org/
5. KEM Hospital, Parel, Mumbai
Address: Acharya Donde Marg, Parel East, Parel, Mumbai, Maharashtra — 400012
Website: https://www.kem.edu/
6. Deenanath Mangeshkar Hospital and Research Centre, Pune
Address: Main Building, Deenanath Mangeshkar Hospital Road, Vakil Nagar, Erandwane, Pune, Maharashtra — 411004
Website: https://www.dmhospital.org/
7. Institute of Child Health, Egmore, Chennai
Address: Bhanumati, Rina Mandal Rd, Egmore, Chennai, Tamil Nadu — 600008
8. Sir JJ Group of Hospitals, Byculla, Mumbai
Address: J J Marg, Nagpada, Mumbai Central, Mumbai, Maharashtra — 400008
Website: https://ggmcjjh.com/
9. SSKM Hospital, Kolkata
Address: 244, Acharya Jagadish Chandra Bose Rd, Bhowanipore, Kolkata, West Bengal — 700020
Website: http://www.ipgmer.gov.in/
10. Cama Hospital, Fort, Mumbai
Address: BMC Office, Mahapalika Marg, opposite Azad Maidan, Dhobi Talao, Chhatrapati Shivaji Terminus Area, Fort, Mumbai, Maharashtra — 400001
Related: Trying To Get Pregnant? Here's What You Need To Know About Pre-Conception Nutrition