A blindfold can be one of the easiest and sexiest ways to add spice to your sex life. It not only magnifies arousal and the subsequent pleasure, but it also adds some variety. But, before you introduce a blindfold into your sexual play, communicate with your partner and take consent. Consent and trust are two things that are important in any type of relationship, and playing with a blindfold requires both.
Here are a few reasons to add a blindfold to your next sexual adventure. We'll also tell you how to make it fun for both partners.
Why use a blindfold?
1. Adds a zing to your sex life
A blindfold is by no means a pathway to hardcore BDSM, but you can't underplay its kinkiness either. If you are looking to try something new in the bedroom without going extreme, a blindfold is a good choice. And if you are just beginning to experiment with sex, a blindfold is a beginner-friendly tool.
2. Intensifies the pleasure
When one of your senses is shut down, the other senses intensify. A simple brushing of fingers can seem electric. Because you don't know what's going to happen next, it also builds up anticipation.
3. Increases trust between lovers
Using a blindfold on your partner takes a great degree of trust. If there is no trust, your partner may not be able to relax or enjoy the act. So, a blindfold during sex can strengthen your bond with your partner.
4. You are in charge
Using a blindfold on your partner makes you the one holding the reigns. You are in the driver's seat and you can steer in whichever direction you want. With their blindfolds on, your partner has surrendered to you, so make sure that trust is not abused.
5. You lose your inhibitions
When your partner is unable to see you, you automatically relax more and end up losing your inhibitions. You get more confident and are willing to try different things to ensure optimum pleasure for your partner and yourself.
Get creative with a blindfold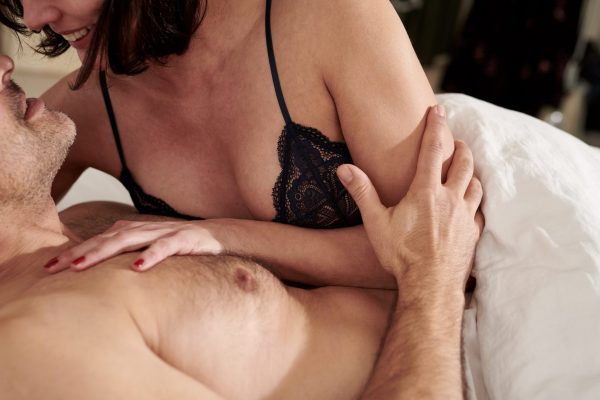 You can add other elements into your bedroom play along with a blindfold to take the pleasure up a notch. Here's how to get a little creative with a blindfold.
1. Use a blindfold and ice cubes
While using an ice cube by itself is quite sensational, using it along with a blindfold just takes the experience higher. With your sense of sight cut off, the sense of touch will be heightened and so will the pleasure.
Related: Heat Up Your Foreplay With Ice: 8 Ways To Use Ice And Other Chilled Elements In The Bedroom
2. Take it out of the bedroom
Take your partner and the blindfold out of the bedroom. Feed them different delicious food items and have them guessing. Don't forget to include a lot of lickable items. The whole experience can be highly sensual.
3. An erotic massage to take it up a notch
Give your blindfolded partner an erotic massage. Switch between feather-light touches and strong, long strokes. Every touch will feel electric. Massage arms and legs, tease them with your touch. Add some oil to the massage and keep changing the rhythm of the massage. This leaves your partner wanting more.
4. Masturbate for your partner
Many people may be uncomfortable or conscious about the idea of masturbating in front of their partners. Having a blindfold on means you lose your inhibition. Masturbating with a blindfold on can help get comfortable with the idea of pleasuring yourself in front of your partner.
All Images Source
Related: Indulge In Self Love: 10 Female Masturbation Tips To Spice Up Your Alone Time