Christmas is probably the happiest time of the year across the world. Most of us yearn to make a trip to Europe around this time to witness a traditional Christmas celebration. But what most of us don't realise is that there are several places in India too where you can get the same Christmassy vibes. From midnight services on Christmas Eve to plum cakes going around on Christmas Day, and decorations everywhere, there are some places in India that have managed to get Christmas right year after year. Here is our pick of the best places to celebrate Christmas in India.
Goa
Goa is one of those places that has something for everyone – the ones who want a traditional Christmas and the ones who just want to party. If it's a party you're after, Anjuna and Vagator beaches are your best bet. The fireworks and the night-long celebrations on the beach make it an experience to remember. But if you want a traditional Christmas, head to Old Goa and visit some of its magnificent churches. You can attend the midnight mass at Basilica of Bom Jesus and revel in traditional activities like exchanging sweets with neighbours or being part of a carolling group.
Most restaurants and bakeries will have special Christmas dishes so you can just go around town and try out different places for every meal.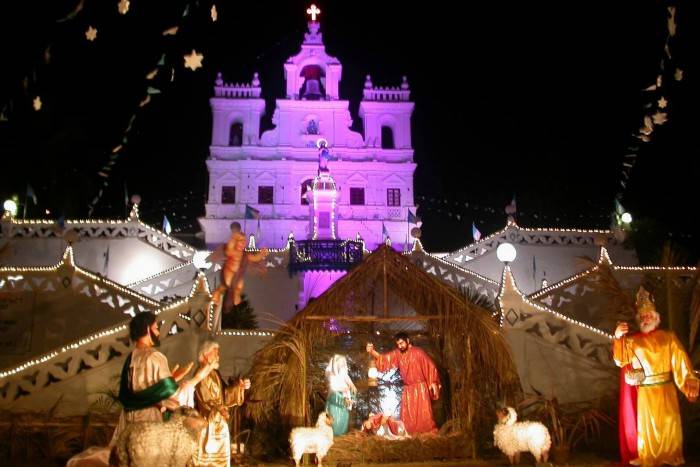 Image Source
Shillong
This small town comes alive during Christmas and New Year's Eve. Shillong is known as the music capital of the country and this is the time when this skill is on display in almost every corner. Walk around Police Bazar to take in the abundant festivities and decorations. You'll see carollers in several corners and live gigs in almost every restaurant. Shillong also has a tradition of generosity around Christmas. The locals go to hospitals, orphanages, old age homes and jails with food and gifts. If you're in Shillong for Christmas, you must try traditional Christmas dishes like Dohneiiong (pork) and Doh Shiang (beef). For vegetarians, Tungrymbai is a must-try. You can also try the vegetarian version of Dohneiiong.
If you want to attend midnight mass, head to the Cathedral of Mary Help where most locals go for Christmas service.
Image Source
Manali
Hollywood movies and TV shows have sold the fantasy of a white Christmas to all of us. The conventional idea of Christmas is that it should be warm and colourful indoors and white and cold outdoors. In India, the best spot for you to enjoy a white Christmas is Manali. December is the time when Manali is generally covered with snow. This small town is known for its delicious food and beautiful restaurants anyway. These places, and this food, take on another flavour during Christmas and New Year's Eve. Visit the restaurants of Old Manali for a festive Christmas Eve dinner. Follow it up with a party which you'll find in one of the bars nearby.
On Christmas Day, to feel the traditional holiday vibes, all you need to do is step out of your room and into the thick layer of snow. It'll make braving the freezing cold completely worth it.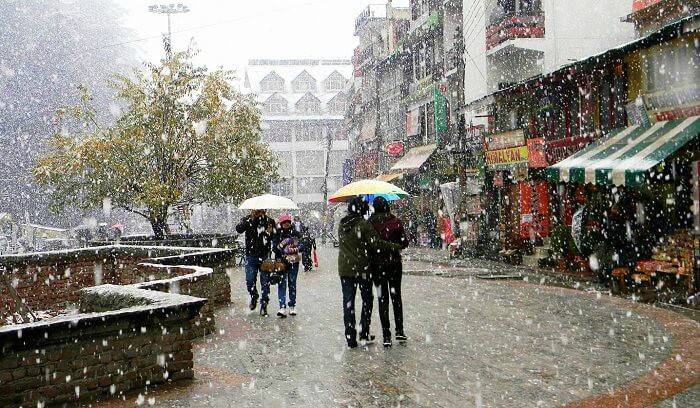 Image Source
Pondicherry
This seaside paradise enjoys the busiest time of the year in December and January. The pleasant weather, the beautiful beaches and the laid back vibe of this city is perfect for a Christmas holiday. Pondicherry has several churches, like Basilica of the Sacred Heart of Jesus and Eglise de Notre Dame des Anges, where you can attend midnight mass. Walk around the French Quarter to feel like you're in Europe on Christmas.
The popular Paradise beach hosts parties on Christmas Eve and almost every restaurant will have a special Christmas spread. The restaurants here mostly concentrate on French and Tamil cuisine so you'll be in for a culinary delight. Visit Mission Street for quaint Christmas markets and beautiful decorations.
Image Source
Kochi
When you're thinking of holidays, one doesn't think of Kochi immediately. But this is one of the most vibrant cities in Kerala, especially during Christmas. With a rich heritage and local traditions, Christmas in Kochi is an absolute delight. In the last week of December, this city also plays host to the Cochin Carnival, held in Fort Kochi. This carnival showcases the diversity of Indian culture in a parade on New Year's Day. Leading up to the day of the parade, Fort Kochi has art shows, food festivals, rallies, and several other forms of celebration.
After all the festivities end, you can spend your days relaxing on the beach and taking in the beautiful views of Mattancherry, a waterfront district. Kochi is truly one of the best places to celebrate Christmas in India.
Image Source
Book your tickets now and celebrate Christmas like never before!