Christmas is coming and it's time to bring out the festive pants. This holiday season is all about feeling thankful, getting together with friends and family, exchanging gifts and spreading cheer all around. Still not feeling Christmassy? We know that with so little time and so many things to get done, it can get a little overwhelming. In simpler times, the Christmas spirit was not just defined by eggnog and you didn't have to stand in crowded shops for hours to buy presents and food for loved ones. Don't worry, it's never too late to recreate the magic and wonder of the season. Our quick and easy DIY ideas will surely put you in holiday cheer. So bring together your family and let's kick start the Christmas celebration.
1. Make a Wreath Together
Add to the holiday cheer around your neighbourhood by placing a beautiful handmade Christmas wreath on your front door. It's circular shape represents eternity, growth, and an unending circle of life. Just grab a clothes hanger, artificial plant creepers and wires and watch our tutorial on how simple it is to make.
2. Get a Bowl of Eggnog Ready
Nothing gets you in the holiday spirit better than a glass of eggnog. Just with a few ingredients, you can make a treat that your guests will love. Follow these steps to get a large batch ready for the party.
You will need:
6 large eggs (whites and yolks separated), 1 cup sugar, 2 cups whole milk, 1 cup heavy cream, 1.5 cups bourbon, 1 teaspoon freshly grated nutmeg
Let's get started:
Thoroughly beat the egg yolks in the mixer bowl. Gradually add the sugar and continue beating until it is completely dissolved. Then add milk, cream and bourbon. In a separate mixer bowl, beat the egg whites till they become fluffy and add 1 tablespoon of sugar. Keep beating till the sugar dissolves. Now whisk both the mixtures together. Sprinkle nutmeg on top, chill and serve in a pitcher.
If you like yours cooked, then first put milk, heavy cream and a vanilla pod in a saucepan and place it on medium heat. Add in the whole eggs and sugar and stir it continuously. Remove from heat when the mixture thickens. Sprinkle nutmeg on top and chill it in the refrigerator.
3. Design Christmas Ornaments
Is the festival ever complete without a brightly lit Christmas tree? Don't just unpack store bought decorations and pile them on. Instead, add a personal touch to make your 'tree of life' come alive. See how this bird hanging Christmas ornament is made.
4. Create Delicious Mulled Wine
You know Christmas is on its way when you have your mittens wrapped around a warm mug of mulled wine. The heavenly concoction of sweet and spicy is served warm, to take the chill out of the winter evenings. Create the perfect mulled wine with this easy to follow recipe:
You will need:
1 lemon, 2 oranges, 3/4th cup sugar, 1 cinnamon stick, 1 vanilla pod, freshly grated nutmeg, 3 bay leaves, 6 whole cloves, 2 bottles red wine
Let's get started:
First toast your spices in a large saucepan over a medium heat. Add the cloves, cinnamon stick, bay leaves and about 10 to 12 gratings of nutmeg. Then add sugar and squeeze in the orange juice. Halve the vanilla pod lengthwise and add to the pan. Now stir in just enough red wine to cover the sugar. Top it off with grated lemon and orange zest. Let it simmer until the sugar completely dissolves into the red wine, then bring it to a boil. Keep on a rolling boil for about 4 to 5 minutes, or until you've got a beautiful thick syrup. When the syrup is ready, turn the heat down to low and add rest of the wine. Gently heat the wine – when it's warm and delicious, pour it into glasses and serve.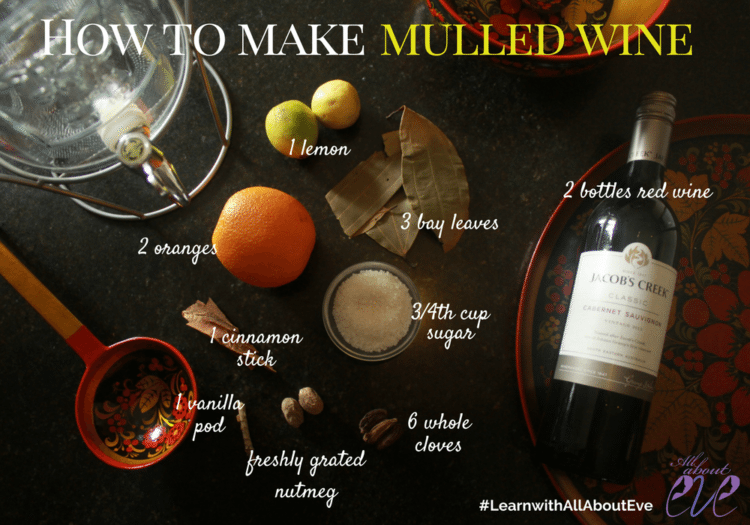 5. Make Handmade Covers for your Christmas Gifts
Celebrate this festival of giving by sharing joy and little presents with your loved ones. And what better a way to say it than with handmade bags to put those gifts in. Follow these steps to add a personal touch by crafting this beautiful bag out of leftover wrapping sheets.
Now turn on the holiday tunes, put up some old Christmas movies and think about all the happy things that you are grateful for. You are ready to ring in the holidays. Merry Christmas!