Repainting your home? Put the brush down and get some inspiration for the right combination of colours. The shade you choose can give a whole new personality to your home. You can either give a fresh, modern twist to your boring kitchen or play down the tones for a relaxed atmosphere in the bedroom. Take a cue from these 9 colour palettes for home ideas.
1. Add a touch of femininity with lavender
Paint your walls in a light shade of lavender to make your home look more refined and elegant. This soft and feminine shade should be paired with neutral furniture.
Shop the entire look from It's All About Home
2. Make it pop with red
Pulling off a red wall is like pulling off a red lipstick – you need enough confidence and charisma for it. If you have a bubbly personality, then this shade is for you.  Make your reading corner pop with red paint and match your cushions and carpets to it.
3. Bring in happiness with white and mimosa
Nothing looks more pristine and inviting than plain white walls. Team it with mimosa yellow furniture that symbolises sunshine and happiness. This palette is especially good for kitchen and dining room.
Shop the entire look from It's All About Home
4. Classy monochromes
White is a powerful and transcending choice if you want to make a statement with your home. Even though quite high maintenance, this colour palette for home can give a lot of positive vibes. There is so much you can do with this white and grey combination. Add large lamp stands, vintage furniture, and a chandelier to make your living room look royal.
5. Shades of blue for a relaxed atmosphere
Bedroom is the place to underplay colours to create a relaxing atmosphere. Dull greyish-blue duvets and an assortment of white and blue patterned throw pillows will be just right. Don't keep any bright colour accessories with this look.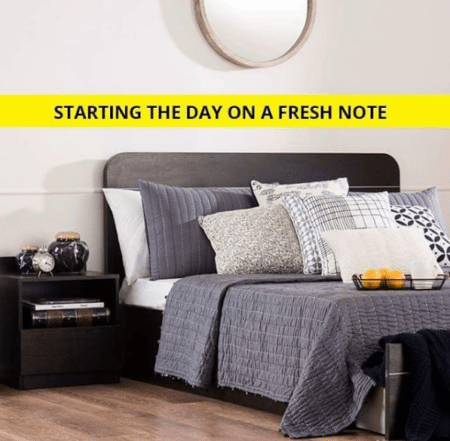 Shop the entire look from It's All About Home
6. Turn it royal with black
A classic choice if you have a wooden floor. Add a touch of royalty to the dining room with big and bold black paintings from It's All About Home.
Shop the entire look from It's All About Home
7. Make it friendly with burnt orange and pearl white
Play up warm colours at the entrance of your home to make guests feel welcome. A bright burnt orange sofa and cheery wallpaper will set a friendly tone to your home.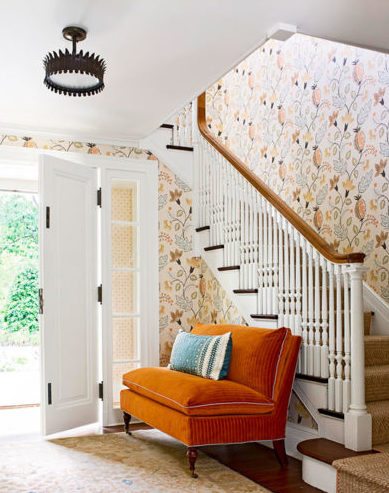 8. Look peachy
If all white walls seem too overwhelming for you, opt for a peach upholstery. The colour is quite easy on the eyes and you will not tire of it soon.
9. Eclectic mix of pink tones
Another warm palette that looks good on wooden flooring. Choose Aztec printed upholstery with muted tones of pink and decorate away with bright pink flowers, cushions and wall backdrops.
Looking for more inspiration to style your home? Check out our budget friendly picks for adding character to your home.