It's a rainy day today, and that means an evening on the balcony, with a cup of cutting chai and piping hot pakoras. Watch the rains bring life to the city after the intense summer.
The most common snack of the country, pakoras are deep-fried snacks, with a crunchy crisp layer of besan (Bengal Gram flour) on the outside, and a moist centre consisting of various ingredients, both vegetarian and non-vegetarian. Pair it with a dash of tamarind or mint chutney, and voila! It's ready to be feasted upon. And while everyone is aware of the usual aloo-paneer-pyaaz affair, we bring to you a few lip-smacking varieties, which are sure to brighten your evenings.
1. Brinjal/Eggplant Fritters
This dish is quite common in the eastern part of the country, where it is known as "Beguni". Thin slices of brinjal, dipped in batter and fried to perfection. If you can't have a slice of heaven, you can always have these.
2. Corn Pakoras
Take boiled corn kernels in a bowl and mix it with chopped onions, chillies, ginger, besan and some salt and spices. Add water to this dry mix so that the batter achieves perfect consistency. Drop spoonfuls of it in hot oil. Fry till golden brown and they're done! Sprinkle some chaat masala before serving them.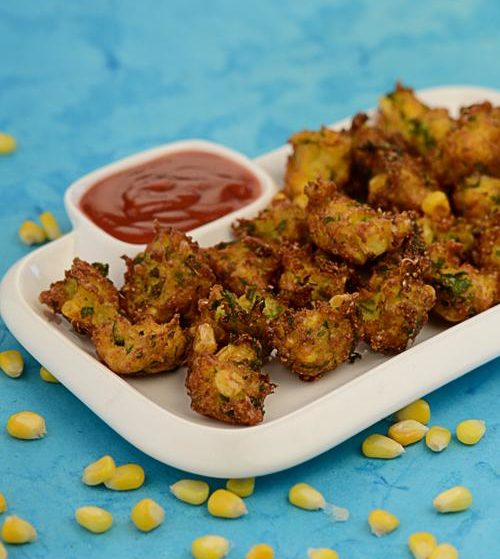 3. Gobhi Pakoras
Replace the aloo in your pakoras with parboiled cauliflower, and surprise your family by serving the old gobhi in a new avatar.
4. Bhindi Pakoras
Are you one of those who steer clear from having this vegetable because of the slimy texture it develops after cooking? Well, that problem is solved with bhindi pakoras. The deep-frying crisps it up, and all you are left with is mouthfuls of crunchy goodness.
5. Moong Dal Pakoras
This is the best alternative to go for if you want to try something different from the usual besan coated fritters. Soak two cups of moong dal overnight. Drain and grind in a food processor with very little water, to form a coarse paste. To that, add chopped onion, ginger, coriander, chillies and salt and cumin powder to taste. Fry it till golden brown in bite-sized pieces, and serve it with a dash of lemon juice and condiments of your choice.
6. Rajasthani Mirch Vada
A popular street snack, you can relish a whole mirch (or even more) in this dish without worrying about burning off your taste buds. Take large green chillies, slit them along the side and de-seed them carefully. Stuff them with anything that catches your fancy – from mashed potatoes to lamb keema, the possibilities are endless. Dip them in the batter, and fry them to perfection one by one.
7. Bhang ke Pakore
The go-to snack for Holi, Bhang ke pakore is a delicacy everyone must try once in their life. Follow your recipe for mixed vegetable pakora, and add bhang seed powder. Fry them as you would do usually, and you will have a delicious dish ready to serve.
Enjoy the dip in temperature!