If you are someone who watches Bollywood movies religiously, please don't hate us. While we love a good Bollywood masala any day, some movies just don't make sense. From bad acting and scripts that possibly a 5-year-old wrote to dialogues that were tossed in for no good reason, we have a variety on the list. You probably know a few of these, and some might be surprises. Beware, the movies in this list are more cringeworthy than they appear. Here are 10 of the worst Bollywood movies that shook our belief in filmmaking.
Related: Hindi Movies To Watch Online When You Need A Good Dose Of Bollywood Masala
1. Kuch Khatti Kuch Meethi
For all the love I have for Kajol, I really couldn't bear watching this one. A funny attempt (the only funny thing in the entire movie) to remake Parent Trap, this one was a miserable fail.
Watch it on YouTube.
Image Source
2. Fight Club
Do you know when you follow the easiest risotto recipe tutorial and come out of the kitchen with a plate of badly cooked, almost inedible khichdi? Now, replace the risotto with Brad Pitt's Fight Club and khichdi with Sohail Khan's Fight Club.
Watch it on YouTube (at your own risk)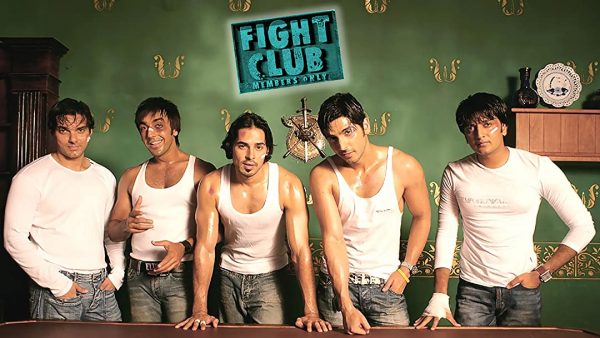 Image Source
3. Drona
Bollywood's obsession with casting superstars in the belief that it will make the movie a blockbuster clearly goes too far sometimes. It could have been an engaging and stunning fairytale of a warrior trying to save the planet, but Drona was barely able to save itself from being a flop show.
Watch it on Jio Cinema. This is not a recommendation.
Image Source
4. Suryavanshi
He Man who? Salman Khan was the OG that should have been cast in all the superhero movies of the 90s. I mean, that golden blonde hair was pretty convincing, right? But the movie in its entirety was hard to swallow. With all that bad acting, punarjanam, and tons of makeup and bling, this one clearly scores pretty high on the list of the worst Bollywood movies.
Watch it on YouTube
Image Source
5. Main Prem Ki Deewani Hoon
If you are wondering why this movie made it to the list, you clearly have a thing for being extra, which this movie is all about. The enthusiasm, the outfits, the locations, the overacting–it's almost as if someone put this movie on vibration mode or something. Sooraj Barjatya even went on to add an unnecessary CGI parrot because apparently, there weren't enough characters overacting already. Basically, another remake (how original) that went terribly wrong.
Watch it on Amazon Prime. If you must.
Image Source
6. Jaani Dushman: Ek Anokhi Kahani
The horror movie that every 90s kid grew up watching. Well, this was truly a horror movie because everyone had to sit through Sonu Nigam's acting and Armaan Kohli's overacting. It really was an Anokhi Kahani because it was out of the world, and the special effects could give Avengers a run for its money. Also, this movie crawled, so Ekta Kapoor's Naagin could walk.
Watch it on YouTube to make a good day even better.
Image Source
Related: Action, Drama, And Romance: The Best South Indian Movies To Watch On OTT Platforms
7. Taarzan: The Wonder Car
Abbas Mustan's creation, Taarzan: The Wonder Car was something that no one had ever seen. Reincarnation may be Bollywood's top-selling concept but this movie took it to another level. When Ajay Devgn, an engineer, is murdered in his own car, he is reincarnated as The Car! Yes, you read that right. Even Ayesha Takia's crop top looks with her navel piercings could not save this film from drowning.
Watch it on YouTube for the car's performance.
Image Source
8. Rudraksh
If this movie didn't make you go WTAF, I'm sure you haven't seen it properly. With lots of voodoo, a rat possessing white chick, and VFX that was utterly disturbing, this movie is a complete cringe alert. Also, the climax scene that lasts at least an hour, with every character thrown in to give them some extra screen time, ends as if the writer was just bored and decided to stop writing the script.
Watch it on YouTube if you want to lose faith in Bollywood's scriptwriters.
Image Source
9. Neal 'N' Nikki
Is the title track in your head now? 'I Am The Neal, I Am The Man, Rockstar, Superstar. Yo Nikki Bakshi Sweet N Sexy Full On Rocking Hot And Happening'. Well yes, besides sleazy scenes in the name of contemporary cinema, the movie really didn't have anything to it. It literally starts with a bikini shot and then 100 bikini shots later, there is a normal shot which ends in a bikini shot.
Watch it on Amazon Prime Video for wholesome cringe.
Image Source
10. Prem Aggan
If you have seen this movie, say 'oh yeah', and if you haven't, what are you doing with your life? Before 365 Days and 50 Shades Of Grey was Prem Aggan. Fardeen Khan won an actual award for this film. Also, they probably used most of their budget in hiring the best dialogue writers out there because Raj Babbar got only one outfit for the whole movie. Oh Yeah!
Watch it on YouTube for the best experience of your life!
Image Source
Tell us some of your favourites that weren't on the list!