Bollywood films are known to have some very questionable dialogues that can be traumatic. However, we often watch movies and don't see the absolute and obvious absurdity of the content. It's only a few years later, when you re-watch those movies, that you realise what nonsense you had been watching earlier. One of the most common observations is the portrayal of women in Bollywood. As far as most Bollywood movies are concerned, women are either 'item girls' or 'eye candy', or they are the epitome of the Bharatiya naari jo kisi mard ki taraf apni nazar uthaa ke bhi nahi dekhti. We went back to a few films — some old and some fairly recent — and found dialogues that are shocking to say the least. How did these films even get as famous as they were?
Check out these weird and sexist AF dialogues showing the inherent sexism of Bollywood.
1. Because jawaan ladkiyon ko haseen bolna mardo ka haq hai
2. Beizzati hai… aise nahi toh waise he sahi! Right?
3. We gotta let this go… It seems like a legit dilemma, bhai
Related: 'Unbecoming Of An Indian Woman' To Fall Asleep After Rape: Indian Judiciary Hits A New Low
4. Samajh jaana what he means when an uncle asks, 'Arre beti, kahan udh chali?'
5. Melodramatic sobs for this ideal Bharatiya naari ki paribhaasha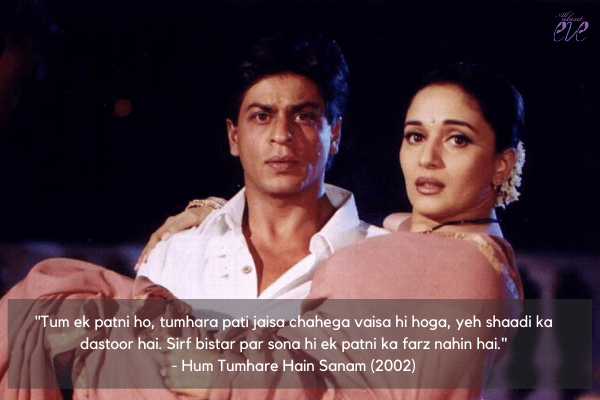 Related: 9 Things Un-Sanskaari Indian Women Hear All The Time
6. Word play dekh rahe ho? Somebody give an Oscar to the Kambakkht dialogue writer, please!
7. Mukka maarke wapas karna allowed hoga?
8. We know the theme of this film, but seriously!
Related: Chaman Bahaar Review: Bollywood's Latest Cringe-Fest On Netflix
9. Aur jab mard hota hai paida… Urgh, sorry, we can't stoop that low!
10. Some of us were in our early 20s when this film came out. It wasn't funny then, and it isn't funny now
Related: 7 Unforgettable Life Lessons To Learn From Bollywood's Romantic Movies
There have been debates about the quality of Indian cinema improving over the last decade or so. It is claimed that women in Bollywood are now shown in a more positive and powerful light. But you'll be shocked to see how many movies in this same last decade have actually done the opposite. And yes, many even have your favourite Bollywood stars in leading roles.