Online shopping is an addiction. It's also the only way to buy anything for busy professionals who are too busy or too tired to go to a mall or a market. Through apps on our phones, we can buy that perfect red dress for the weekend, the perfect nude lipstick to go with it, quirky gifts for our friends, precious beauty essentials, lingerie and a whole lot more. A huge part of the credit for this retail revolution goes to these women who have emerged as business leaders in India.
Falguni Nayar, founder of Nykaa
Image Source
Since its inception in 2012, Nykaa has become a one-stop-shop for everything in the beauty and wellness industry. From global brands that can burn a hole in your pocket to more budget-friendly, homegrown brands, Nykaa has something for everyone. The multi-brand online and offline retail chain sells over 850 brands and recorded a turnover of INR 570 crore in the 2017-18 fiscal year. Formerly with Kotak Mahindra Capital, Falguni combined her business expertise with her vision for the beauty industry to create Nykaa. It all started with her experience in another multi-brand beauty store – Sephora. Talking to Vogue about how her visits to Sephora left her feeling empowered, she said, "I wanted to replicate that in India—a multi-brand retailer selling the best beauty, plus a lot of education to help customers."
Falguni's daughter and Harvard graduate, Adwaita Nayar is now handling the retail side of the business as Nykaa's Chief Executive Officer.
Shikha Ahluwalia, co-founder of StalkBuyLove
Image Source
Featured in the coveted Forbes 30 Under 30 list in 2017, Shikha and her brother Tushar are the driving force behind StalkBuyLove. With an aim to make fashion accessible, StalkBuyLove is in the unique position of designing womenswear and creating garments only after a customer places an order. While Tushar handles the business end of the company, Shikha is the resident fashion expert.
"Having been raised in Germany, Italy, and London, I've had strong ties with the fashion world since childhood," Shikha said in a 2017 interview. "Further, a sound exposure to the international scene helped me mould StalkBuyLove into a global, contemporary fast-fashion brand."
Richa Kar, founder of Zivame
Image Source
Conventionally, retailing lingerie online isn't the first thing that comes to mind when you think of groundbreaking business ideas. But, for Richa Kar, it certainly was. The founder and now former CEO of Zivame, Richa realised how buying lingerie was an arduous task for Indian women. In an interview to FirstPost, Richa said, "As part of my previous job, I was working on an assignment to study a global lingerie brand. That got me thinking about lingerie as a category in India. I soon realised that the customer experience in the category is very poor in India. Right from unavailability of size options to presence of male sales executives, every single step of lingerie shopping posed a bottleneck for a woman."
Richa may not be at the helm of the day-to-day operations of Zivame, a billion-dollar enterprise, but she remains on the board.
Mira Kulkarni, founder of Forest Essentials
Image Source
Founded in 2001, Forest Essentials is now recognised around the world for its unique products. With Ayurveda at its core, Forest Essentials filled a gap in the Indian beauty industry that no one else saw.
"I used to make soaps at home and wondered why we didn't have proper handmade soaps in India," Mira Kulkarni, the founder of Forest Essentials, says. "Nobody ever thought anyone was going to pay Rs 100 for a bar of soap. But I thought if I was willing to spend that much, others would be too. We created a new segment in the market…Everyone thought I was absolutely crazy, but we went ahead. Even now, we extract all the oils for the products ourselves."
A graduate from Stella Maris College in Chennai, Mira has always believed in natural ingredients. "If a herb is plucked at the right time, stored in proper conditions and infused without any dilutions, it's going to work," Mira says, talking about the beauty industry's focus on typically Eastern practices. "These ingredients were always around, but the key is to make them relevant," she says. "Women in India and other Eastern countries have beautiful skin and we take care of it…There are a lot of things we have used for centuries. The west is now discovering that these work."
Shubhra Chadda, co-founder of Chumbak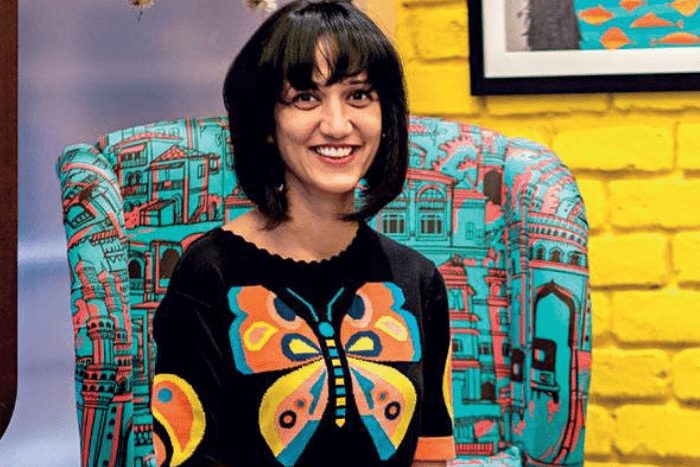 Image Source
Selling your house to start a new business doesn't sound like the smartest plan. But it worked for Shubhra Chadda and her husband, Vivek Prabhakar. They sold their house in Bengaluru for Rs 40 lakh to start a unique, desi brand called Chumbak in 2009. Shubhra came up with the concept of Chumbak when she was on a break from her corporate job after her daughter's birth.
Initially wary of resigning from a comfortable corporate job, Shubhra, like everyone else, did have doubts about starting her own venture. "I knew nothing about retail or how to start a company," Shubhra says. "It's not like I was a born entrepreneur. But, as a kid, I always dreamed of starting something of my own…I imagined myself being surrounded by beautiful things."
Shubhra is also a keen traveller, and her travels were part of her inspiration for Chumbak. "I really started enjoying travelling and wherever I went, I brought back fridge magnets," Shubhra says. "Then I noticed that there were no fridge magnets or souvenir-ish things for India. That's where the whole idea came about." Starting with magnets, cushion covers and key chains, Chumbak now has an apparel and furniture section as well. The company now has stores across India and retails globally as well.
Suchi Mukherjee, co-founder of LimeRoad
Image Source
The recipient of several awards in her industry, Suchi Mukherjee heads one of the biggest online retail companies in India. Formerly with Lehman Brothers, Mukherjee co-founded LimeRoad in 2012. "I love creating and scaling businesses which impact people's lives deeply, using technology," Suchi says in an interview to India Today. "At LimeRoad, we are trying to build a never-before platform for women to not only explore and shop for products, but also share and express their individuality through scrapbooking."
Suchi came from a strong background in business. She worked in the UK for 16 years for companies like Skype and eBay. Like Shubhra, the co-founder of Chumbak, the idea of LimeRoad came to Suchi during her maternity leave.
"I wanted to create a digital-age equivalent of the 16th century Grand Trunk Road, a highway that changed the face of trade in the Indian subcontinent," Suchi says. "LimeRoad is inspired by the legendary GT Road. By curating the best of Indian products across categories, we are building a revolution in e-commerce."
Truly inspiring and innovative, these women are a force to reckon with. We are sure there's a lot more coming from these powerful business leaders in India. And we can't wait!