It is that time of the season again where, you might want to hide deep in layers of clothes to shield yourself from the cold weather. But aren't you bored of the dull hues of blacks and greys? Are you someone who has 10 pairs of black leggings to pair with baggy sweaters and heavy overcoats? Well, just because it's winter doesn't mean you have to kill your inner fashionista. Brighten up ladies, because we have picked some of the most iconic winter-inspired outfits, from the closet of some of our favourite ladies from leading shows. These five outfits will help you slay this season and rock your winter game.
1. Rachel Green From Friends
Image Source
Who better to start with, other than our personal favourite Rachel Green. Her character was iconic, but her clothes, even more! From pairing denim overalls with sweaters to leather on leather looks, she has been our go to lady for winter inspired outfits. It was a task to pick one outfit from the endless amazing OOTDs she has rocked on the show, but we have a winner.
Get the look

A-Line Plaid Skirt, buy it here.
White Full Sleeves Turtleneck, buy it here.
Calf Length Socks, buy it here.
2. Serena van der Woodsen From Gossip Girl

Image Source
The 'It girl' who had insanely good looks, charisma and let's not forget, wardrobe! Serena van der Woodsen had it all. Her fashion choices were as effortless as her character in the show. Her statement boho style inspired many to follow the trend, and therefore fits in our list of winter-inspired outfits. Here is one of our favourite picks from her closet.
Get the look

Double Button Belted Trench Coat, buy it here.
Plain Soft Grey Scarf, buy it here.
Wide Waistband Skinny Leggings, buy it here.
3. Blair Waldorf From Gossip Girl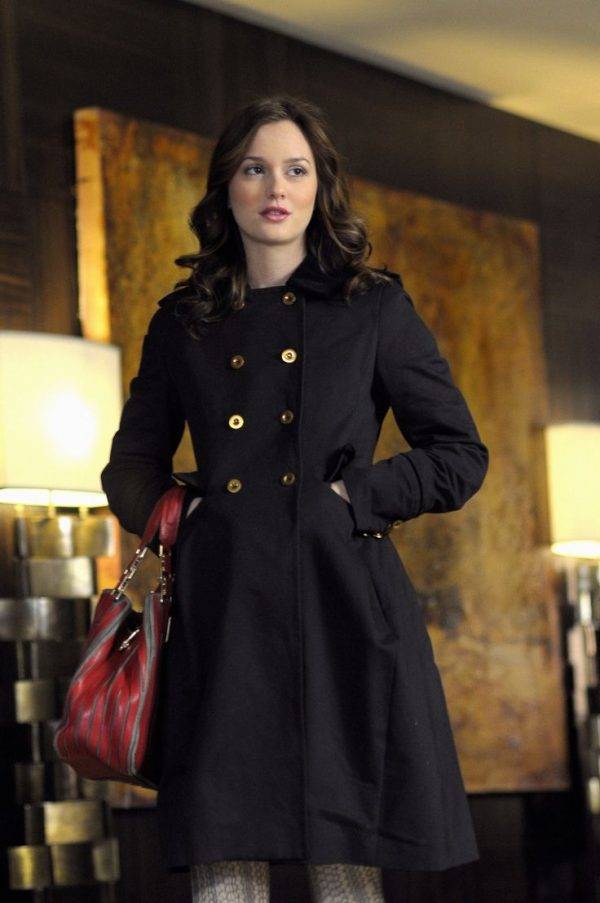 Image Source
Winter inspired outfits call for Queen B aka Blair Waldorf, who has charmed us with her polished outfits throughout the seasons. Just like her character, she has always kept her preppy style intact. Her sophisticated sense of fashion makes her an inspiration for millennials. Here is a very chic and wintery outfit, picked right from her closet.
Get the look
Black Double Breasted Cape Coat, buy it here.
Knit Knee High Socks, buy it here
4. Monica Geller From Friends
Image Source
Comfy clothes and good food seems like a Monica Geller motto. Her girl-next-door and easy-going vibe reflected in her wardrobe essentials and honestly, it's so relatable. If you are someone who likes to stay minimal and elegant, she is just the right inspiration. We picked this outfit as it has the perfect Monica vibe.
Get the look

Rib-knit Tee, buy it here.
Bleach Wash Boyfriend Jeans, buy it here.
5. Carrie Bradshaw From Sex And The City
Image Source
The final and the most iconic character, Carrie Bradshaw, is perfect to wrap up this list. Could you even think of iconic outfits and not mention her? Well, we could not either. Throughout the seasons Carrie had the most extravagant and vivacious outfits and it spoke volumes about her style. The free-spirited wardrobe choices made her stand out amongst the NYC glitz and glam. Here we chose a rather subtle and statement piece from her wardrobe.
Get the look

Open Front Longline Faux Fur Coat, buy it here.
Turtleneck Chunky Cable Knit Sweater, buy it here.
Faux Suede Over-The-Knees Boots, buy it here.
For more shopping inspiration, click here.