Tired of doing the same old thing every weekend? Us too! Weekends can very easily be limited to drinking plans every Friday and Saturday. But that gets really boring after a while. So we went out hunting and found weekend events in Delhi which will enrich your life far more than those repetitive house parties. Take your friends, family and whoever else you can find to discover a new side of Delhi.
As part of our series on weekend events in Delhi, we will bring to you regular and one-time events which you can't miss. This week, we're taking you on a journey which will let you re-discover the historical city of Delhi and celebrate the onset of winter.
Here are some unique, super fun things you can do on the coming weekend in Delhi.
1. Conscious Diwali festival by The Earth Collective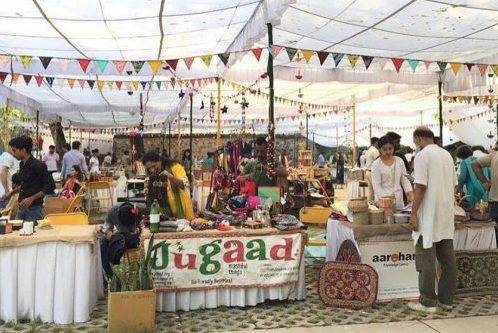 Image Source
Adjacent to the magnificent Humayun's Tomb, Sunder Nursery was recently revamped and now hosts a weekly Farmers' Market on Sunday. On Sunday, October 20, The Earth Collective will be hosting a Conscious Diwali festival with artisanal products like cane baskets, handicraft, stoneware pottery, indoor plants and much more on sale. You can also get your weekly supply of organic vegetables and fruits, and enjoy delicious, freshly cooked meals there. This is fast becoming one of the most popular weekend events in Delhi.
Venue: Sunder Nursery, Nizamuddin, Next to Humayun's Tomb, New Delhi
Date: October 20
Time: 8am-2pm
2. Phoolwalon Ki Sair heritage walk
Image Source
This weekend will also see the annual, week-long festival called Phoolwalon Ki Sair in Mehrauli. With Delhi Heritage Walks, you can get a glimpse into history as you explore Mehrauli and its deep-rooted links with the Mughal dynasty. On Saturday and Sunday, Delhi Heritage Walks will organise a 3-hour long session which will start from Yogmaya Temple in Mehrauli. Please note that you should be wearing conservative clothing for this heritage walk as you will visit places of worship. Click here to register.
Venue: Meeting point is the entrance gate to Yogmaya Temple, near Mehrauli bus terminus.
Date: October 19 and 20
Time: 8.30am onwards
3. Screening of Fleabag, the play
Image Source
Fleabag, the iconic play written and performed by Phoebe Waller-Bridge, is coming to India! Well, at least a screening of it. Most of us first experienced Fleabag in its TV adaptation on Amazon Prime Video. However, on Sunday, you have a chance to see the original play at a screening in Delhi.
Venue: India Habitat Centre
Date: October 20
Time: 3pm
4. Introduction to climbing at BoulderBox
Image Source
Let's face it. All of us need some form of physical activity. Whether it's for your mental, emotional or physical health, a couple of hours of physical activity will give you a much-needed shot of happy hormones at the end of a long week. At BoulderBox, you can really push yourself and go climbing this weekend. Instead of doing nothing at home, challenge yourself and conquer a wall or two here. On weekends, you can book an 'Introduction to Climbing' session. They also have climbing classes for kids on weekends so this can also be a family outing. BoulderBox also has aerial silks classes for beginners every Saturday. Click here for more details.
Venue: BoulderBox, Sector B, Pocket 9, Vasant Kunj
Date: All weekends
Time: 11am and 7pm
5. Ibaarat – A workshop on Urdu and Hindi poetry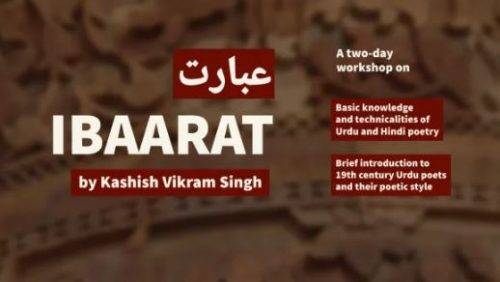 Image Source
If you're interested in Hindustani poetry, this is the workshop for you. Learn the technicalities of Urdu and Hindi poetry and get an introduction to 19th century Urdu poets. Conducted over two days by Kashish Vikram Singh, this workshop will present an interesting take on the coexistence of Urdu and Hindi poetry. Click here to book a spot.
Venue: The Mirror Theatre, Block F, Laxmi Nagar
Date: October 19 and 20
Time: 1pm
6. Communal brunch at Miam Patisserie
Image Source
This is an immersive food experience like no other in Delhi. Miam Patisserie's weekly communal brunch is all about exquisite cuisine and meeting new people with a similar passion for great food. You can also indulge in a tour of the professional kitchen at Miam Patisserie and get an inside look into their magical world. Try their pound cakes, fresh hams, cheeses and made-to-order brunch items. The best part is that Miam Patisserie is pet-friendly. Click here to book.
Venue: F-321 A, Old M B Road, Nai Basti, Lado Sarai
Date: October 20
Time: 12pm-1.30pm
7. Cook and dine with Authenticook
Image Source
If you're a connoisseur of food from around the world, you need to register with Authenticook. An initiative which brings people together through a common love for food, you can register with Authenticook as a host and diner. As a diner, you can choose dates on which you'd like to go to someone's house for a homemade, authentic meal from the host's home turf. As a host, you'll have to go through a couple of checks by Authenticook before you can start cooking up a storm. If you register as a diner, you can also lend a hand in the kitchen and get valuable insights into how food is prepared in various parts of India and the world. Click here to find out more.
Venue: Changes with every meal
Date: Your choice
Time: Your choice
8. Gul, a short story adapted for theatre
Image Source
Directed by Lopamudra Chatterjee, Gul is a short story based in 1857 Lucknow. The story will be performed by writer Shreya Ila Anasuya, Vidhya Gopal and Shinjita Roy in a tribute to women who kept the classical arts alive for centuries in northern India. Click here to book tickets. If you love intimate theatre, this is one of the best weekend events in Delhi NCR for you.
Venue: Eastwind Academy For Advanced Music And Performance, Golf Course Road, Gurugram
Date: October 20
Time: 6pm
9. Lettering and gifting workshop by Vajor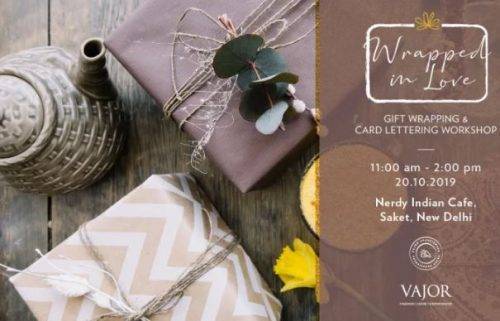 Image Source
With the arrival of the festive season, you need to hurry and buy your Diwali gifts now. But the best Diwali gift can go unnoticed if the packaging doesn't stand out. To really make a statement with your next gift, whether it's for a festival or a wedding, attend the lettering and gifting workshop by Vajor. You can learn how to give a unique, personalised touch to your gifts without spending a bomb on packaging. This workshop will also teach you how to use eco-friendly material in your gift packing.  You can also learn gorgeous forms of lettering with the use of regular pens found at home. Click here for details. Add this to your list of weekend events in Delhi to spark a creative drive in you.
Venue: The Nerdy Indian, 634, Lane Number 3, Saidulajab, Saket
Date: October 20
Time: 11am
Stay tuned for our regular updates on weekend events in Delhi as we scour the city to bring you the best.