Growing up, my parents were quite strict when it came to all things entertainment, and movie outings were no exception. So, when a hilarious English dub of the 2000 Bollywood flick Dhadkan was creating a buzz this week, I was tempted to see what I'd missed out on.
I have no intentions to ruin your #Friday but did you see the English version of #Dhadkan?

— Indian Wife in Heels (@WifeyinHeels) July 16, 2021
Before we move on, let me just say that my FOMO vanished into thin air within the first 15 minutes. In fact, I am now immensely grateful to my parents for filtering out the regressive BS that most of the '90s and early 2000s Bollywood had to offer.
In case you haven't had the misfortune of watching this "iconic" film, consider yourself lucky! Here's a 21st-century retelling of Dhadkan that will tell you why.
Once upon a time, there lived a toxic and arrogant misogynist called Dev (Sunil Shetty). Dev loved Anjali (Shilpa Shetty), the daughter of a regressive patriarch who believed in parampara, sanskaar, and gaslighting women. At some point, Dev professed his undying love for Anjali. Unfortunately, Father Parampara was not a fan of the financially handicapped Dev. And so, he did what any loving father would do. He emotionally blackmailed his daughter into marrying a fellow sanskaari mansplainer called Ram (Akshay Kumar).
Anjali transforms into every patriarch's wet dream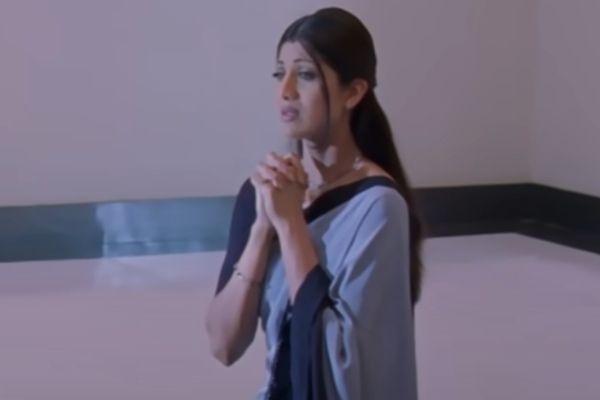 As time goes by, Anjali transforms into #biwigoals. She learns how to not stand up for herself and to give in to all of her husband's patronising demands. In fact, Anjali once said and I quote, "Main bass itna jaanti hoon ki jis aadmi se meri shaadi ho gayi hai, unhe main pujti hoon. Wohi mere pati hain, wohi mere jeevan sathi. Meri harr saans mein, harr dhadkan par Ram basse hue hain.". And you thought you had a shot at sachcha pyaar with your strong, independent woman bullshit? Pfft.
Related: 25 Years Of DDLJ: The Film We Love To Hate…And Hate To Love
Ram's Cinderella story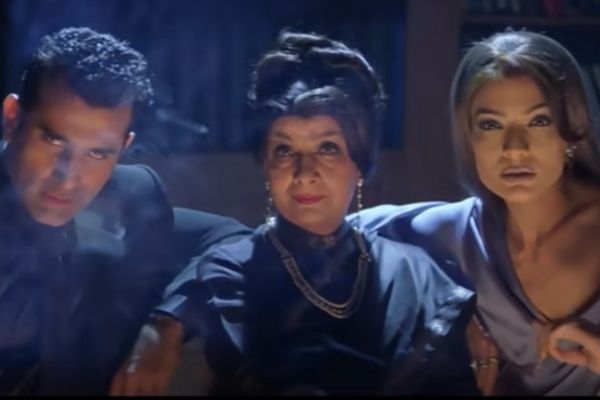 Ram's stepmother and siblings hate him but he aims to win them over with his sanskaar and izzat-giving attitude. And while this approach seems harmless enough, his inner preacher awakens as he mansplains these teachings to his wife. Thanks to him, Anjali learns that "nafrat ko sirf mohabbat se jeeta ja sakta hai". However, he forgets to explain the terms and conditions in fine print because when Anjali backs away from his advances, he becomes hostile and dismissive. In fact, it isn't until his stepbrother molests his wife that he even acknowledges her presence on his own. Oh, and the stepbrother is simply asked to leave if he so desires. So much for repercussions.
Money = woman
Determined to nurse his wounded ego, Dev returns as a rich business tycoon to win Anjali back. Sadly, his brain falls out somewhere on the way, which leads to a series of misunderstandings. For instance, when Anjali says, "No, I don't like you anymore. Please leave me alone", Dev comprehends it as, "Manipulate and bully my husband into bankruptcy and arm-twist me into becoming yours forever."
Ram is butthurt and feels entitled to Anjali's past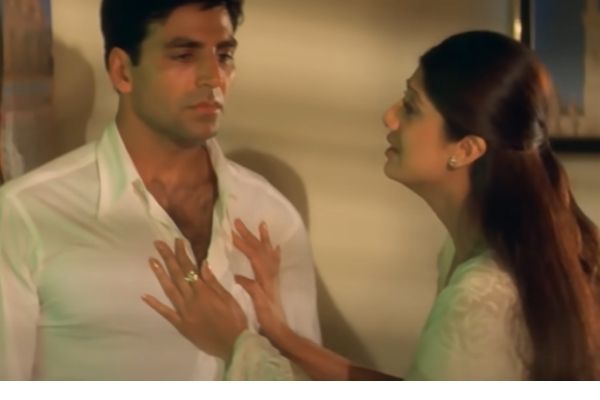 After being forced to auction their house off to Dev, Ram and Anjali move in with their driver. One day, Father Parampara comes looking for Anjali, and upon finding Dev, he throws a massive tantrum to no avail. Dev takes immense pride in kicking him out. After Father Parampara finds his daughter, he patronisingly enquires about her hellish circumstances. #Biwigoals informs him that Ram is unaware of her former love life and asks him to leave since seeing him there would crush Ram's machismo. Little do they know that Ram has been eavesdropping all along. He walks in and confronts Anjali about her erstwhile romance. After trying to explain herself for a minute, Anjali faints because duh, that's what pregnant women do.
Dev learns not to count his chickens before they hatch, and his business partner is terrible at interior decoration
Since all is now well in the Ram-Anjali dynamic, Anjali decides to shake things up. She tells Dev that she wants to meet him. Dev completely jumps the gun and starts planning their happily-ever-after. He turns to his business partner Sheetal and says that he wants to transform Anjali's old house to look completely different and here's how that goes:
"Hey, tumhaara taste bohot acha hai. Kya karna chahiye? What should we do?"
"Mera taste? Uh… Candles. Diye jalaaein?"
I mean… I was honestly laughing at this exchange for a good 5-10 minutes.
Soon, Dev breaks into a second rendition of Tum Dil Ki Dhadkan Mein, while I uncork my second bottle of wine to get through it. Anjali arrives just in time to catch the tail end of his song and gives him a much-needed reality check. Dev's ego takes another hit on learning about Anjali's pregnancy and he goes into an endless rant before being interrupted by Ram's magical appearance. Ram embraces his "nafrat ko sirf mohabbat se jeeta ja sakta hai" attitude and forgives Dev. Bizarrely enough, now Ram becomes a god in Dev's eyes, and everyone lives happily ever after.
I have so many questions
After whining for hours about how much time I'd wasted on this film, I got down to listing out all my thoughts. Firstly, what is up with Sunil Shetty's murderous declarations of love? Unfortunately for him, Dev's dil ki dhadkan did not reflect in his eyes, which just looked bloodshot and terrifying throughout. This man took the kaatilaana nazar memo way too seriously. I mean, if I was Anjali, I'd definitely scram as well.
Also, why oh why are the most cringe-worthy songs repeated twice? Dil Ne Yeh Kaha Hai Dil Se and Tum Dil Ki Dhadkan Mein have been haunting me ever since. No seriously, I had a nightmare with the latter as the background score. And it wasn't just the songs, the extra AF melodramatic background score will put the evergreen saas-bahu serials to shame.
Before I forget, what was Sushma Seth's makeup artist thinking? While I understand that Ram's stepmother was a "villain", her smoky eye game was more horrifying than her personality.
Lastly, here's a fun fact that shook me to my core. Are you ready? Dhadkan is an adaptation of Emily Brontë's Wuthering Heights. Yes, they really wanted you to believe in Sunil Shetty's Heathcliff.
After aeons of cursing people who bring their bawling babies to movie theatres, I finally get it. These babies are busy repenting their parents' terrible film preferences. And had I been subjected to Dhadkan when it came out, three-year-old me would have done just that.
All that being said, if you're still looking to give Dhadkan a shot, you can do it right here.
Related: 15 Hindi Movies To Watch Online When You Need A Good Dose Of Bollywood Masala
Featured Image Source