When you're not in the best of health, trust a good old glass of haldi wala doodh to make you feel better instantly. It's an age old recipe, handed down through generations. And it's only one of many miracle cures which we can find in our kitchens. If you're wondering how to boost immunity and keep illnesses at bay, try the herbs and spices in your kitchen. Here are some that will help in keeping you fit as a fiddle.
Related: The Complete Guide To Vitamin Supplements For Women In Their 20s
1. Turmeric
Curcumin, an antioxidant in turmeric, is known to have anti-inflammatory elements. Make a paste with it to apply on bruises and wounds, and drink turmeric-infused milk to alleviate body aches.
We use turmeric in making curries every single day. But it helps to have it raw, as that keeps the nutritious elements intact in the spice. Also, try using black pepper along with turmeric as it increases the absorption of curcumin by the body.
Image Source
Related: 6 Benefits Of Haldi That Prove Why It Should Be An Essential Part Of Your Daily Life
2. Cinnamon
This super spice reduces diabetes, blood sugar, increases metabolism, and even helps in losing weight. It also reduces triglycerides and harmful cholesterol.
Apart from using it in everyday curries, add some to smoothies or baked goodies. It also works as a natural sweetener and reduces sugar intake as well.
Image Source
3. Ginger
For ages, people have used ginger when they felt nauseated. It is especially recommended for pregnant women. Ginger is also known to possess anti-inflammatory properties. A 2010 study showed that regular consumption of ginger eliminates muscle pain due to exercise. It also helps in healing sore throats and coughs.
Most Indian curries have ginger paste in them. You can also have it with tea or just saute it with raw vegetables and fish or chicken for a stir fry.
Image Source
4. Black Pepper
Black pepper contains a pungent compound called piperine that increases beta-endorphins, which in turn enhance our cognitive functions. Beta-endorphins are also responsible for a better mood and a relaxed feeling. It is often used to treat mood disorders and has been effective in patients suffering from Parkinson's Disease. It also has anti-cancer elements, helps in weight loss, and boosts immunity.
Use it in curries, salads, meat or fish – it tastes good with any dish. If you want to have it raw, try having one whole black pepper on an empty stomach in the morning.
Image Source
5. Cumin
Cumin is a versatile spice. It helps in digestion by stimulating the gall bladder and pancreas to secrete enzymes. Its anti-inflammatory properties relieve discomfort in asthma and bronchitis patients. The spice also regulates blood sugar and diabetes.
Enhance the taste of your curries and stir-fries by adding cumin powder to it. You can also add whole cumin seeds to heated oil for a lovely fragrant dish.
Image Source
6. Garlic
Garlic is a part of the onion family and is known to have health and medicinal properties. It has many anti-bacterial, anti-fungal and anti-oxidant properties that keep infections away. It also fights common colds, lowers cholesterol levels, helps in dealing with chronic diseases, and boosts immunity.
Garlic is commonly used in a variety of dishes for both taste and fragrance. It can also be consumed raw on an empty stomach in the morning, but it is best consumed semi-cooked or cooked.
Image Source
7. Sage
Sage is known for its medicinal properties and is full of antioxidants and nutrients good for a healthy body. It also helps in boosting mood, fighting off bacteria, lowering blood sugar levels and in easing menopause symptoms.
Sage is easy to consume and can be added to a variety of dishes, as garnish or stuffing.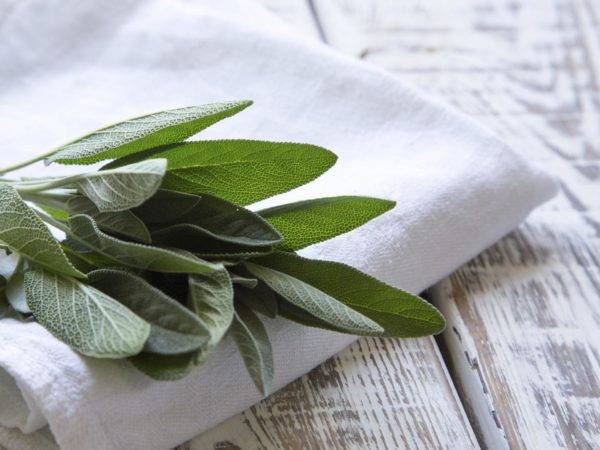 Image Source
8. Cayenne Pepper
Capsaicin, the active component of cayenne pepper, helps in a lot of health issues including reducing blood pressure, boosting immunity, digestion and nausea. Cayenne peppers have many health benefits and are easy to consume in your regular diet. They even help relieve pain, reduce the chances of a heart stroke, and boost metabolism.
You can add cayenne pepper into your diet in any way you want. It comes in a variety of forms so you can always be flexible with your usage.
Image Source
9. Mint
Mint is one of the popular herbs used in our daily routines. It is known for its cooling sensation and digestive properties. It also helps in improving bowel issues. A study says that it even helps in easing breastfeeding pain and fighting off flu symptoms.
You can consume mint in teas, dips, essential oils and even capsules.
Image Source