In real life, there is no such thing as a perfect wedding. Like Murphy's Law, if something can go wrong, it will. So while you meticulously plan every detail, some last-minute disasters like broken heels or skin breakouts can threaten to derail your flawless day. Don't worry, because we have some expert-level solutions for things that can go wrong on your wedding day.
1. Blouse too tight
Stuffed yourself silly with all the sweets? It's not uncommon to literally find yourself 'bloated with happiness' and the scale tilting towards a few extra kilos during this time. Chances are if you got your saree blouses stitched and ready three to four months in advance, you may be caught off guard when it's time to wear them and you find out that they no longer fit.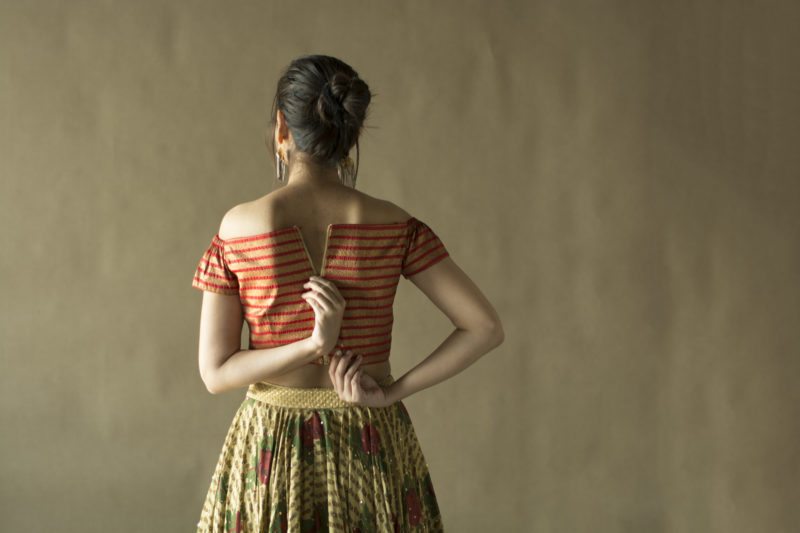 The solution: Thankfully, most tailors are intelligent. They leave some extra cloth in blouses in case future adjustments are needed. If you turn your blouse inside out, you will see extra stitches on both sides. You can easily undo them with the help of scissors and instantly add length to your blouse. In case it still doesn't fit, remove the zipper and sew in a large elastic band.
Warning: it will definitely look out of place and you will need to cover it up with a chunni, but at least it will save you temporarily from a last-minute wardrobe malfunction.
2. Skin breakout
There's never a good time to see acne popping up on your face, least of all when you are just days away from your wedding. And since stress can cause breakouts, planning your big day could potentially turn your face into a pimple minefield.
The solution: For this problem, prevention is better than cure. Stay calm and let others fuss over the details. Instead, keep your focus on drinking lots of coconut water, eating fruits, and staying away from sweets and oily food for a month before the wedding. If you still see a big zit a few days before the wedding, don't try to pop it yourself. Visit a dermatologist for spot treatment.
3. Hangover
There will be binge eating and too much drinking at your cocktail party. Don't worry, we will not stop you from having a good time. Instead, we'll tell you how to avoid that dreaded hangover and be party-ready the next day as well.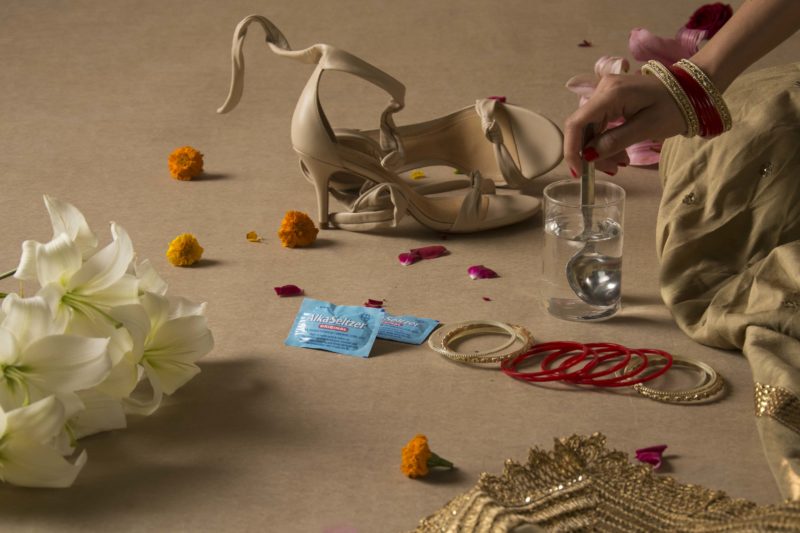 The solution: Drink slowly and stay hydrated through the evening. If you still get a headache the next morning, take an over-the-counter painkiller. Follow this essential detox guide for more quick fixes.
4. Broken heel
There's nothing more heartbreaking than seeing your favourite pair of sandals break, even more so when they match perfectly with your wedding outfit.
The solution: We are sure helpful cousins would be more than willing to lend you their heels. If not, ask them for chewing gum. Since it will be difficult to find glue while you are on the stage getting your photos clicked, chewing gum will do just fine. Chew 2-3 pieces and paste the broken parts with it. It will only hold temporarily, so be careful while you are walking.
5. Tangled hair
Back-combed the hell out of your hair last night? While you got a splendid hairstyle for the photoshoot, what you didn't expect was a mass of tangled hair the next day.
The solution: While it is often advised to oil your hair to remove tough tangles, it can actually be counterproductive and create more knots. Instead, generously apply hair serum or a detangling spray. Work it into your hair with your fingers, gently separating the knots. Now, use a wide-toothed comb and start at the ends working your way up slowly. Take very small sections while combing.
6. Haldi stain
There's a reason why brides and grooms often wear old clothes for the haldi ceremony. They do this so that they can get rid of the stained clothes without feeling the pinch. But since you bought an elaborate trousseau for all your functions, why should you look dowdy for the haldi? Here's how you can look smart and not worry about removing haldi stains from your clothes.
The solution: Dab the stain with liquid detergent and let it stay for 20 minutes. Wash with cold water. If it still doesn't go away, spray vinegar over it. After it dries, expose it to sunlight for a few hours. This will oxidise the turmeric.
7. Painful earlobes
We know you love those huge jhumkas and chandelier earrings. They can cause quite a bit of pain though if you have to don them throughout the evening.
The solution: Apply numbing cream before wearing heavy earrings for the long night. Also, use ear lifts for support.
8. Shoe bite
Those stilettos look good on you, but if you keep shuffling around in them all day, there is a high chance you'll develop a shoe bite by the end of the evening. Tight, narrow, and uncomfortable shoes can cause skin inflammation leading to blisters.
The solution: Shoe bites are caused by friction. Reduce friction by rubbing a concoction of coconut oil and camphor on the affected area as well as the inside of the shoe. For a quick fix, put a band-aid on the skin to prevent it from coming in direct contact with the shoe.
9. Allergic reaction
It can happen anytime. A new kind of material, lacquer bangles, artificial jewellery, tight clothes, or using the wrong kind of bleach or wax at the last minute can produce itchy, red rashes that will leave you uncomfortable.
The solution: Wear a cotton shift under your lehenga to let your skin breathe. If you know that you are prone to an allergic reaction from artificial jewellery or lacquer bangles but need to wear them for different ceremonies, take some precautions. Clean them with alcohol and apply clear nail polish on the parts that will touch your skin. Rub talcum powder on your neck and arms before wearing the jewellery to keep the area dry. If you still break out in rashes, apply an ice pack to reduce inflammation.