Intimacy is an integral part of a romantic relationship. While you might get bored of the good old missionary, there are a lot of things you can try to add an extra dose of fun in the bedroom and turn the heat up between the sheets. Rooming together or going long-distance, good sex toys can instantly spice up your sex life. For those who have fantasised about a scene straight out of Fifty Shades of Grey or an erotic novel, here are seven sex toys for couples you will love.
1. Nipple clamps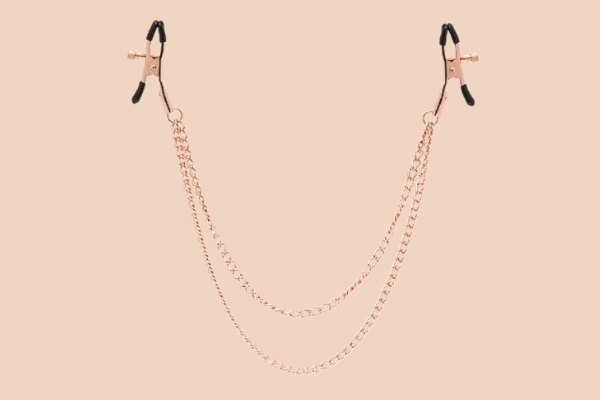 If you are looking forward to dabbling in light kink, nipple clamps are a must-have in your drawer. For people with sensitive nipples, nipple clamps can be great stimulants. The constant pinching of the nipples can heighten your orgasm two-fold. A little pain will only take your pleasure up a notch.
2. Handcuffs
Here's another kinky item to add to the list of sex toys to try. While handcuffs are specifically available for the purpose of sex, if you are unwilling to invest in a pair, you can use a scarf too. Add a little restraint to your bedroom play to ramp up the pleasure.
3. Couples massager
Why should one person have all the fun? Invest in a couple's massager to double up your fun time. Made especially for partnered sex, a couple's massager stimulates the clit, G-spot, and penis. A perfect sex toy for couples, it's guaranteed to bring pleasure equality to your relationship.
4. Paddle
If you are ready to up the kink game, a paddle is a must-have, in Christian Grey style. For those who like a little pain with their pleasure, break open that paddle and get going. Your little bum might end up painfully red, but the orgasm will be just as hard.
Related: Planning To Try A Little BDSM? Here Is A Beginner's Guide To Help You Sail Smoothly
5. Panty vibrator
A saddle-shaped vibrator that guarantees you a trip to O-town! Position the vibrator on the clit and work yourself up with different speeds. If you want your partner to participate, pass on the remote to them and let them take you on a rollercoaster ride.
6. Kegel balls
Ready for some fun that seems forbidden? Remember Anastasia Steele in a lift? Well, you can have your own fun with Kegel balls. These are weighted balls that can be inserted into the vagina to stimulate you as you move. Insert them before you leave for a date night and come home ready to explode. And if you find a private enough area while you are out, *ahem ahem*, you can work things out then and there.
7. Remote-controlled vibrators
Within the four walls of your bedroom or when you are out in the wild, remote-controlled vibrators give you uninhibited pleasure wherever and whenever. Get a small handsfree vibrator and give the controls to your partner. Remember Megha from Lust Stories? Her orgasm was purely accidental, but yours could be a well-timed, calculated, and intense one.
Whether you are a pro at adding toys to your sex life or you are just starting to experiment with your bedroom games, these sex toys will definitely amp up the pleasure. So, go ahead and let the orgasms begin.
Featured Image Source
Related: Are You New To The World Of Sex Toys? Here's A Beginner's Guide That Will 'Cum' Handy