A wedding is a lifetime affair and a moment that is to be cherished for times to come. It is something that holds paramount importance not only for those who tie the nuptial bonds; but, in fact, for the families involved. At the same time, it can be a tedious and complicated affair that involves lots of checks and clearances. Not to mention, huge logistical efforts that are not restricted to creating just a proper guest list and ascertaining the food and beverage menus. So in order to tick all the right boxes, it is but necessary nowadays to leave the onerous responsibilities of organising weddings at the hands of a specialist- such as these popular wedding planners in India.
1. REYNOLD WEDDINGS
ACTIVE IN: GOA
Goa and destination weddings — could there be anything more fun in India? In case you are planning to have a wedding at arguably one of the country's best wedding destinations ever, then Goa-based Reynold Weddings might be your answer.
Offering a wide bouquet of services such as reception/venue, catering, music and entertainment, bridal accessories and floral arrangements, Reynold Weddings is a name to reckon with when it comes to having your dream wedding planned in the beachy splendour of Goa.
2. ELITE WEDDING PLANNERS
ACTIVE IN: MUMBAI
A name that brings a lot of gravitas and experience in organising weddings in India since 2011, Mumbai-based Elite  Wedding Planners have been one of the most sought-after names in the industry. Renowned for elaborate and expansive concepts like decoration & styling, destination wedding planning and thematic design, they allow their clients to have the freedom of choosing from either a fixed wedding package or opting for a specific service in order to mark the big day with style and finesse.
3. REGAL WEDDINGS
ACTIVE IN: UDAIPUR, RAJASTHAN
Few sites in India can be as beautiful as being part of a wedding celebration in the rustic charm and desert wilderness of India. Rajasthan often tops the list of many couples when it comes to exchanging the auspicious garlands. But instead of having a wedding planner based in a different city carry out the cumbersome tasks, it would rather make sense to opt for a specialist who is instead based in the state. Regal Weddings, based in Udaipur, has been a name to reckon with in the wedding market for over a decade, offering a complete bouquet of services such as menu and beverage planning, videography, photography, flower arrangement and other services as part of the paraphernalia.
4. FERNS AND PETALS WEDDINGS
ACTIVE IN: DELHI
The first reaction to the name Ferns and Petals would, more often than not, be about serene tulips, lilies or roses. It may not exactly be about weddings. But interestingly, one of India's leading flowers & gifts retailer has been among the thick of things when it comes to being an excellent wedding planner in a bustling city like Delhi. Ferns and Petals Weddings offers assists clients with elaborate tasks such as venue selection, vendor management, trousseau selection, transportation, photography among other services.
5. L'AMORE WEDDINGS
ACTIVE IN: GURGAON
Having a fashion designer stylise and organise a wedding can be a fascinating affair. It offers a mouth-watering mélange of creativity spun around vivaciousness. A brainchild of Gunjan Bansal, who's previously organized weddings in the USA for close to 3 years, L'amore Weddings has been in operation in India since 2011, based out of Haryana. The wedding planning brand offers services related to venue selection, theme décor, music, dance & entertainment among others.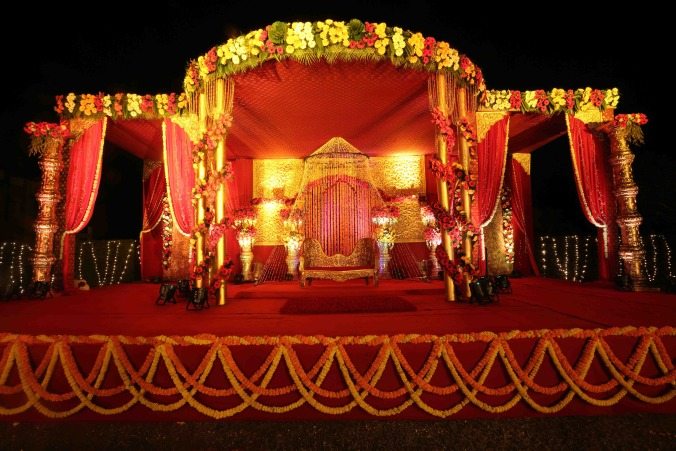 6. RINGS AND ROSES
ACTIVE IN: BANGALORE
It's one thing to be a wedding planner and something quite another to have been in the market for close to two decades. Rings and Roses is the standard bearer for great efficiency and panache when it comes to organising weddings in Bangalore. Their wide range of services includes flower & décor, stage and mandap décor, lighting, bridal car décor, catering, videography, bridal mehendi and makeup.
7. MARRY ME
ACTIVE IN: MUMBAI
Marry Me offers specialised wedding services with a bit of difference. You can get a free consultation before deciding to sign them up.
Specialising in organising weddings across different castes, communities and religion, Marry Me is well equipped to organise both fancy and exotic weddings at far-off destinations. It also assists clients with wedding registration and creation of a wedding website.