Sadak 2 starring Alia Bhatt, Aditya Roy Kapur, and Sanjay Dutt finally released today on Disney+ Hotstar.  Following the demise of actor Sushant Singh Rajput, the film was plagued with controversies and nepotism attacks. If you're considering watching the film to find out if it fights off the negativity to make a stand of its own, this is the Sadak 2 review that you need to read first!
Note: This review is based solely on the movie and has no connection with the ongoing debate about nepotism.
Aryaa mitaaegi andh-vishwaas 
Image Source
The film begins with Aryaa Desai (Alia Bhatt) setting fire to a larger-than-life poster of godman Guru Gyaan Prakash. She then starts running from the site while her stepmother Nandini Maa chases her down in her vehicle. Fun fact – Alia Bhatt can run faster than a car in the middle of an open sadak! However, she is, unfortunately, caught and escorted to a psychiatric hospital by her father Yogesh and Nandini. Soon, a distraught Yogesh receives a voice note from her where she confesses to running away with a promise to return soon. She also warns him against the Guru and Nandini.
Image Source
After running away from the psychiatric hospital, Aryaa shows up at Ravi Kishore's (Sanjay Dutt) residence with a booking note from his late wife Pooja. Pooja had accepted Aryaa's booking for a trip to Kailash three months in advance. A reluctant Ravi is then forced to accept Aryaa's booking despite several pleas for her to get another taxi service.
Sadak, sach, aur sachcha pyaar
As soon as the trip begins, Ravi and Aryaa start talking and Aryaa bares it all. She tells him all about her dead mother, rich dad, evil stepmother, and the Guru. She also tells him about her boyfriend Vishal, who is, by the way, picked up on the way from Central Jail and entered her life just like a Hindi film hero, 'gaana gaa ke'. To cut the story short, Aryaa is a rich heiress who wants to expose Guru Gyaan Prakash with Vishal's help. She is on the run because Nandini and the godman want her dead.
During one stopover, Vishal confesses to Aryaa about his real name which is Munna Chavan, and he says that he was actually sent by Guru Gyaan Prakash to kill her. Instead, he fell in love with her. Then comes the big romantic moment when Vishal… sorry Munna… asks her, "Tum ab bhi mujhse pyaar karti ho, Aryaa?" She replies, "Yes, main tumse pyaar karti hun… aur marte dum tak karungi." WHAT?!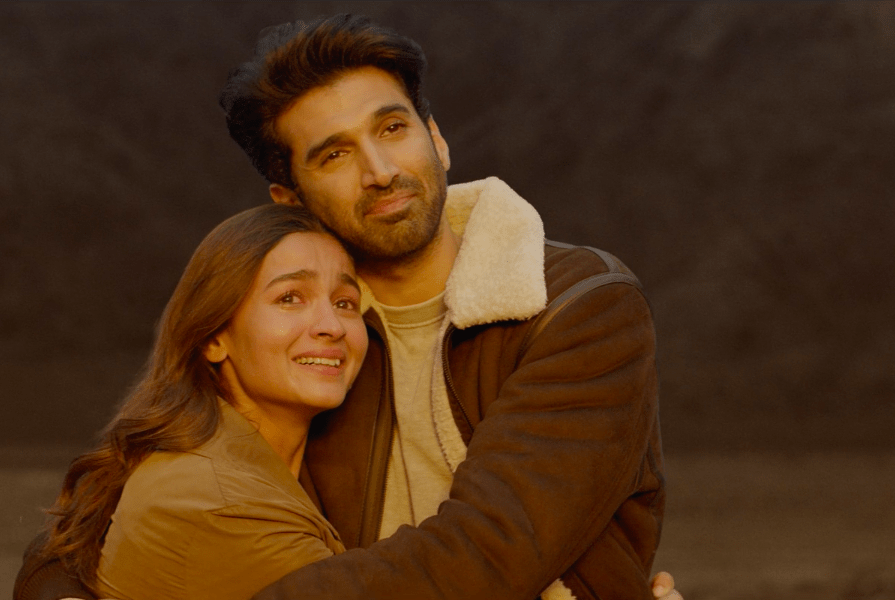 Image Source
Anyway, we don't want to detail the movie scene by scene, but somehow, in the next few scenes, we find out that Nandini is actually the good one, while Yogesh is the villain. How and why does that happen? I don't know! Mahesh Bhatt probably forgot to shoot a few transitional scenes in between and ended up dropping this like a bomb! What happens next is quite predictable. Poor Aryaa is on the run with her boyfriend who wanted to kill her, in the car of a strange driver who sees his dead wife.
Sadak 2 review: Final thoughts
With all the negativity coming Alia Bhatt's way due to the nepotism debate, a part of me really felt for her. She is, after all, a young actor trying to make her mark through her work and not be remembered as her Daddy's daughter. I really wished that this movie turned out to be great so people could see the talent and ease up. But I guess we can only hope sometimes. This movie is all sorts of WTF and makes you question your judgement for even watching it. Alia Bhatt has some solid overacting scenes, and the end makes you cringe. It almost took me back to the days when I saw Sanjay Dutt's Rudraksh.
Also, am I the only one who cringed a lot every time we heard Pooja Bhatt's voice in the background? And can we please stop making stories where girls end up forgiving guys no matter what? I mean, the guy lied all along and was sent to kill you and you say you still love him? Yeh thoda zyaada hogaya!
Ever since the first looks of the film were released, there were several debates and controversies that surrounded the film. In fact, the Sadak 2 trailer even became the most-disliked trailer on YouTube ever!
Trust me, I really wished I could make this Sadak 2 review a positive one. If you find this review a bit confusing, it's probably because I am, in fact, super confused about what I watched. How did Nandini become the good one and poor old Daddy the bad guy? Urgh, I need to stop typing!
You can watch the film on Disney+ Hotstar.
Featured Image Source