Watching the pitter-patter of the rain with a cup of chai and a plate of pakoras, as you sit next to a window, is heavenly. But the monsoon season also brings with it a whole lot of trouble. From walking into puddles of water in the house to the smell, humidity, and mosquitoes, there are a host of problems to deal with in this weather. Thankfully, in today's day and age, we have umpteen products that can help keep your home monsoon-proof. Here are 10 things you can get on Amazon below ₹4,000 to make your home rain-proof.
1. Umbrella stand
Bringing wet umbrellas back home, dripping water everywhere and making a mess is nothing but a headache. Get yourself an umbrella stand with a detachable tray to store your umbrellas. The detachable tray will collect all the dripping water which you can throw away later. Keep it near the entrance or the foyer so it's easy to take and leave the umbrella on the stand as you leave and come back to the house.
2. Dehumidifier
The house usually gets sticky and there is a musty odour during the rainy season. A dehumidifier helps keep the moisture in check while eliminating related odours from the house. A compact and portable humidifier lets you put it in drawers, shelves, shoe racks, next to windows and any other place that has excess moisture. This is one essential you need to rain-proof your home.
3. Clothes drying stand
Drying clothes on your balcony during the rainy season is an absolute no-no. Clothes tend to gather a musty smell, especially when it's not sunny at all. So, on rainy days, use a multi-tier clothes drying stand.
4. Garment steamer
A garment steamer is a great tool to get wrinkles and moisture out of your clothes this monsoon. There's no hassle of setting up an ironing board and an iron. You can just hang your clothes on a hanger and get working. Steamers are also faster to heat as compared to irons, so you don't have to wait for too long to get the steamer hot.
5. Air freshener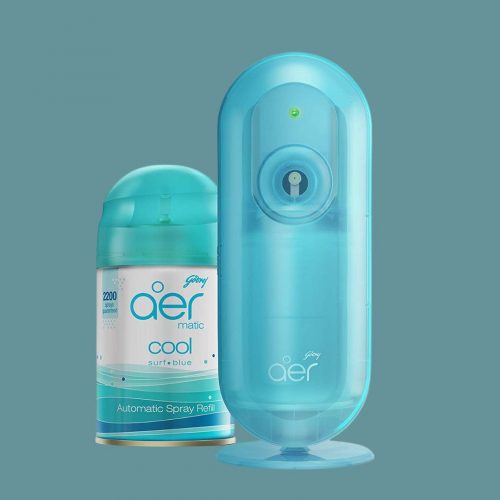 The dampness of the season gets into the house and clings to your clothes, curtains, and other objects in the house. It's not easy to live with this stink. It becomes important then to make sure your house smells good. Get yourself an automatic air freshener to make your home smell fresh and fragrant.
6. Naphthalene balls
Keep mildew and moths away from the shelves by using naphthalene balls. Add some naphthalene balls to your wardrobe, cupboards, bookshelves, toilets, and other shelves. Naphthalene balls also keep away the fabric-eating insects from your clothes, so add them to your clothes drawer. The pungent smell of the naphthalene balls repels cockroaches, reptiles, and rodents. A good tool to have during the monsoon season!
7. Rubber foot mat
Walking in with wet shoes or sandals is inevitable. As you walk through puddle after puddle, you don't just drag water home, but you also transport dirt and other impurities. A rubber mat will help keep the dirt and mud out. Since it dries quickly unlike regular doormats, you don't have to worry about the next person walking in through the door with wet shoes.
8. Silica gel
Closed shoes tend to get stinky, especially during the rainy season. The same goes for other enclosed spaces where moisture gathers and leaves a foul smell. Placing silica gel in closed shoes, cupboards, and airtight containers will absorb the excess moisture. Silica gel protects your things from fungus, mould, and foul smells.
9. Hanging shoe rack
Despite using a doormat to clean your shoes, they don't always completely dry off. Especially if you are wearing canvas shoes or any material that absorbs water. A hanging shoe rack is a good remedy for dripping wet shoes. You can mount the racks on a bathroom wall, balcony wall or any other place where you wouldn't mind water gathering. Just place your footwear into the rack and let them dry.
10. Mosquito racket
Monsoon and mosquitoes are an unfortunate match made in heaven. Monsoon season builds lots of breeding grounds for mosquitoes and they often make their way to your homes. The buzzing sound along with the occasional stings is not something anyone wants. So, one way to rain-proof and mosquito-proof your home is to get electric swatters. They don't just incapacitate mosquitoes but also flies and other flying insects.
These items are individually selected by the team and we may earn a commission from your purchase.
Featured Image Source
Related: AAE Recommends: Monsoon Hair And Skincare Products That Need To Be Added To Cart