One of the most refreshing and nutritious breakfast options, papaya makes for an amazing start to the day. Loaded with essential minerals and micro-nutrients, this fruit can do wonders for your skin and body. So why stop at having the fruit for just one meal when you can do so much more with it? From papaya paranthas to papaya smoothies, there are several ways to experiment with the goodness and unique flavour of this fruit. Here are seven papaya recipes that you should try right away!
Related: From Sweet To Savoury: Watermelon Recipes For A Refreshing Summer
1. Raw papaya kebabs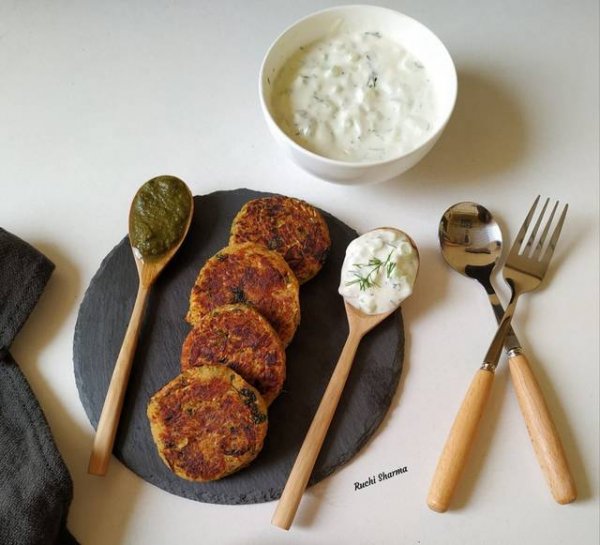 Image Source
Ingredients: 
For Kebabs:
1 small raw papaya, grated
3 boiled and mashed sweet potatoes
Salt, to taste
1 tsp coriander powder
1/2 tsp garam masala
2 tsp cumin powder
1/2 tsp red chilli powder
2 tbsp coriander leaves
3 tbsp oats flour/ all-purpose flour
2 green chillis chopped
1 tsp chaat masala
2 tsp kasuri methi
3 tbsp oil
For Dip:
1 small cucumber
2 garlic cloves, minced
1 cup yogurt
2 tbsp olive oil
1 tsp dill, chopped
2 tsp lemon juice
Black pepper, to taste
Salt, to taste
Method:
Put the grated raw papaya, sweet potato, salt, coriander powder, cumin powder, garam masala, chaat masala, coriander leaves, chopped chilli, oats flour/ all-purpose flour, and kasuri methi in a bowl.
Mix all the spices well with the papaya and sweet potato and make a soft dough. Now, divide the dough into equal parts and make small round patty-shaped kebabs with the dough.
Heat oil in a grill pan over medium heat. Place 6-7 kebabs on the grill pan and cook on medium to low heat until the kebabs turn golden and crisp. Then flip all the kebabs gently with a spatula and cook until the bottom turns crisp and golden in colour. Remove the cooked kebabs on a plate and repeat the process with the rest.
Now, for the dip, take yogurt, olive oil, lemon juice, garlic, dill, and black pepper powder in a bowl and mix well. Keep it in the refrigerator for about 30 minutes. Now, peel and cut the cucumber into small pieces and add it to the chilled yogurt. Mix well.
Serve the hot and crispy kebabs with cool dip and enjoy!
2. Raw papaya salad
Image Source
Ingredients:
A pinch of salt
Method:
Put cherry tomatoes, shrimps, peanuts, and sauce in a bowl. To this, add the lemon juice and green beans and mix well. Next, add the shredded papaya, salt, and chillies to the bowl and give it a good toss. It's ready! You can try this quick, easy, and light papaya recipe for any meal.
3. Papaya paranthas
Image Source
Ingredients:
Method:
Start by cutting and finely grating the papaya. Take a bowl and knead the dough with flour and water as you would normally.
Next, take a non-stick pan and add some oil to it. Once the oil is hot enough, add cumin seeds, green chillis, and grated ginger to it. Saute this till the raw smell of ginger goes away. To this, add the grated papaya, black pepper powder, coriander leaves, and saute for another 5 minutes. Remove it and let the filling cool.
Now, take the dough and divide it into small portions to make paranthas. Roll it out and add a spoonful of the filling in the centre. Bring in all the edges together making it into a ball and roll it out again to make your paranthas. Then, one by one, put them on the pan, adding a little oil on both sides and flipping till the parantha cooks properly from both sides.
Serve the hot papaya paranthas with curd or achaar, and enjoy!
4. Papaya and mango smoothie
Image Source
Ingredients:
1 mango, chopped
1/2 papaya, chopped
1 lemon, squeezed for juice
1/2 tbsp sugar or honey (optional)
Crushed ice
Method:
Add the chopped papaya and mango to a food processor. Drizzle lemon juice and honey on top and add crushed ice to it. Blend the mixture and pour it into glasses. Add more crushed ice on top and serve. A quick fix papaya recipe for breakfast!
Related: Delicious, Easy Mango Recipes To Beat The Summer Blues
5. Papaya sorbet
Image Source
Ingredients:
Method:
Start by combining ginger and papaya in a food blender. Then, in a pan, make a simple sugar syrup by combining sugar and water over medium heat till the sugar dissolves. Add this syrup along with lemon juice to the papaya mixture and mix well.
Let it chill in the refrigerator in a container for about 2 hours. Keep stirring in between and serve when chilled. Try this papaya recipe whenever you want a healthy and sweet treat.
6. Papaya and mango chutney
Image Source
Ingredients:
1 tbsp vegetable oil
3 cm piece ginger, peeled and finely grated
1 onion, finely chopped
3 cardamom pods, lightly crushed
1 red chilli, deseeded and finely chopped
1 cinnamon stick
2 small papayas, peeled, deseeded and diced
1/2 tsp ground cumin
1 mango, peeled and diced
1/2 tsp nigella seeds
150 gm light brown sugar
100 ml white wine vinegar
Method:
Take a saucepan and heat the oil in it over medium flame. Add onions and saute them till they soften. Next, add the chillis, ginger, and spices, and saute for about a minute. Add the papaya, mango, vinegar, and sugar, and bring it to a boil. Now, let it simmer for about 30 minutes and keep stirring so the fruits soften and break down slightly.
Let the mixture cool before transferring it into a jar. Keep the jar in the refrigerator to cool and enjoy the chutney with your meals.
7. Papaya bruschetta
Image Source
Ingredients:
Method:
Take the papaya, peel, and chop it, and keep the papaya seeds separately. In a bowl, add the chopped papaya, red onions, tomatoes, red bell pepper, and chopped basil, and mix well.
Blend the vegetable oil, green onions, mustard seeds, sugar, and vinegar in a food processor, along with papaya seeds, till it becomes a smooth paste. Add the paste to the papaya bowl and mix well.
Next, take the baguette and cut it into 1/2 inch slices. Add the papaya mixture on top and enjoy your bruschetta!
Try these papaya recipes and do let us know which one was your favourite!