Orgasmic Yoga is one of the most recent self-care trends, and everyone is loving this intimate form of exercise! If you are still new to the concept of sensual, orgasmic practice, we are here to help. Even though people are just starting to learn about this concept, it has been around for a long time. It originates from Shakti Yoga, a practice that helps in harnessing feminine power through movement.
So, are you ready to have an intense, intimate yoga session? Here's everything you need to know.
Related: Benefits Of Masturbation For Women: Give Yourself Some Well-Deserved Pleasure
What is Orgasmic Yoga?
Image Source
Orgasmic Yoga is a combination of multiple activities including belly dancing, burlesque, pelvic floor movements, breathwork, and yoga. The main aim of this type of yoga is to activate sexual energy and get in touch with your inner chakras. It takes inspiration from Kundalini and Shakti Yoga, both of which focus on embracing your sexual energy through movement. This allows you to know your body better and heightens all your senses for arousal — or the big O.
Can you actually orgasm from this practice?
It may sound a little superficial but orgasms through this kind of yoga are actually possible. And they are called yogasms! While the main purpose of this practice is to become sexually empowered and discover your body, an orgasm can follow close behind. But don't focus only on arousal, concentrate on connecting with your inner self. This will help you strengthen muscles for better orgasms, bring in core stability, and make you sail smoothly through some difficult sex positions.
Basic steps to practice Orgasmic Yoga
Get your mat because here is the basic routine you need to follow. These steps will act as the base of all the positions that you try and help you have a successful session every single time!
1. Concentrate on your breathing
Stand comfortably and place two fingers on your throat. Take a deep breath in and exhale through your nose, making vibrations through the throat. Breathe slowly and concentrate on your breathing.
2. Squeeze your pelvic floor
Place two fingers on your pelvic floor. Squeeze them when you inhale and relax when you exhale. While practising this yoga, squeezing the pelvic muscles in rhythm will help in setting the mood.
3. Practise pelvic tilts
Get down on your knees for the next step. To do pelvic tilts, push the pelvic floor forward and squeeze your butt as you inhale. Relax and release the pelvic floor when you exhale.
4. Move those hips
The next part includes small hip circles as you inhale and exhale. Keep the circles small and tight and circle your hips forward as you inhale. Then, relax and circle them back as you exhale. You can also place your fingers right above the pelvic bone to guide the movement better.
5. Caress yourself
The last step of Orgasmic Yoga is to move your hands and caress yourself with a feather-light touch. Go all over your body and into your hair, and continue doing hip circles if you like. You can also put on some sexy music to get you into the mood.
Different yoga poses to incorporate these moves
Now that you have learned the basics, you can mix and match these moves. You can try several basic yoga poses and turn them into a sexual and intimate session. And you can increase your chance of getting a yogasm mid-practice if you increase the number of reps.
Also, focus on more poses and movements that engage your core because that will be the most beneficial. But don't worry if you don't orgasm right away, you can keep practising. Here are some poses that you can try.
1. Cat cow pose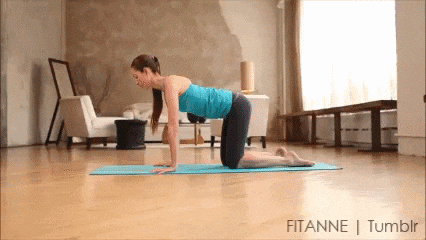 The cat-cow pose helps in relieving stress, and the synchronised breath movement eases the mind and body. It is a great pose as it engages the lower back, hips, and abdominal muscles.
2. Downward dog pose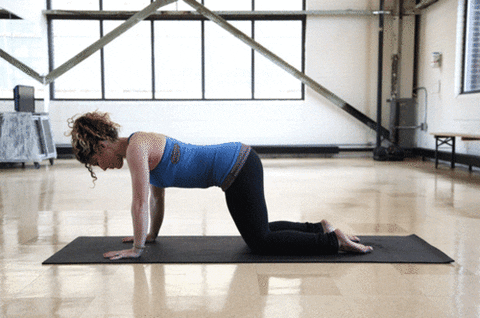 The downward dog pose helps in stretching the back, ankles, calves, and upper body. And it is perfect to try as an Orgasmic Yoga pose because it can get you in the mood real quick.
3. Goddess pose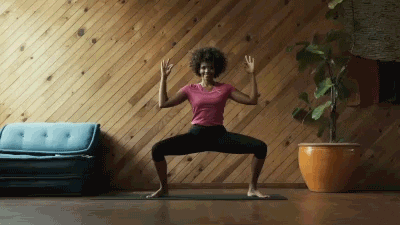 This one helps in opening up your pelvic floor, hips, legs, and chest. And it strengthens the calves, pelvic muscles, abs, and knees. It is one of the easiest and best poses to practice Orgasmic Yoga.
4. Pelvic thrusts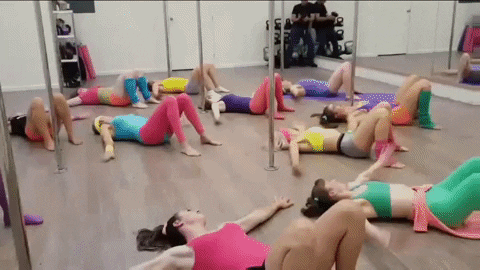 Pelvic tilts or pelvic thrusts are some of the best poses to try for a sexy session. It allows your pelvic muscles, hips, and core to really engage.
5. Happy baby pose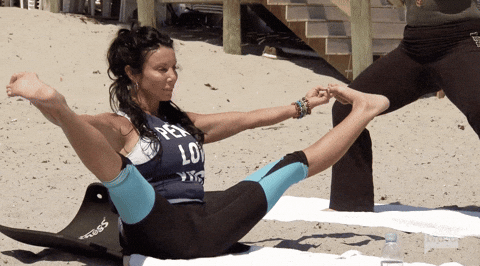 The happy baby pose opens the hips and relaxes and aligns the spine. You should lay down on your back and move side to side for more movement and stretching.
Featured Image Source
Related: Work Your Muscles: Try These Exercises For Lower Back Pain