Directed by Sonam Nair and created by Ashvini Yardi, Masaba Masaba is back with its second season streaming now on Netflix. This season embraces the era of influencers with social media stars Kusha Kapila, Kareema Barry, and Barkha Singh joining the cast. In this season, Masaba is supposedly done with dating and is focusing on becoming "the king of fashion". And she's doing this through a venture called House of Shaadi catering to super-rich brides and grooms and an over-enthusiastic, heavily pregnant PR professional Nicole (Kusha Kapila).
Rytasha Rathore reprises her role as Masaba's best friend Gia, and she's great at it as she was in the first season. It's good to see that her character has remained consistently fun to watch. Thanks to her, we now have a new term for that feeling you get down under when you're sexually attracted to someone. Watch the show to know what we mean.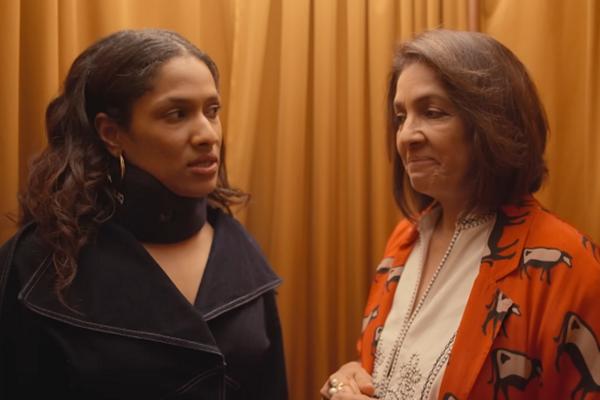 Many known faces make an appearance in the show, like Maria Goretti, Milind Soman, Ram Kapoor, and…Kartik Aaryan. Yeah, we were quite shocked too.
The seven-episode season shows upheavals for both Masaba and Neena ji. Both have their own conflicts to deal with, both personally and professionally. While Neena ji is trying to work with a former lover, Masaba, along with everything else in her life, is struggling with turning 30. Both mother and daughter are also dealing with a younger generation taking over and keeping up with the times.
The second season of Masaba Masaba is kinda disappointing and gets boring in places. The line of men falling for Masaba while she tries to focus on work is predictable and tiresome. It was fun to see in the first season, but now, it's repetitive.
Neena Gupta, however, is the redeeming factor. Whenever the story gets boring, she comes in like a breath of fresh air. Neena ji looks great and her part as the protective mom who wants to be cool is highly relatable. The banter between mother and daughter is a lot more fun to watch than Masaba's love life. Neena Gupta's professional troubles make for a much better, more thought-provoking storyline.
All in all, the second season of Masaba Masaba is a series you can finish in one sitting. But you will be doing some scrolling on your phone on the side.
Review: Ek Villain Returns Review: The Only Question For Mohit Suri Is, Why?
Featured Image Source