Over the last few years, we have seen an increase in a lot of regional content in the OTT space. And Malayalam content, in particular, has made its niche in the web content space. A good web series is the best thing to binge while you are travelling on a metro or getting bored on a weekend. So, here are some of our favourite Malayalam web series that you can check out this week.
Related: Thrills, Thought-Provoking Drama, And More: 11 Malayalam Movies To Add To Your Watchlist
1. Singapooram
Started by a Malayali couple based in Singapore, this sitcom revolves around a fictional NRI couple Sooraj and Chinchumol. They show a satirical take on life through funny incidents that happen to them. Sooraj and Ann don the hats of a scriptwriter and actor in this comedic web series.
Watch it on YouTube
2. Instagraamam 
Instagraamam is a story of four youngsters living in the fictional village of Andippara. It is directed by Mridul Nair and stars Deepak Parambol, Ganapathy, Shani Rakhi, and Subheesh Sudhi.
Stream on Neestream
3. Rock Paper Scissors
Written and directed by Adithyan Chandrashekar, Rock Paper Scissors tells the story of three women who share an apartment. The story revolves around their regular lives and the witty moments they encounter. The mini-series stars Vidhya Vijaykumar, Deepa Thomas, and Sruthy Suresh in the lead roles. First released in 2019, the second season of the series was released in 2020.
Watch it on Youtube
4. Toofan Mail
Toofan Mail is a mini-series that shows snippets from a daughter and father's daily life. Archana Kavi and Jose Kavi star as Ammu and Papa respectively. The series is written by Archana and captures the sweet relationship between a father and his darling daughter. This Malayalam web series shows that no matter how old you get, you are always daddy's little girl.
Watch the series on YouTube
5. Kili
Kili is written and directed by Vishnu Govindan. It stars Aju Varghese, RJ Mathukutty, Sreejith Ravi, Karthik Shankar, Anand Manmadhan, Vishak Nair, and Vishnu Govindan in the lead. The series is set in the backdrop of the COVID-19 pandemic and the lockdown. It essays how the pandemic and lockdowns affect people in different ways. This Malayalam web series promises hilarity and fun.
Watch it on YouTube
6. Meenaviyal 
Meenaviyal is a sitcom written by Archana Kavi and directed by Abhishek Nair. It tells the story of two siblings who have a love-hate relationship with each other. The series highlights slice-of-life episodes from Arun and Amrita's lives. When Arun moves into Amrita's apartment, their sibling rivalry flares up and so do annoying old habits.
Watch it on YouTube
7. Lockdown Aparatha
Another web series set in the backdrop of the pandemic and the lockdown. Lockdown Aparatha revolves around a group of friends who stay together during the lockdown and takes a humorous angle on the situation. The series is directed by Anoop Bahuleyan and stars Nobi, Azees Nedumangad, and Akhil Kavalayoor. The first season of the series was released in 2020 and the second season premiered in 2021.
Watch it on YouTube
8. Kalyana Kacheri
What happens when you get a brother-in-law as a wedding gift? Furthermore, he creates trouble in your marriage driving you to the brink of divorce. Kalyana Kacheri is the hilarious tale of Pratheesh, who becomes the third wheel in his sister Prasanna and her husband Vinayakan's relationship. Directed by Anand Menon, the web series stars Anuraj OB, Ajil Vinayak, and Sruthy Suresh.
Watch it on YouTube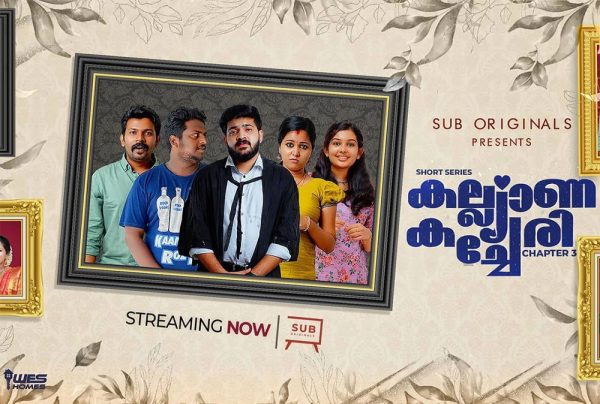 Featured Image Source
Related: 10 Underrated Indian Web Series Which Deserve To Be On Your Watch List