Stereotypically, while talking about south Indian movies, everyone thinks it's all fake accents, flying cars, and over-the-top action. We are here to tell you it's not! Beautiful cinematography, gripping storylines, fabulous acting, and soothing music make Malayalam cinema a cohesive whole. Here are 11 of our favourite Malayalam movies that go beyond just action and romance.
1. The Great Indian Kitchen (2021)
A look into what marrying into a patriarchal house looks like, that's The Great Indian Kitchen in a nutshell. Nimisha Sajayan plays a wife who marries into a typical patriarchal family where the woman is expected to do all the household chores. While she tries to accept the customs of her husband's house, she soon finds herself struggling. How Sajayan breaks her shackles and reclaims her independence is a delight to watch. A must-watch movie for everyone!
Stream on Amazon Prime Video.
2. Drishyam (2013)
Before Vijay Salgaonkar and his family attended Swami Chinmayananda's satsang in Panaji, Goa on October 2, Georgekutty did it first. The Hindi version of Drishyam was good, but the Malayalam original was better. That's just facts. We don't make the rules. Mohanlal's realistic acting set the bar super high. Every frame of the movie is shot spectacularly and has a story to tell. The tight storyline, the fabulous acting by not just Mohanlal, but also Meena and Asha Sarath take the movie a level up. In 2021, a sequel to the movie, Drishyam 2, was also released which is at par with the first movie.
Stream on Disney+ Hotstar.
3. Anjaam Pathiraa (2020)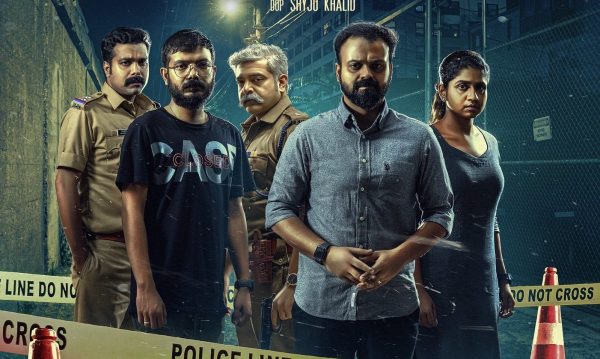 If you want an edge-of-your-seat crime thriller, your search ends here. This Kunchacko Boban-starrer will blow your mind. With twists you don't see coming, every other scene is filled with anticipation and thrill. The movie follows a squad of policemen who are trying to find a faceless serial killer with the help of a criminologist. Anjaam Pathiraa will keep you on your toes with its unpredictability.
Stream on MX Player.
4. Kumbalangi Nights (2019)
Kumbalangi Nights is not a movie with heroes and heroines. It is a movie filled with flawed, broken humans who are struggling to get through each day. Saji, Bonny, Bobby, and Franky are siblings who mostly do not get along. They live in a dilapidated house with no women in the household since their mother ran away. They have a messy relationship with each other. But as they go through life and face problems, they realise that they only have each other to rely on. This is a movie that uses patriarchal norms and men to break the mould. Apart from the beautiful storyline and cinematography, the music is one of the best in the industry.
Stream on Amazon Prime Video.
5. Bangalore Days (2014)
Bangalore Days follows three cousins, Divya, Kuttan and Arjun, as they follow their dream of relocating to Bangalore. Each of them gets there via different means. Divya ends up marrying a guy her parents chose, Kuttan moves for a job, and Arjun joins as a biker gang mechanic in Bangalore. As they move there, they face numerous challenges and realise who they really are. Bangalore Days is a movie about relationships, not just with other people, but the relationship one shares with oneself. This is another one of those movies with an amazing soundtrack to match all your moods.
Stream on Disney+ Hotstar.
6. Android Kunjappan Ver 5.25 (2019)
Android Kunjappan Ver 5.25 is a movie that depicts the uncanny dependence we have on technology quite effectively. Bhaskaran, a conservative villager, doesn't like that his son, Subramanian, is relocating to Russia for a job. He keeps driving away all the house help his son finds for him. When Subramanian brings home a robot to care for his father on one of his visits home, Bhaskaran though initially antagonistic soon forms an unlikely bond with the machine. Android Kunjappan Ver 5.25 is a relatable movie that warns the audience about the challenges of overdependence on technology.
Stream on Amazon Prime Video.
7. Vikruthi (2019)
A tired Eldho, a man with hearing and speech disability, after taking care of his daughter in a hospital, falls asleep in the metro on his way back home. Sameer mistakes him for a drunkard and shares his photo online. While Eldho has to face the fallout from the photo that goes viral, Sameer too has to face the consequences of his actions. In today's age of social media, where people hide behind the anonymity of the internet to troll people for kicks and giggles, this movie comes as a mirror.
Stream on Netflix.
8. Manichitrathazhu (1993)
Did you know that the box office hit Bhool Bhulaiyaa is not an original? The original movie was in Malayalam titled Manichitrathazhu. Mohanlal as Sunny and Shobana as Ganga are absolute show-stealers in the movie. No matter how many times you watch and re-watch this movie, you'll be glued to the screen. The movie builds up like a crescendo frame by frame, scene by scene until it resolves beautifully in the end. Go watch it now, you won't be disappointed.
Stream on Disney+ Hotstar.
9. June (2019)
If you are feeling nostalgic about your school and want to revisit those glory days, June is the perfect watch. This is the coming-of-age story of a teenager, June, who thinks she is nothing remarkable. The movie follows her from her adolescence through her adulthood. As she grows, she experiences love, heartbreak, changing family dynamics, and friendships. Anybody who has gone through adolescence will be smiling back at their teenage years as they watch this movie.
Stream on Disney+ Hotstar.
10. Ustaad Hotel (2012)
Raised by a single father and his four sisters, Faizal dreams of being a chef. His father though is totally against the idea, as he thinks being a chef is not a respectable enough job. Faizi, under the pretence of studying hotel management, goes to Switzerland to study to become a chef. His father is furious when he finds out and confiscates his passport. Faizi then travels to Kozhikode, where his grandfather, Kareem, runs Ustaad Hotel. As Faizi works with his grandfather, he sees life in a new light. It is a story of following your passion and breaking the chains of tradition that bind you. Thilakan as Kareem Ikka shines through the movie. Don't forget to watch this movie for an introspective, feel-good experience.
Stream on Disney+ Hotstar.
11. How Old Are You? (2014)
"Who decides the expiry date of a woman's dreams?" That is the question How Old Are You? tries to answer. Nirupama Rajeev, a 36-year-old woman, dreams of relocating to Ireland with her husband. While are husband and daughter are able to move, she is unable to do so. An appointment with the President of India leaves her a laughingstock in front of the world and her family. How Nirupama goes from being a joke to an inspiring woman becomes the core of the movie. With the help of an old friend, Nirupama is able to find her old self again, the woman who had strong opinions, the woman who fought for her dreams, the woman who fought against injustice, and the woman who was fiercely independent.
Featured Image Source
Related: Action, Drama, And Romance: The Best South Indian Movies To Watch On OTT Platforms