Everyone thinks Type 2 diabetes is a permanent condition, one that will stay with you for the rest of your life. But that's not true. Studies have now shown that Type 2 diabetes is reversible. And you can achieve this at home. If you, or someone you know, have been diagnosed with Type 2 diabetes, read on to know the simple changes that can help reverse the condition. Here is all you need to know on how to reverse type 2 diabetes at home.
1. You need to stay away from sugar
If you want to reverse Type 2 diabetes, you have to avoid all artificial forms of sugar. Read the labels on all your food items carefully, and go through their ingredients. Don't eat it if you see added sugar among the ingredients. Avoid processed and packaged foods, white rice, maida, wheat and potatoes in any form. You should also avoid sauces and salad dressings as they are loaded with sugar to make them palatable.
Watch the video for Dr Mahesh Jayaraman's insights on what sugar does to the human body.
2. Fats are not the enemy
Carbohydrates are good for you in the right quantity. But they should be accompanied by fats. Yes, you read that right. Healthy fats like ghee, cold pressed mustard, sesame, coconut and groundnut oil should be a part of every meal. These healthy fats break down the carbs to make them easier to digest.
3. Give alternate grains a chance
People with diabetes are told to avoid white rice, but regular wheat rotis are bad for them too. Step away from these staples and step into the world of alternate grains. You can enjoy the food you like, with a healthy twist. Incorporate millet, besan, cauliflower and dals into your diet. Millet rotis, dal dosas, and besan cheelas are good additions to your meals. You can also make rice out of cauliflower.
Cut cauliflower into small pieces, dry it properly, and put it in a blender or vegetable chopper. The texture is similar to rice, so you can replace rice in almost any recipe with chopped cauliflower to make it healthier.
Image Source
4. Make sure your plate is well-balanced
The key to a healthy lifestyle is a balanced diet. Many people struggle with balanced meals, so here's a simple way to make sure you get it right.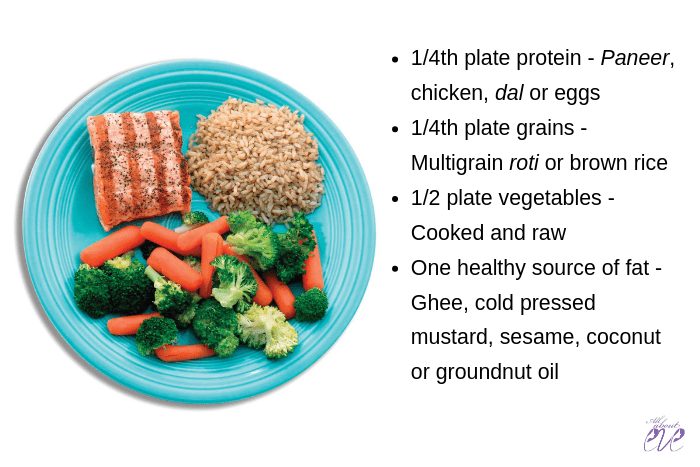 5. Starve the sugar out of your body
Intermittent fasting isn't just another fitness fad. It's a legitimate way to cut down on excess sugar in your body. To achieve this, you need to begin with a 10-12 hour fasting period every day. This is easily achievable for most, since you can maintain this gap between dinner and the next day's breakfast, while you're sleeping. So if you eat dinner at 9 pm, try to delay breakfast till 9 am the next day. Don't eat or drink anything except water in this period. Eventually, you can build up to a 24 hour fast, but this should be done only under the supervision of a doctor. Do not start fasting suddenly, without any practice. That can have serious consequences on your health.
These valuable insights and information were part of a workshop on how to reverse Type 2 diabetes. The workshop was held by Reclaim Health and Mahesh Jayaraman, co-founder and chief medical therapist at Sepalika. Click here for information on upcoming workshops and practices to lead a healthy lifestyle.