You complement each other in umpteen ways, perhaps one of the reasons why you decided to share your lives forever. While these are for you to cherish, show the world on your D-Day, that you are a perfect match – inside and OUT!
After all, everything is better if it is matched and coordinated? Right!
So here's your go-to 'how to match wedding outfits' guide to help you with your coordination blues.  Right from glaring to smart pairing to super subtle – choose your style and stand out you two!
1. Same Pinch
You and your partner like the exact same colour and its shade? Congratulations! You have saved yourself from a slew of brain pickings on deciding the perfect way to match your outfits on your D- Day.
Wearing the same colour is perhaps the most wonderful way to be perfectly in sync with each other. Be it a pleasing pastel or a dramatic bright – choose a colour that suits you both and brings out your chemistry and personality as a couple.
Just take a look at Anushka and Virat's wedding pictures – do we need to say more!
2. A Game of Tones
If you like the same colour but want to look distinct, go for different tones to charm your way into everyone's heart.
A lighter and darker shade of the same colour is a fail-proof way to complement each other's outfit and yet retain a personal flavour.
See how different tones of tangerine create an on – point symphony for this beautiful couple.
3. Different, Yet One
Matching certain elements of your ensemble with that of your partner's is elegant, modern and doesn't risk the bride and groom losing their distinct styles. At the same time it exudes evident unity.
The groom can match the tone of his 'safa' with the bride's lehenga or her dupatta. The bride can match her choli with the groom's jacket. The groom's kurta could flirt with similar colours as the bride's lehenga or the border of her saree…phew! The possibilities are quite a few.
4. Love Reflects in the Smallest of Things
Small but specific detailing goes unmistakable if you are smart about it and do not want to go overboard with the matching game.  The humble pocket square worn by the groom can be matched with the bride's dupatta or lehenga to tie that subtle but alluring thread that binds the two outfits.
Take a cue from Neha Dhupia and Angad Bedi. While Neha looks gorgeous in pink and Angad has certain elements of pink in his ensemble, the only tone of pink that matches to the T is Neha's bindi and Angad's pocket square and stole.
5. Pair the Print
Be a fun pair. Be a bold pair. Opt for similar patterns or detailing on your outfits to groove in tune with each other on your big day.
Go for big or small prints – preferably floral to up your glam and have your wedding outfits in perfect synergy. Similar embroidery works perfectly well with the combination of bright against a neutral colour so as to make the work stand out.
Looking at these couples, we know how these ideas are good ideas.
6. It's All in the Family
You can also choose a colour family and stick to it. Colours of the same family – warm hues, pastels, blues etc. – radiate similar vibes. Wearing different colours and patterns but belonging to the same family will be a perfect bet to elevate your coordination pitch and retain your individual choices.
Colour coding the rest of your gang will also add to the fun and that distinct flavour to the bride and the groom teams.
This flawless couple in dreamy pastels makes us drool!
7. 'Tied' by Love
Getting married the catholic way in a beautiful church setting adorning the lacy white gown of your dreams? The chances of your man pulling off an all white are slim (If you do have a man who can carry it with élan, hold on to him ladies).
While wearing a suit or a tux of another colour, the groom can match his tie and boutonniere to his lady love's bouquet of flowers.
8. Peek-a-Boo
This one is for the couple who don't believe in glaring displays of coordination. However, if you still want to add a little magical touch to showcase subtly, the perfect love 'match', give a little blink and miss appearance of your unity.
The groom can match his socks to the bride's footwear at their reception party, or even the wedding if the groom is dressed in a tux!
A little peek-a- boo display of coordination…alluring much!
9. Strike a Jewel Chord
If you want to steer clear of coordinating outfits, try coordinating jewellery instead. A groom charming enough to wear a neckpiece over his sherwani can colour coordinate it with the bride's outfit.  The brooch on the groom's safa/turban can also complement the bride's jewellery design element.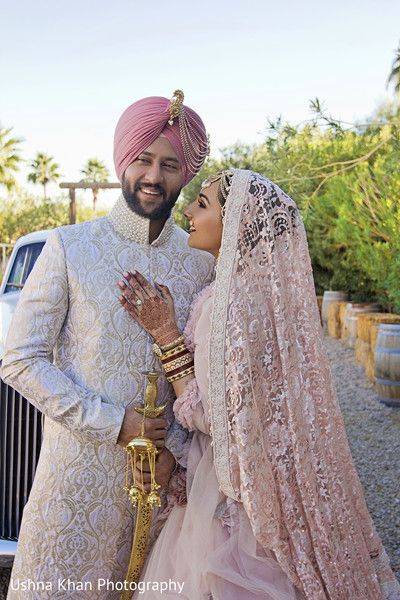 10. Opposites Attract
This one is for the couple who dare to show how they are so different, yet one. Wear contrasting colours which bring out your individual personalities yet look surprisingly a unit when together.
Colour combinations like bright red and royal blue, burnt orange and green, pink and blue, will look blazingly hot together and individually alike.
Happy shopping, lovebirds!
Participate in the AAExTAJ Instagram contest and win a '3 days & 2 nights' stay at the uber-luxurious Taj Exotica Goa