Giving head to someone can be a pleasurable experience not just for them, but also for the one doing the act. If you know how to do it right, that is. Giving someone a blowjob is probably the only time it's okay to go below the belt in a relationship…if you know what we mean. Now, most men definitely enjoy getting head, but that doesn't mean that their partners know how to orally stimulate a man without choking themselves. And if you have the same problem, fret not, we've got your back. Now, by definition, oral sex is using the mouth to stimulate your partner's genitals. But that is no reason that you stick to just using your mouth. There's more to oral sex than just the mouth, folks.
1. Get out of your head
Giving head to your man requires you to get out of your head. Don't overthink it, peeps. Just go with the flow and enjoy it. Be enthusiastic about pleasuring your man, rather than treating it like a chore you are forced to do. Don't be too worried about doing it right or wrong. Instead, just focus on whether your man is enjoying it or not. Interest and enthusiasm are the keys to having an enjoyable experience for you and your partner. If you are too worried about the technicalities of what you are doing and how you are doing it, you'll be tensed all over and that won't do any good. So, relax and enjoy.
2. Get into a comfortable position
Now, if you go by all the porn, women tend to fall onto their knees right on the floor to give the man an intense blowjob. But spending an extended period of time on a tiled floor, on your knees, is not exactly comfortable. So, before you get started with your activities, find a comfortable spot. Grab a few pillows, maybe a throw, and get comfy.
3. Use your hands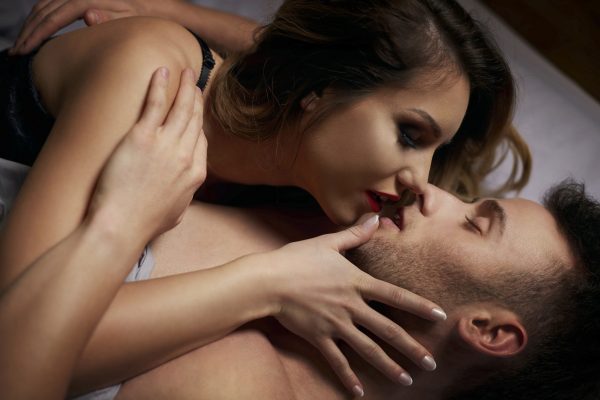 Just because it's oral sex, it doesn't mean you shouldn't be using your hands or touching other parts of your partner's body. Feel free to touch their chest, play with their nipples, gently squeeze their bum, and fondle the testicles, all while you use your mouth on your partner's penis.
4. Don't try to deep throat
The first rule to avoid choking is to avoid deep throating. You are not starring in a porn film, and neither is it Fifty Shades of Grey, where Mr. Grey is standing around with a whip forcing you to take it all in. Deep throating can be difficult and unpleasant, especially if your gag reflex gets triggered easily. So, it's best to just take as much of the penis inside your mouth as you comfortably can.
5. Use your tongue
Every now and then, use your tongue to add a little pressure. Glide your tongue across while gently applying pressure. Of course, don't go around licking like a cat all over the place. But, switch up your movements. While some men like a little teeth action, others don't. Talk to your partner about what they like and proceed accordingly.
6. Talk dirty
In between giving head to your man, be very vocal about the kind of things you want to do to him and what you want him to do to you. It is a sure-shot way to turn him on. Pay attention to how your partner is reacting to your words and actions and do more of what turns them on. If you are unable to read body cues, ask them to be vocal about their likes and dislikes. Ask your partner to guide you to their pleasure.
7. Change up the pace
Keeping changing the pace while orally stimulating your partner. Speed up and slow down based on their reactions. Nobody's gonna hate you for making their pleasure last longer, so if you are tempted to speed up just to get them off, it's a better idea to slow down and hold on. The more you build the pleasure, the more intense it'll be.
Featured Image Source
Related: A Beginners Guide To Oral Sex: 9 Tips On How To Take A Successful Trip Downtown