If you have just moved into a new home or if you want to change your home decor a bit, Delhi NCR has some interesting markets to explore. And if you're looking for home decor on a budget, these markets can offer deals you would've never seen. For this weekend, we have curated a list of home decor markets in Delhi NCR which you need to wander through with time on your hands. Check out these hidden gems and create the home decor of your dreams…on a budget.
Related: Terrace Decor Ideas To Spruce Up That Empty Rooftop
1. Hauz Rani
Image Source
If you love plants, crockery, and everything related to pottery, Hauz Rani is the decor market for you. This market offers colourful ceramics at affordable prices. You can find everything from coasters to cups here. They've got soap dispensers for ₹100 and tiny bowls for ₹25. Besides crockery, you can also find decor items like wind chimes and beautiful flower pots. Located in Malviya Nagar, this market is not that big but it offers a great variety of ceramics.
2. Central Market
Image Source
Another decor market that you can explore in Delhi is Central Market. Located in Lajpat Nagar, Central Market is a one-stop destination for decor, clothes, and food. If you want to experience it all, Central Market is just the place for you. It also has a wide range of household items, so you will find everything related to basic house necessities and that too at reasonable prices.
3. Panchkuian Road Furniture Market
Image Source
If you are looking for some comfy couches or cane swings, you should give Panchkuian Road a visit. Located in Paharganj, this market has everything from jute swings to vintage chairs. If you want to add that old-world vibe to your living room or balcony, you know where to go. Moreover, if you bargain well, you can get couches for as cheap as ₹5,000.
4. Sarojini Nagar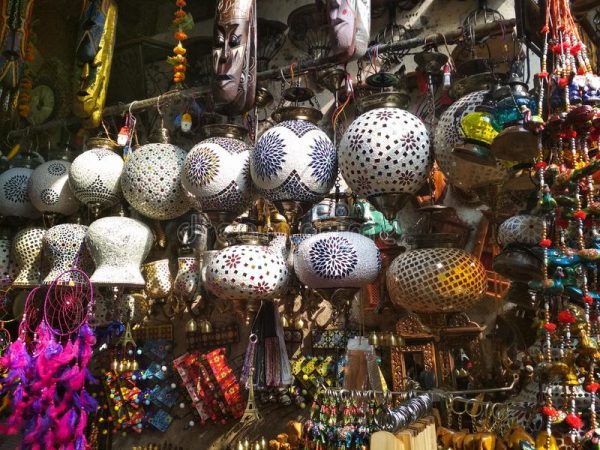 Image Source
Sarojini Nagar offers way more than clothes at a bargain. Shocking, I know. Sarojini Nagar is another hidden gem when it comes to home decor markets in Delhi. You can find a wide range of curtains, bedcovers, and tablecloths here. The prices in Sarojini are always a steal, so you don't have to worry about that. You can also find an amazing selection of crockery. So, the next time you go shopping in Sarojini, make sure you explore more than just the clothes.
5. Banjara Market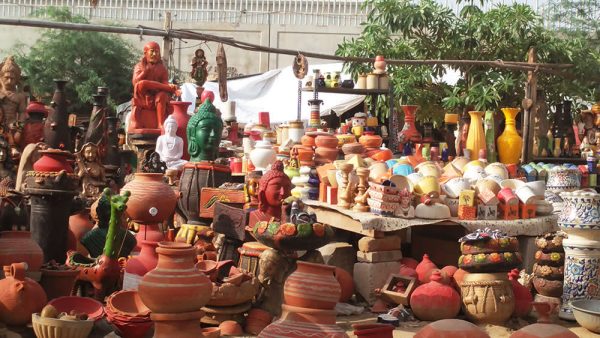 Image Source
How can we not include the famous Banjara Market on this list? Located in Gurugram, this market is popular among all the social media influencers we know. If you haven't visited Banjara Market yet, you should visit it as soon as possible because this place will blow your mind. The prices, the quality, and the pieces–everything is great. This market offers a variety of products ranging from cabinets, mirrors, and frames. In case you can't go and explore the market right away, we have some good news for you. Banjara market is now online. Find the website here.
Tip for offline buying: Check the pieces before buying so that you don't end up with anything defective.
6. Kirti Nagar Market
Image Source
For some affordable and high-quality furniture, explore the Kirti Nagar Market. Since the market is quite big and the shops look similar, here are some stores that you can browse through before you think of giving up on the market altogether:
Manku Furniture
Akarshan Store
Art Effects
Idom
Related: Winter Decor Ideas To Make Your Home Cozy And Winter Ready