It's Navratri season again, a time when fasting and feasting go hand in hand. While you look forward to the vrat ka khana, others may be dreading the same. Fret not, lovelies, we are here to help! Here are some quick, easy and healthy snacks you can try this Navratri without compromising on the taste.
After trying these amazing recipes, you might just want to have them throughout the year.
1. Snack on some healthy dried fruits
Dried fruits like kiwi, dates, apricots, and raisins are power-packed with nutrients. They won't just keep you full, but they'll also keep you energetic through the day.
You can stock up on dried fruits here.
2. Add some sweetness with makhane ki kheer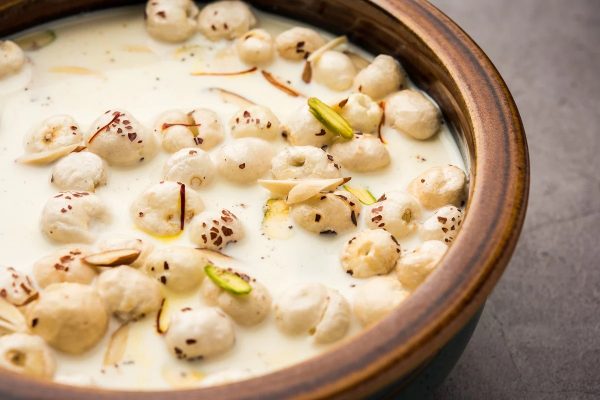 Makhane, or foxnuts, are a staple during fasting seasons like Navratri. Try makhane ki kheer to delight your tastebuds with some much-needed sweetness.
You can check out this and other makhana recipes here.
3. Make your vrat spicy with fruit chaat 
Fruits are your best friends if you're fasting. So, why not add some extra spice to your fruits and make them even more enjoyable? Toss in your favourite fruits in a bowl, add some rock salt and lemon juice, and you have your vrat-friendly fruit chaat ready.
4. Get a boost of health with water chestnuts and cucumber salad
Water chestnut, or singhara, is a good source of nutrition when you are fasting. Add in some cucumber and it becomes a powerhouse of antioxidants that keep you healthy. Mix water chestnuts, cucumber, and roasted peanuts in a bowl with a pinch of rock salt and some coconut oil dressing to enjoy a guilt-free, Navratri-friendly salad.
You can check out this easy recipe here.
5. Get fancy with farali pancakes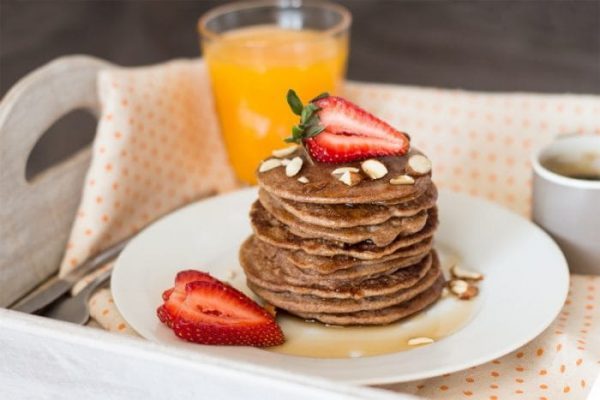 Pancakes and Navratri fasting don't usually go hand in hand, but we've got one that does. Enjoy this healthy, one-of-a-kind fasting recipe made with sama millet, buckwheat, and ripe bananas.
You can follow the recipe here.
Enjoy your Navratri with these healthy snacks.
Featured Image Source
Related: 8 Healthy Navratri Snacks To Keep The Hunger Pangs At Bay This Festive Season