Do you have a friend, family member, or SO, who were born under the water sign? Because Pisces season is here and you must start worrying if you haven't found a gift for them. These water signs are usually calm and collected…till they lose their shit! And you really don't want to get on the bad side of a Pisces because they might just make your life hell. We are here to save you from all the cold stares, eye rolls, and hurtful taunts. Here is the ultimate gifting guide to help you find the perfect gifts for the Pisces in your life.
Related: Practical Yet Funky: Clever Gift Ideas For The Aquarius In Your life
1. Pisces zodiac sign notebook
Zodiac Sign Notebook from Nauntankishaala
Pisces have a very dominant creative side and they love scribbling in their journals. And this zodiac notebook is perfect for them to pen down their million-dollar ideas. So, show them some appreciation for their creative sides and gift them a customised notebook this birthday!
2. An adult colouring book
Bagh-E-Bahar, A Mughal Garden: A Colouring Book for Adults
If you have a Pisces in your life, you definitely know their love for painting and colouring. Their creative side comes through and this is a great way for them to express themselves. This gorgeous adult colouring book makes for one of the best gifts for Pisces.
3. A burner set
Marshmallow Burner Set from Home Centre
Pisces are usually hustling and barely take any time off to relax. But when they do, they love to have a comfortable environment around them. Help them reduce their stress levels by gifting them a burner set. It helps in relaxing and creates a calm and soothing environment, and your Pisces friend will definitely appreciate this gesture.
4. A set of coasters
Traditional Print Ceramic Coasters from The June Shop
Pisces people have a thing for their aesthetic and it reflects in almost all of their belongings. So, a set of coasters just sums up their love for hosting and being really chic at it. And you know how much they love their tableware, so this beautiful set of coasters is one of the best gifts for Pisces.
5. Curated gift boxes
Men's Bundle by Blissful Bundles 
Who doesn't love gift hampers and specially curated gift boxes? And Pisces always love a good surprise coming their way. So, check out these amazing curated gift boxes and take your pick, depending on what you want in your box. This idea is great if you are looking for gifts for Pisces men, but you can browse through and find more gift boxes according to your liking.
6. A customised star map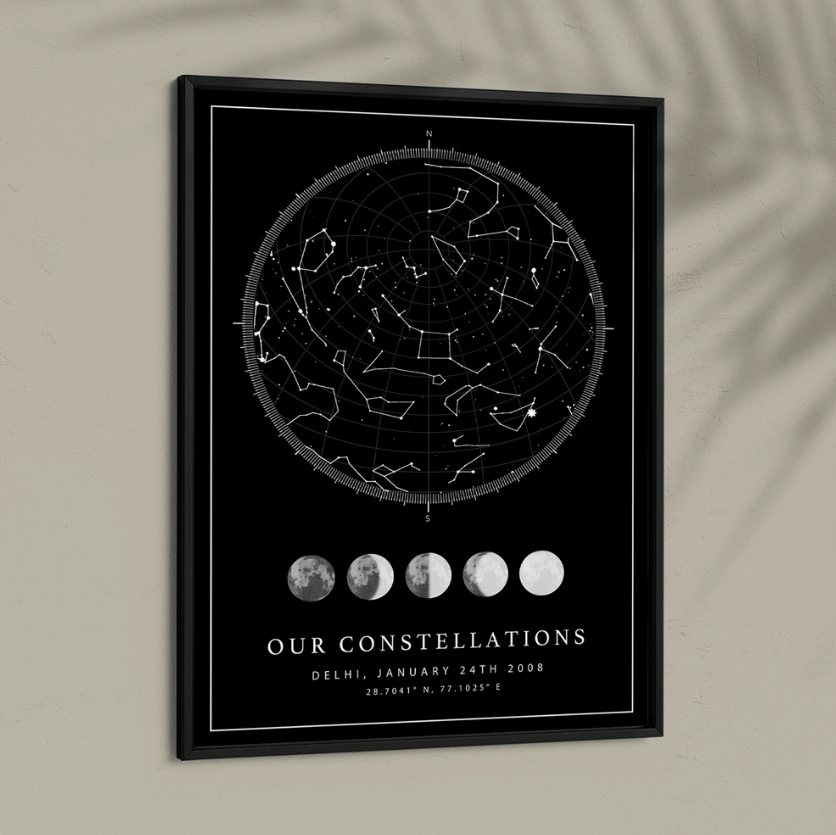 Custom Star Map by Nook At You
These water signs are huge believers in astrology and zodiac signs. They have this intuitive, psychic side to them which actually proves true many times. So, this super adorable customised star map will definitely please them. It is personal, creative, and very thoughtful.
7. A little cabinet
Summertime Vibes Cabinet from Chumbak
Pisces love having their things organised and in one place. And if it's pretty, brownie points for that! If you have a neat freak, Monica-influenced Pisces friend, this cute little cabinet is just perfect for them. Trust us, you will be highly appreciated for it as it makes for one of the best gifts for Pisces.
8. Sleeping mask
Donut Sleeping Eye Mask from Snooplay
By now, you already know how much Pisces love a good nap. And since they are private people who enjoy their me-time, you can often find them under sheets with headphones plugged in. So, for this birthday, give them something that they can actually use — a sleeping mask. Isn't that the perfect gift for a Pisces?
9. Moon lamp
3D LED Moon Night Light Lamp by Jukkre
Celestial bodies really appeal to Pisces as they are always aiming for the stars. On this birthday, bring them a little closer to the sky by gifting them this gorgeous moon lamp. It makes for one of the best gifts for Pisces as it is a great addition to any room. And this one comes with multiple colour changing options. Perfect, isn't it?
10. Travel pillow
Travel Neck Pillow from Quirky Store
Pisces love their comfort more than anything in the world. So, if you can make their life easier or comfortable in any sense, they will be grateful to you. And what makes travelling easier and way more comfortable? An adorable, plush travel neck pillow, because who wants to be swaying around in sleep while travelling?
Related: Planning To Date An Aquarius? Things To Know Before Jumping Into The Crazy