The rams are all ready to celebrate their birthday in the pandemic for the second time. And even though they can be a little intimidating and scary, if you have an Aries in your life, you know the reality. Getting a gift for Aries can be quite a task because they are usually very selective and opinionated about things. But don't worry, because we know how to please these fiery rams. Check out these gifts for Aries that will help you get in their good books and stay there for a while.
Related: Creative, Sassy, And Moody: Here Is The Perfect Gifting Guide For The Pisces In Your Life
1. Storage boxes
Vintage Market Trinket Box from Chumbak 
Aries can be real freaks about keeping their things organised and in the right places. Gifting a storage box is a great idea because they will love you for it. And if it is a box with a nice print on it, you will definitely get the largest piece of cake because they love aesthetics!
2. Essential oils
Lavender Essential Oil from Kama Ayurveda
Aries are absolute lovers of aroma and essential oils as it tends to calm them and put them in a good mood quicker than wine. Pamper the senses of the Aries in your life by gifting them some essential oils. And who knows, they might be up to sharing if you are lucky!
3. A quirky candle
Candle from Odd Giraffe
If you have an Aries in your life, you know that they are many things but never a basic bitch. So, even though they love candles and feeling relaxed, it still has to be something quirky. And this apple cinnamon candle is perfect to help them get comfortable and unwind at home.
4. Desserts
Assorted Waffle Cookies by Waffle House
If you can't think of any gifts for Aries, just rush to a bakery and get some baked goods. Aries people have the biggest sweet tooth and they love indulging in all sorts of brownies, tarts, cookies, and more. Also, they are always up for experimenting, so try these amazing waffle cookies and surprise their sweet tooth!
5. Cocktail mixes
Fruit Sangria Cocktail Mix by Sippin
Aries is one of the best hosts amongst all the other zodiac signs. And if you have ever lived their hospitality, you know it keeps calling you back. So, for this birthday, gift the host something to make things all the more exciting. Cocktail mixes are just the perfect gift to make their lives a lot easier, so browse through to find the perfect mix!
6. Customised party box
Party In A Box by The Boxparty Club
If you really want to get in the spirit of the Aries season, you might as well get something custom-made for your dear Aries. And a customised party box sounds just perfect to cheer up another pandemic birthday. So, let them have all the feels of throwing a birthday party with this customised party in a box.
7. A quirky journal
Aries Birthday Gift Notebook by Parallier 
Aries are very creative people with various thoughts running in their head 24×7. Therefore, a quirky journal will be one of the greatest gifts for Aries. It will help them pen down all their creative world-changing plans and they will be very thankful for that.
8. Self-care hamper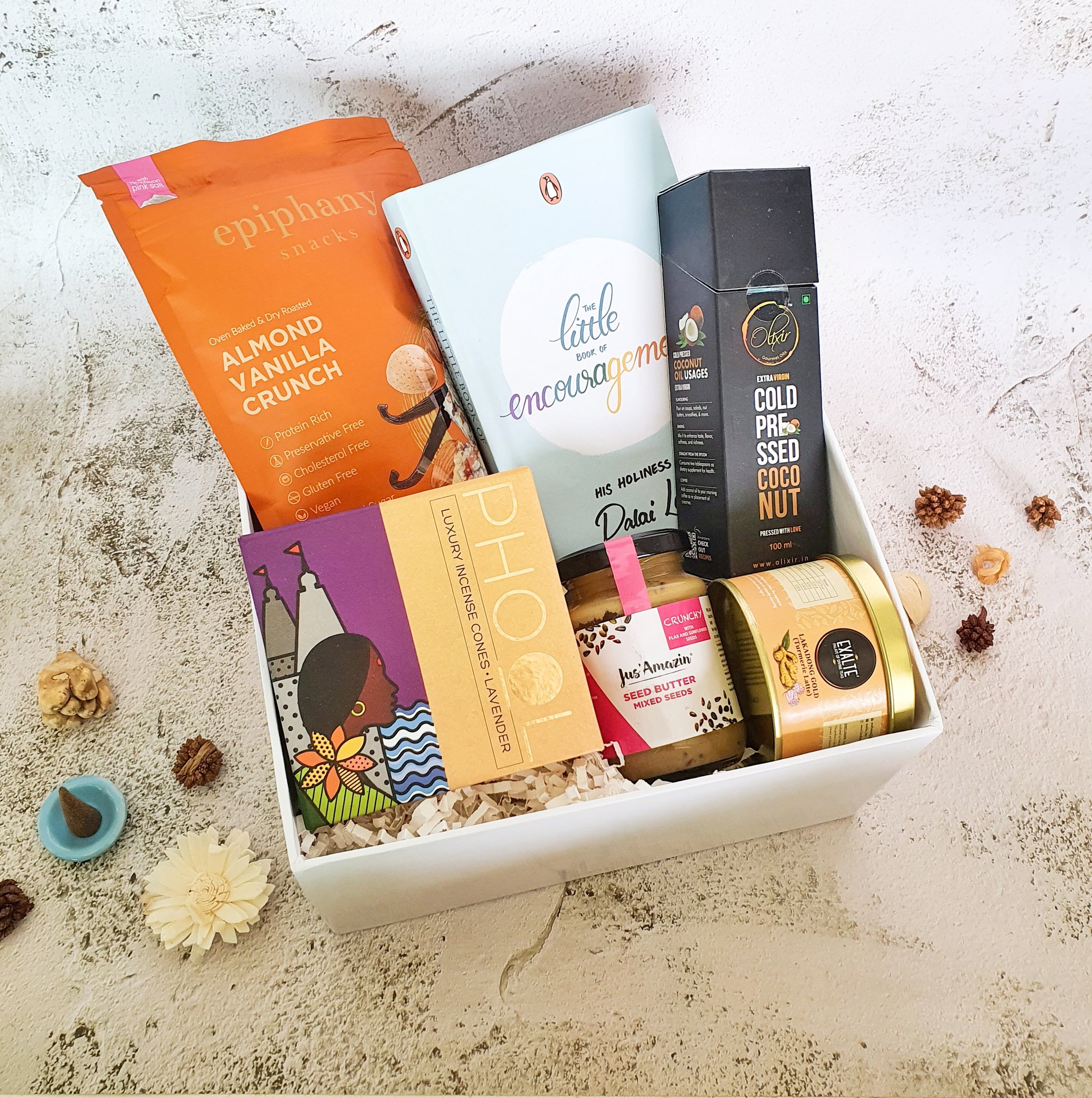 The Self-care Gift Box by The Gourmet Box
Aries are big on the whole idea of self-care and self-love. They love prioritising themselves after a long day and indulging in some me-time. That's why a self-care hamper is a great idea to gift for this aesthetic zodiac sign.
9. Fragrances
1 Million by Paco Rabanne
If you know an Aries, you know they probably have a cupboard full of perfumes, mists, and all sorts of fragrances. They love smelling gorgeous as it helps them feel confident and ready to conquer the world. And since Aries can be quite mysterious, they love scents that are a little spicy, subtle, and not way too sweet.
10. Sunglasses
Galicia Sunnies Black by Bellofox
Accessories are an Aries' biggest must-have, and you won't ever spot them without a stylish pair of sunnies. So, for this birthday, gift them a pair of sunglasses and help them flaunt their style.
Related: Practical Yet Funky: Clever Gift Ideas For The Aquarius In Your Life