Trying to find new ideas for the bedroom? Or maybe some inspiration for solo play? Erotic novels are the perfect fodder to sex up your imagination. Whether it's extra zing in the bedroom with your partner or finding a way to get yourself to O-town, erotic romances give you the perfect inspo. And there is so much to explore in this genre! If you thought Fifty Shades of Grey was the bar, you set the bar too low. Here are some of our favourite steamy erotic romance novels that will have your hands wandering everywhere.
1. Bared to You by Sylvia Day
The entire Crossfire series by Sylvia Day is a lesson in seduction. Whatever the man may or may not know, Gideon Cross sure knows how to pleasure a girl. Eva Trammell is an advertising executive who lands a new job in the same building as the magnetic business tycoon, Gideon Cross. Sparks fly, clothes come off, and there are a few explosions. Everything is going well in Eva and Gideon's life, but soon they are faced with their past and its repercussions. As the series progresses, find out how Eva and Gideon learn to get over the trauma of their past and grow together and towards each other.
2. The Siren by Tiffany Reisz
If you are looking for a book that tells you what BDSM is, The Siren and The Original Sinners series is the perfect pick. Nora Sutherlin is a famous erotica author, struggling to finish her latest manuscript. The very handsome and very British editor Zachary Easton agrees to take on her book. The only thing he wants in return is total control. As Zach and Nora work together, they see new shades of each other, as fascinating as it is arousing. Also in the picture is the very handsome and sinful Father Soren.
Related: Planning To Try A Little BDSM? Here Is A Beginner's Guide To Help You Sail Smoothly
3. Your Dad Will Do by Katee Robert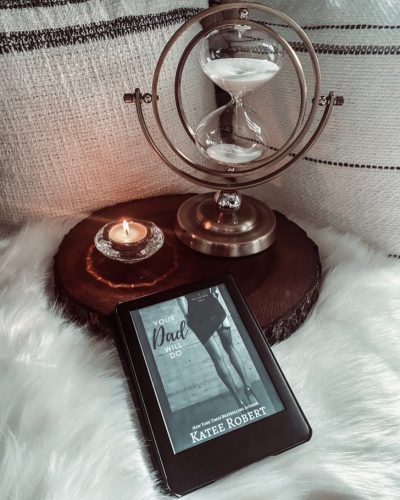 Now, this book might just cause an uproar. If you are one for taboo forbidden romances, Your Dad Will Do is the perfect pick. If you are one for the 'Daddy' fantasies, you've met your match. Everything Katee Robert writes is trying to get you out of your panties and into a cold shower. Lily has been fantasising about her fiancé's father for two years. When she catches her fiancé cheating on her, she thinks the only acceptable revenge is sleeping with his father. When Shane and Lily get together, it's a pure sexual explosion. This erotic romance novel is as filthy as it gets and unapologetically forbidden. Pick it up only at your own risk.
4. Gabriel's Inferno by Sylvain Reynard
Another forbidden romance on this list of steamy novels that will burn up your sheets. Professor Gabriel Emerson is a Dante specialist by day and a pleasure hound by night. When the naive Julia Mitchell enrols as his graduate student, she gets caught up in the enigma that is Gabriel Emerson. Soon, their past and present collide. Gabriel embarks on a journey of sin, seduction, and redemption. The erotic romance novel series has also been turned into a series on Passionflix.
5. Outlander by Diana Gabaldon
Time travel, a hot Scot, romance, and more. That's Outlander. Claire Randall, a former combat nurse, gets transported to the year 1743, while she is honeymooning with her husband. Back from the war in real-time, she gets thrown back into another in 1743. There, she meets a gallant Scot warrior, James Fraser who tempts her like no one else. Claire is torn between the love of two very different men in two very different timelines. This is another series that has been adapted into a show. If you have seen the show on Netflix, you know the steam is on high flame in this one. The books are equally hot and steamy, guaranteed to help you climax.
6. The Wedding Date by Jasmine Guillory
This debut novel by Jasmine Guillory promises fun, flirtation, romance, and, of course, steam. When Drew Nichols meets the intriguing Alexa Monroe on an elevator, he asks her to be his plus one to his ex's wedding. As they spend time together, they have more fun than they imagined and more chemistry than they know what to do with. Soon after the festivities, Drew flies back to LA and back to his job as a paediatric surgeon. Alexa too heads home to Berkeley as the mayor's chief of staff. All's good, except Drew and Alexa can't stop thinking of each other. Will their long-distance dating be a disaster or will it be the solution to what they really need? Their bedroom shenanigans burn up the sheets and you can take some inspiration from it.
7. Joy Ride by Jayne Rylon
Jayne Rylon is another author whose books are pure sex and seduction, and Joy Ride is no exception. Best friends Walker and Dane are a united team. Their bonds were strengthened by their tumultuous teenage years. The only person who could throw a wrench in their lives is Joy, Dane's first crush and Walker's step-sister. Both of them have loved her for the longest time. Nine months later, she walks into their motorcycle shop with a newborn in her hands. The father? Either Walker or Dane. Once they left her to protect her from themselves, now they are determined to take her forever. Forbidden romance, hot and steamy sex, and sizzling romance, Joy Ride has it all.
Featured Image Source
Related: Ethical Porn: Where To Find It And Why It's So Much Better Than Free Porn