If you don't fit the category of people who love butter and roasted chicken, we get it. Not everyone is a fan of meat, and the vegan options available now are setting the bar super high. Now, you have better options for a vegan diet than just your basic tofu. So, if you want to add a little spice to your menu, here are some delicious and easy vegan recipes for your next meat-free bbq sesh! We bet your meat lover friends will enjoy these too!
Related: Vegan Restaurants You Need To Bookmark For Your Next Dine-Out In Delhi
1. Cauliflower Hot Wings
Image Source
Ingredients:
1 head of cauliflower
3/4 cup all-purpose flour (maida)
1/4 cup water
3/4 cup unsweetened almond or soy milk
2 tsp garlic powder
1 and 1/2 tsp paprika powder
3/4 cup breadcrumbs (omit for a gluten-free version)
1 cup spicy BBQ sauce
1 tsp sriracha sauce (optional)
2 green onions, cut into rings
Salt and black pepper, to taste
Method:
Start by preheating the oven to 350°F and cutting the cauliflower into bite-sized florets. Then, in a large bowl, combine all-purpose flour, almond/soy milk, water, garlic powder, paprika powder, salt, and black pepper. Stir until well combined. Dip the florets into the batter, so they're completely coated, and roll them in the breadcrumbs. Line a baking sheet with parchment paper and lay the cauliflower florets on it side by side, don't put them on top of each other. Bake for 25 minutes at 350°F.
Once done, transfer the cooked cauliflower wings to a bowl. Combine the BBQ sauce with a teaspoon of sriracha sauce and pour it over the baked cauliflower wings. Make sure to evenly coat them from all sides by stirring a few times. Now, put the coated hot wings back on a baking sheet lined with parchment paper and bake again for 20 minutes at 350°F. Serve hot with green onions and vegan aioli or vegan ranch sauce. Enjoy!
2. Grilled Ranch Potatoes
Image Source
Ingredients:
1 kg
baby potatoes halved
1/2 packet ranch seasoning
Freshly ground black pepper, to taste
Ranch dressing, for drizzling
Chopped fresh chives, for garnish
Method:
Preheat the grill to medium heat, and in a large bowl, toss potatoes with olive oil, lemon juice, ranch seasoning, salt, and pepper. Then, thread the potatoes on skewers and grill until tender and lightly charred, for about 15 minutes. Once done, drizzle with ranch, garnish with chives, and enjoy this quick and easy vegan recipe for a bbq night!
3. Caprese Eggplant Steaks
Image Source
Ingredients:
2 tbsp extra-virgin olive oil
1 cup cherry tomatoes, quartered
1 cup mini mozzarella balls, quartered
1/4 cup packed basil, torn into pieces
Balsamic glaze, for drizzling
Crushed red pepper flakes (optional)
Salt and fresh black pepper, to taste
Method: 
Preheat the grill over medium-high heat and slice eggplants lengthwise into long steak pieces. Brush them with oil and season with salt and pepper on both sides. Then, place the eggplants on the grill and cook until tender, but not falling apart, for about 2 to 3 minutes per side. Once done, place on a serving platter and top them with tomatoes, mozzarella balls, and basil. Drizzle with balsamic glaze and top with a pinch of red pepper flakes, if desired, and enjoy a tasty meat-free meal!
4. Grilled Cilantro, Lime, and Paprika Corn on the Cob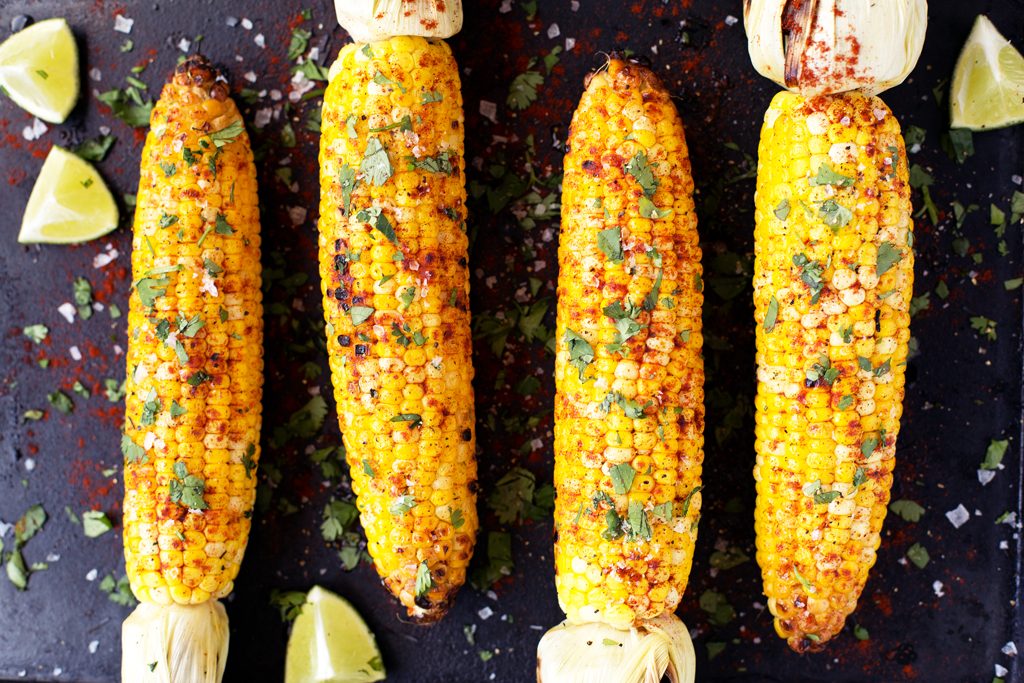 Image Source
Ingredients:
4 full corns
2 tbsp virgin coconut oil
Smoked paprika, to taste
1 lime, cut into wedges
A handful of fresh cilantro, chopped
Sea salt, to taste
Freshly ground black pepper, to taste
Method:
2 medium zucchinis, cut into thick half-moons
300 gms baby mushrooms, cleaned and halved
1 medium red onion, cut into wedges
2 small lemons, cut into eighths
3 tbsp extra-virgin olive oil
1 garlic clove, grated
1 tsp freshly chopped thyme, oregano, or rosemary
Pinch crushed red pepper flakes
Salt and black pepper, to taste
Method:
Preheat the grill on medium-high heat. Thread each skewer with zucchini, mushrooms, onions, and lemon pieces, alternating each. In a small bowl, whisk together oil, garlic, herbs, red pepper flakes, and brush all over skewers. Then, season skewers with salt and pepper. Start grilling, turning occasionally until vegetables are tender and slightly charred, for about 12 to 14 minutes. Serve this scrumptious and easy vegan dish hot with your favourite dips.
8. Vegan Stuffed Mushrooms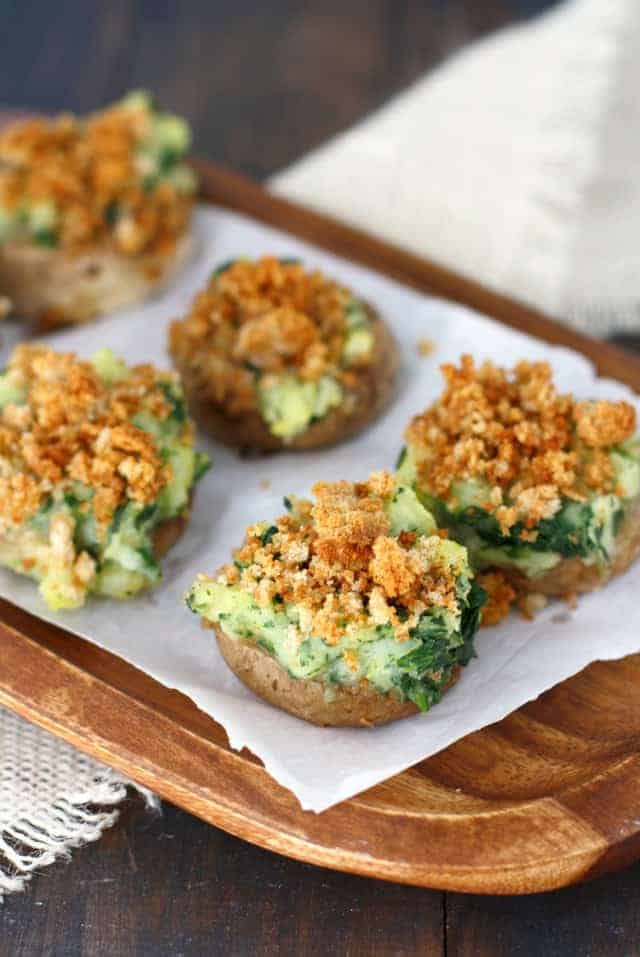 Image Source
Ingredients:
12 white button mushrooms, cleaned and stem removed
1 cup potatoes, mashed
1/2 cup frozen spinach, chopped, thawed, and drained
1/2 cup bread crumbs
2 tbsp melted vegan buttery spread
1/4 tsp garlic salt
1/8 tsp pepper
Method:
Preheat the oven to 350°F. Put the mushroom caps on a foil-lined cookie sheet for easy cleanup. Mix the mashed potatoes with the spinach and spoon into the mushroom caps. Then, mix the breadcrumbs with the melted buttery spread, garlic salt, and pepper, and pile on top of each mushroom. Bake at 350 degrees for about 20 minutes and keep checking on them so the breadcrumbs don't get too brown. Serve immediately.
Featured Image Source
Related: Delicious And Easy Korean Recipes For Your Next Comfort Meal