Eggs are one of the most protein-rich food items we can find in our pantry and they are also relatively inexpensive. The protein content in eggs not only keeps you full for a longer period of time but also increases your metabolism. Eggs are a very healthy breakfast option, hence, a good addition to your diet. Most egg recipes are quite easy to make and don't need a lot of time or effort. So, here are five quick and easy egg recipes that you can make within 10-30 minutes. Serve these egg recipes for breakfast or have them as a nutritious midday meal.
Related: 8 Non-Boring, Healthy Breakfast Recipes Which You Can Make In 30 Minutes Or Less
1. Tortilla de patatas
Ingredients:
3-4 eggs
2 medium onions, thinly sliced
3-4 medium potatoes, thinly sliced
Salt to taste
Method:
Heat some olive oil in a pan. Add the thinly sliced potatoes and onions to it. Make sure the oil fully covers the potatoes and onions. Cook them on medium flame, but don't let the potatoes fry completely. Season the mix with 1 and 1/2 tsp of salt.
Drain the potato and onion mix and keep it aside in a bowl to cool. Put aside the oil for further use. In the meantime, check the potatoes for salt and season if needed.
Crack the eggs in another bowl and beat them properly. Add 1/2 tsp salt to it. Then, pour the eggs into the potato and onion mix. Toss the mix properly so that the potatoes and onions are fully coated.
Add a little bit of oil to a shallow frying pan or a skillet. Once the oil is hot, pour the egg, potato and onion mixture into it. Cook for a few minutes, then flip it over.
Take off from the heat once fully cooked. Serve the tortilla de patatas warm.
2. Deviled eggs
Ingredients:
6 hard-boiled eggs
1/4 cup mayonnaise
1 tsp white vinegar
1 tsp yellow mustard
Salt to taste
Black pepper powder
1 pinch paprika
Method:
Peel the boiled eggs and cut them in half lengthwise. Remove the yolks and put them in a bowl. Keep the egg whites aside.
Mash the yolks with a fork. Add mayonnaise, yellow mustard, white vinegar, salt, and black pepper, and mix well.
Stuff the egg whites with the yolk mix, garnish with paprika, and serve.
3. Chilli Garlic Breakfast Quesadillas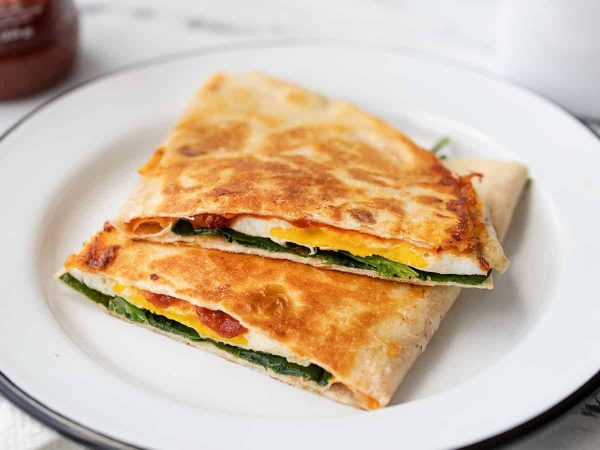 Ingredients:
1 8-inch tortilla
1-2 eggs
1 tsp butter
1 tsp chilli garlic sauce
1/4 cup cheddar cheese, shredded
1/2 cup spinach
Method:
Add butter to a skillet and put it on medium flame. Once it is hot, add the eggs and fry till they are over easy i.e. with the yolk still runny and not fully cooked.
On the tortilla, spread some chilli garlic paste on one half and add shredded cheddar over it.
Add the cooked egg on top of the chilli garlic paste and shredded cheese. Top it with spinach and fold the tortilla.
Transfer the tortilla to the skillet and cook over medium flame till both sides are brown and crispy and the cheese is melted.
Slice the quesadilla in half and serve.
4. Egg Salad
Ingredients:
4-5 eggs
3 tbsp mayonnaise
1 tsp Dijon mustard
1/4 tsp lemon juice
1/8 tsp salt
1/8 tsp pepper
Method:
Boil the eggs in boiling water for 10-12 minutes. Once that's done, run the eggs under cold water to dip them in an ice bowl for a few minutes.
Peel the eggs and chop them into half-inch pieces.
In a bowl, add the chopped eggs and the rest of the ingredients and mix them well. Mash the egg yolks as you mix. Add any seasonings if needed.
Serve immediately or refrigerate until you are ready to serve. You can also use this mix as a sandwich or burrito filler.
5. Scrambled eggs with spinach and feta
Ingredients:
5-6 eggs
1/2 cup spinach
1 tbsp butter
1/4 cup feta
1 pinch red pepper, crushed
1 pinch of black pepper powder
Salt to taste
Method:
Chop the spinach into small pieces. Crack the eggs into a bowl, add a pinch of salt, and whisk well.
Place a skillet on medium heat and add butter. Once the butter has melted, add the chopped spinach and cook till it softens.
Pour the eggs into the skillet and scramble them.
Once done, add some crumbled feta cheese to the scrambled eggs and garnish with black and red pepper.
Related: How To Make Gordon Ramsay's Creamy Scrambled Eggs: 4 Steps
Featured Image Source