Indian weddings have changed in 2020. From the big fat desi wedding, the trend, logically, has shifted to small and intimate affairs. Even if the main wedding is held at an outside venue, people now prefer to host ceremonies like the haldi and mehendi at home. And because of this shift, they also don't want to spend a ton of money on hiring wedding decorators. We get it, and that's why we have some really cool DIY haldi and mehendi decor ideas that will amp up the festivities. You'll also have so much fun creating the decor with your cousins and closest friends!
1. Classic marigold
Image Source
If you are going for a traditional vibe for your haldi, try the classic marigold decor. You can make various backdrops out of these flowers depending on the number of flowers you want to use. You can also use marigolds in flowerpots or in a rangoli.
2. Make a canopy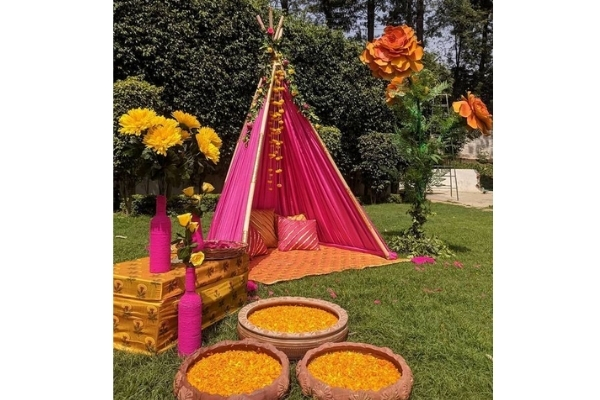 Image Source
It's time to borrow your mom's vibrant dupattas! Colourful dupattas are a great way to add a fun element to your haldi or mehendi. They look gorgeous even as a simple backdrop, but you can always go all out and make a canopy out of various dupattas. It's super easy to make and inexpensive as well.
3. Tassel hangings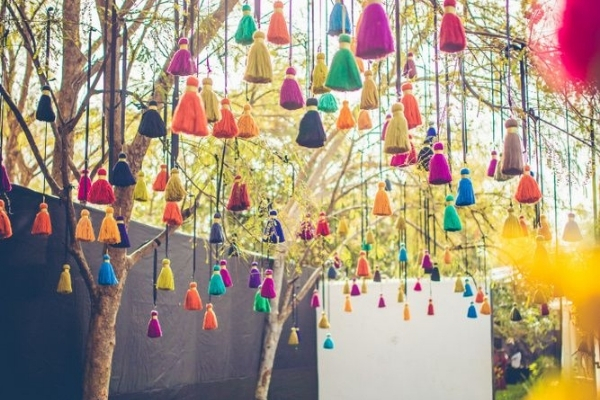 Image Source
Another cool DIY for haldi and mehendi decor is hanging tassels. This is one of the best DIY decor ideas if the ceremony is being held in an area with trees. For this DIY, all you have to do is get some colourful tassels and fix them on branches at varying heights. It's not much work but it does take time to do. However, the results are gorgeous. So if you can pull this off with the help of your adventurous cousins, do it.
4. Drapes and fairy lights
Image Source
If you are a fan of fairy lights, this is the DIY for you. For this, you will need a bunch of fairy lights and some drapes. You can also hang a few dupattas, if you want. To execute this DIY, fix the drape in the background with fairy lights on top. The perfect aesthetic backdrop for all your Instagram stories and posts!
5. Paper fans
Image Source
Want to do something quirky? Paper fans are the way to go. You can make them in different colours or keep it monotone. The best part is that they are super easy to make. Intersperse these fans with aesthetic frames in different shapes to complete the decor.
Watch the video here to know how to make paper fans.
6. DIY photo wall
Image Source
Photos are a great way to add a personal touch to the decor. You can put your old childhood photographs or maybe some cute ones with your significant other. You can further decorate it with some fairy lights, flowers, or paper cutouts.
7. Customised boards
Image Source
Another DIY decor idea to try for your haldi or mehendi is customised boards. They are super easy to make. For this, all you need is cardboard and a stand, if needed. Paint the board and write a quirky slogan with the couple's name or just two words announcing the function. You can also write quotes or whatever the bride and groom want. Instead of cardboard, you can also use chalkboards for a boho vibe.
8. Vintage bicycle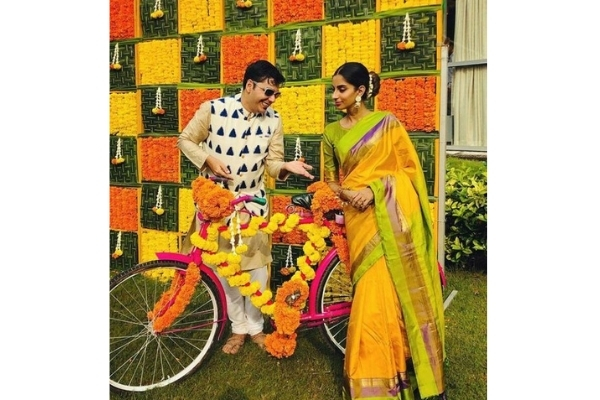 Image Source
If you have an old bicycle or scooter in the garage, spray paint it and decorate it with some flowers or lights. This will add a retro vibe to your pre-wedding festivities. You can also use this DIY as a prop for your pictures.
Feature Image Source
Related: Turn Your Quarantine Wedding At Home Into A Dream Affair: Here's How