Late actor Sushant Singh Rajput's last film is all set to hit the online screens in a few weeks. Dil Bechara's first trailer was launched online on July 6. Within the first few minutes, the trailer crossed 150K views on YouTube and, in less than 24 hours, it became the world's most-liked YouTube trailer. Yes! At 5.4 million likes, the trailer of Dil Bechara has even left the trailer of Avengers: Endgame behind – which still has 2.9 million likes since its release on March 14, 2019. In fact, the trailer is even trending at #1 on YouTube.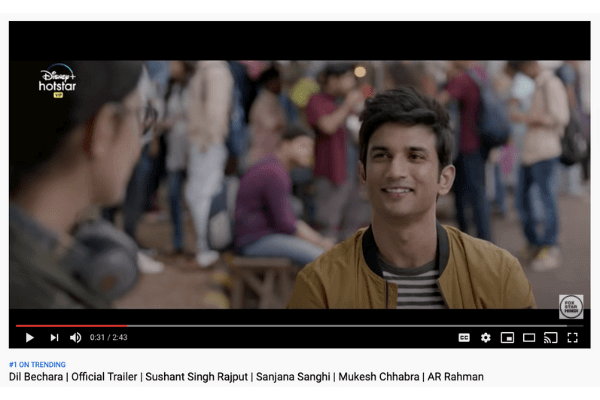 Image Source
Sushant had a fan following since his Pavitra Rishta days but somehow, that fan base didn't get significantly bigger with his entry into films. There were no trending topics before his film releases, there were no campaigns to support his projects, and no place for him in the 'mutual admiration clubs' with the bigger celebs. In fact, with nepotism doing its job, the actor often got left behind.
However, since his demise, there has been an army of fans on Twitter demanding a CBI enquiry into his death. There are many celebrities too who are demanding a deeper investigation into his demise, showing a newfound love for Sushant Singh Rajput. Fan clubs are now campaigning to make this film the biggest release ever.
Would the Dil Bechara trailer still get the same love had things been different?
My question is – had Sushant been alive today, would these fan clubs and celebrity admirers still be there for him? Would the Dil Bechara trailer be the most-liked trailer in the world or say even the 20th most-liked trailer in India? I don't think so. See, there's no doubt in how good of an actor he was, but there's definitely a lot of doubt on how good we were to him.
Related: Selfmusing: Sushant Singh Rajput's Team Launches Website In His Memory
As humans, we love all things shiny; our eyes search for the big stars! We can blame nepotism all we want, but who made those star kids famous? We did. Who made their movies cross hundreds of crores on the box office? We did. Our brains, riled up with gossip, make us go to the cinemas to see if 'Amitabh Bachchan ka beta is as good as him,' and 'if Chunkey Pandey ki beti manages to break out of her father's stereotype.' Actors like Sushant Singh Rajput and Rajkummar Rao often get our attention on digital screens and television sets only. We are the reason why their movies don't make as much money, despite a massive amount of talent.
This is a fault in our acts – let's fix it!
If there's one thing that we can take away from this entire episode, it is to be a better audience. Let's give credit where it's due, irrespective of who's the big banner dad or who's a newcomer with no godfather. Let's not wait for another tragedy like this – because there's really no point in fighting for talented actors once they're gone.
Image Source
These online campaigns won't bring Sushant back. Let that sink in.
Related: Relive Sushant Singh Rajput's Memorable Career With These Films