The wedding season is finally here. And while people are opting for intimate weddings, there is no expense spared by the brides to look their best on the big day. And why not? Your wedding day is all about looking and feeling the best without compromising on the latest trends and comfort. Therefore, having the right pair of footwear is as important as picking the right outfit. Because how else are you going to dance through the night and feel great while doing it? So, here are some super chic, trendy, and comfortable bridal footwear options for all the brides out there!
Related: #ShopLocal: Indian Footwear Brands That You Need To Add To Your Collection
1. Comfortable metallics
A classic pair of metallic heels can go a long way in keeping you trendy and comfortable. And they don't need to be sky-high heels; your shoes can also be simple, subtle, and flaunt beautiful block heels. They are far more comfortable and can be paired with any outfit easily.
Image Source
2. Stylish sneakers
Sneakers are the most comfortable form of footwear ever invented. So, if you are in the mood to get a stylish pair of sneakers for your big day, you are on the right track. A little print, a little design, and a whole lot of comfort make for a fun event! Perfect for a daytime event.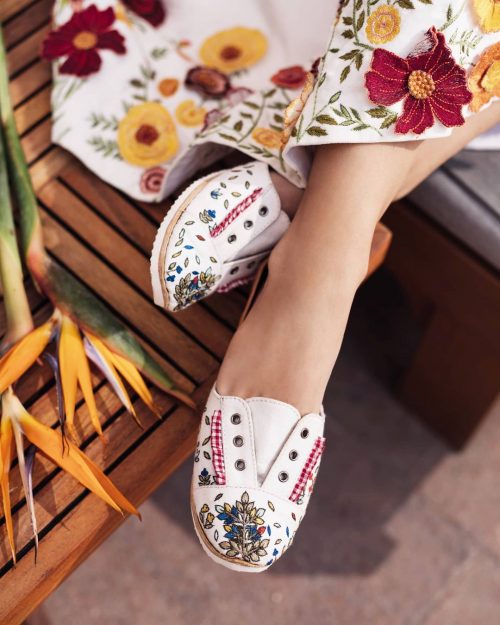 Image Source
3. Blingy ballerinas
Add a little oomph and glitter to your outfit while keeping it super comfortable with a pair of ballerinas. You can opt for some bling and shimmer in any shade like rose gold, silver, or anything else, depending on your outfit. Also, a pair of ballerinas is such a lifesaver and doesn't kill your ankles!
Image Source
4. Classy flat shoes
Efficient to wear all day long and super classy, if you are a bride looking to chill on her big day, a pair of embellished flat shoes is just what you need. And a little embellishment or work will go perfectly with your whole bridal look.
Image Source
5. Sparkly mules
Mules are trendy and look super chic as bridal footwear. And all for good reason! They are super comfortable and perfect as party shoes that go with any outfit. So, if you haven't gotten your hands on a pair of mules yet, you know what to do!
Image Source
6. Customised footwear
Add a little personal touch to your festivities by getting customised footwear. There are plenty of crazy ideas on how you can get shoes customised. So, pick your inspiration and get something that is super chic and matches your personality.
Image Source
7. Embellished chunky heels
If you are a fan of heels, a pair of embellished chunky heels would be perfect for your wedding festivities. So, strap on your heels and get ready to dance the night away because they are so comfy and glamorous!
Image Source
8. Dainty juttis
Juttis are forever going to be the most loved and iconic bridal footwear option for ladies who dread heels. With multiple designs, shapes, and customisations, a pair of juttis is a must-have for your bridal trousseau. They look so elegant and can be worn all day long without getting sore feet.
Image Source
9. A pair of sequined kolhapuris
Just like a pair of juttis, a pair of kolhapuris is equally loved by brides for their chic look and comfort. And you can add a little bling and oomph to your outfit by going for something that has embellishments or sequins on it. So, get ready to shine through the wedding festivities and be on your feet comfortably all night long!
Image Source
10. Blingy sneakers
Sneakers don't have to be limited to a small function; they can be part of your main bridal ensemble too. Slip into a comfortable and trendy pair of sneakers because there is going to be a lot of running around. And if you are someone who is a fan of sneakers, there's nothing more perfect than sliding on a blingy pair for your evening wedding or reception.
Image Source
Feature Image Source
Related: Makeup Artists You Should Bookmark For The Upcoming Wedding Season