There's nothing a good cup of coffee can't fix. But finding a good cafe or coffee shop when you are travelling is like a game of Russian roulette. If you are planning a weekend trip to Chandigarh, the City Beautiful has a variety of cafes for you to visit and enjoy a good cuppa. Here are some of the most popular coffee shops in Chandigarh you just can't miss.
1. Indian Coffee House
One of the oldest coffee shops in Chandigarh, Indian Coffee House is a fan favourite of locals and celebrities alike. Walking into Indian Coffee House is like invoking a sense of nostalgia. This also happens to be Bollywood actor Ayushmann Khurrana's favourite coffee shop in Chandigarh, so you can imagine how good it would be. The cafe has a retro vibe and serves a bomb filter coffee along with some of the best south Indian food choices. Though the place doesn't look as fancy as Starbucks, Indian Coffee House is guaranteed to be a coffee lover's heaven.
Where: SCO 12, near Neelam Cinema, 17E, Sector 17, Chandigarh
2. Backpackers Café
A traveller's favourite, Backpackers Café is the perfect hangout spot whether you are going with friends, on a date, or going alone. With great coffee, food, and amazing music, Backpackers Café is a favourite among travellers and youngsters. Their all-day breakfast menu is a fan favourite. Don't forget to give their spaghetti a shot if you go there.
Where: SCF 16, Inner Market, 9-D, Sector 9, Chandigarh
3. French Press Café
If you are a fan of a good cup of French press coffee, this is the place to go. Known for its handcrafted brewed coffee, French Press Café is also home to some delicious European food like a mean breakfast quiche. With cosy seating and light music, French Press Café is the perfect place to chat with friends or even to work peacefully.
Where: SCO-17, Sector 16 D, Sector 16, Chandigarh
4. Cafe JC's
If you are looking for a place to take your four-legged family members, Cafe JC's is a great choice. A pet-friendly place, the cafe has menu options for the furry ones and their human friends. With an ambience that boasts chic, the interiors are a beauty while the outdoor seating under the starry skies is quite lavish. Cafe JC's promises food, laughter, and a whole lotta coffee!
Where: Coal Depot Complex, Shop No. 2 & 3, Azaadi Rte, 10D, Sector 10, Chandigarh
5. Books N Brew
Books N Brew is a reader's dream cafe in Chandigarh. One of the cosiest book cafes in the city, Books N Brew offers a vibrant decor, delicious food, live music, board games, and most importantly, a horde of books to its patrons. Their collection of books will make any bookworm swoon. An affordable cafe that is perfect for the younger as well as the older crowd, it also has a hand-beaten coffee to die for. Books N Brew also holds book readings and open mics regularly, so you may have just found your favourite spot.
Where: SCO 8, 1st Floor, Udyan Path, Sector 16-D, Chandigarh
6. The Hedgehog Café
Another book cafe in Chandigarh, The Hedgehog Café is known for its books, food, and peace. Even their menu is reminiscent of a novel, divided into chapters that serve you breakfast, salads, sandwiches, desserts, and beverages. Their beverage menu also has options for people who are lactose-intolerant. Their Cappuccino Tarts, Peter Panini, and Mississippi mud cake are some of the must-haves.
Where: Inner Market, SCF 12, Sector 7-C, Sector 7, Chandigarh
7. The Willow Café
Styled like a cosy country-style cafe, The Willow Café is one of the most Instagrammable cafes in Chandigarh. Serving Anglo-Indian fare, the cafe promises comfort in its delicious food. Whether you choose their indoor seating that features opulent sofas and lavish upholstery or their rooftop garden seating, you will enjoy this place thoroughly.
Where: Shop No, 01, Azaadi Rte, 10D, Sector 10, Chandigarh
8. Café Nomad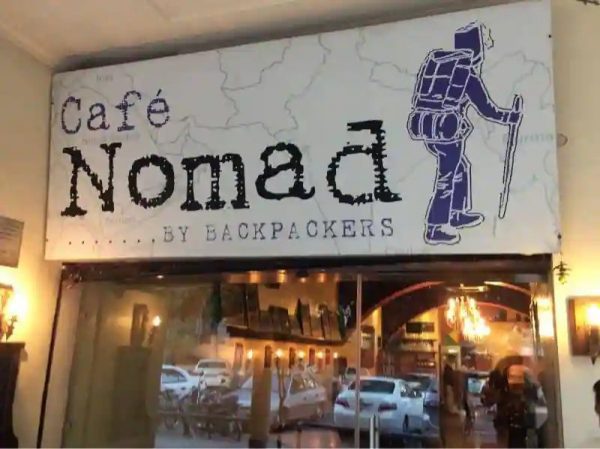 Café Nomad is like a cafe sitting in the middle of a bustling bazaar in a middle eastern country. It serves Greek and Mediterranean food and its quaint ambience will soothe the soul. Café Nomad is the perfect choice for the nomadic soul, and if you are visiting Chandigarh, make it a point to stop by this cafe. Their saffron and cinnamon-cured Moroccan tagine and falafel are considered to be the best in town.
Where: 1914, Sarovar Path, Sector 7-C, Sector 7, Chandigarh
9. Kamaa Cafe
One of the most high-end cafes in Chandigarh, Kamaa Cafe screams luxury. With elegant interiors and on-point service, the cafe will treat you like royalty. The graffiti on one of the walls adds a quirky charm to the place. Kamaa Cafe is known for its sushi and subs, and its cinnamon coffee is a fan favourite.
Where: SCO 15A, Front Side, Madhya Marg, Sector 7-C, Chandigarh
10. Virgin Courtyard
This Mediterranean-style cafe with a courtyard and pebbled pathways gives you the feel of sitting in a cafe in Greece or Spain. Virgin Courtyard gives you a fine-dining experience with Italian cuisine and wines. It's the perfect choice for a candlelight dinner or brunch with friends. The Ravioli, Risotto, Sangria, Tiramisu, Lasagne, and Blueberry Cheesecake are their bestsellers. Don't miss Virgin Courtyard on your next trip to Chandigarh.
Where: SCO 1A, Sector 7-C, Sector 7, Chandigarh
Featured Image Source
Related: 8 Of The Best Coffee Places In Delhi NCR For A Delicious Midweek Break