Chikankari is one of the oldest forms of handiwork from Lucknow. The city of Nawabs is famous for two things – its scrumptious kebabs and its beautiful chikankari embroidery. Chikankari came to India through the Mughal courts as a part of the Persian nobles' culture. It started out as a white-on-white embroidery technique where the white fabric was embroidered using white threads. Even today, authentic chikankari work is found in either white or other light, pastel shades. While cotton is a favourite with chikankari artists, other fabrics like georgette, crepe, chiffon, and silk are also embroidered with this Persian art form. So, on your next trip to Lucknow, visit these chikankari shops and markets to upgrade your Indian summer wardrobe.
1. Chowk
Chowk is the most famous market in Lucknow for pretty chikankari kurtis and kurtas. This is a street market with some of the finest shops that can give you exclusive customised chikankari pieces. You can easily bargain here and get a reasonable discount.
Where: Ram Bazar, Chowk, Lucknow
2. Mumtaz Market
Mumtaz Market in Aminabad is famous for chikan embroidered outfits in unique styles and designs. One of the renowned market areas in Lucknow, Aminabad has a collection of both classic and trendy outfits. You will see a variety of clothes here, from chikankari kurtas for men to chikan embroidered sarees for women.
Where: Mumtaz Market, 27-52, Aminabad, Siraj Dokadia Rd, Aminabad
3. Janpath Market
Located in Hazratganj, Janpath Market is a fan favourite, especially with the youth. The market is home to some of the best chikankari shops in Lucknow for both men and women, including modern dresses with traditional Lakhnawi embroidery. You can get your hands on some of the finest pieces of clothing at reasonable prices here.
Where: Sushanpura, Hazratganj, Lucknow
4. Nazrana Chikan
Nazrana is a treasure trove of chikankari clothing. One of the best shops in Lucknow if you want to shop for chikankari, you'll find exceptionally embroidered kurtas and suits as well as a wide range of sarees, dupattas, shawls, bed linen, and much more. Whether you want a heavy bridal lehenga or an everyday kurti, you'll find them all at Nazrana.
Where: D-16,17,18 Janpath Market, Hazratganj, Lucknow
5. Ada Designer Chikan Studio
Ada Chikan has a wide variety of embroidery to offer its patrons. From traditional chikankari to a fusion of zardozi, aari, abla, kaamdani, and muquaish, the clothes you get here are one of a kind. Ada has hosted personalities like Sridevi and Bill Clinton, so you know they have the best stuff. Ada houses some exquisite and innovative fabrics made from the thread of bamboo, lotus, and milk. If you decide to stop by this store in Hazratganj, do check out their pashmina shawl, it is elegance redefined.
Where: 68, Mahatma Gandhi Marg, Hazratganj, Lucknow
6. Seva Chikan
Seva has a wide collection at reasonable as well as premium prices. The brand consists of a group of women who embroider the fabric which is then made into kurtas, sarees, or other outfits. Each outfit is embroidered by a single artisan as the style of embroidery differs from person to person. Seva has a wide range of stitched and unstitched outfit options for women, kurtas and bottoms for men, and hand-embroidered accessories.
Where: Multiple locations
7. Vani Anand
Get ready to go broke, because Vani Anand is a luxury boutique that will present you with some stunning sarees and anarkalis. The designer employs local artisans and traditional embroidery techniques to create some unique designs, including motifs and shading. It might burn a hole in your pocket, but you'll be the talk of the town in a Vani Anand creation.
Where: B-17, Sector A, Mahanagar, Lucknow
8. Bhairavi's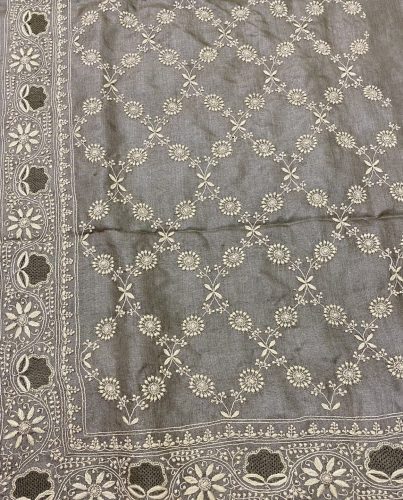 Bhairavi's is one place in Lucknow that creates heirloom chikan pieces. Along with apparel, Bhairavi's also has linen for home furnishing and decor. Whether you need everyday chikan clothing or an outfit for a special occasion, you'll find it all here.
Where: 311, 11, Kamla Nehru Marg, Chowk, Lucknow
Featured Image Source