Buying engagement rings is one of the most exciting parts of wedding shopping. Whether you're buying rings together or separately, finding the perfect ring is quite thrilling. There are a number of options out there, from diamond engagement rings to the less common ones with coloured stones. You just need to know what kind your significant other would prefer.
But before you set out shopping, there are several things to keep in mind before you choose the final ring.
You don't have to choose a diamond.
Diamond engagement rings look beautiful. But they're quite common now. Unless the diamond is extraordinarily large and ridiculously expensive, the ring won't stand out in a social setting. If being unique is your aim, you can also choose a coloured stone like a sapphire or an emerald. These stones are much rarer than diamonds and are difficult to come by. But most jewellers offer cheaper alternatives which look exactly like the real thing.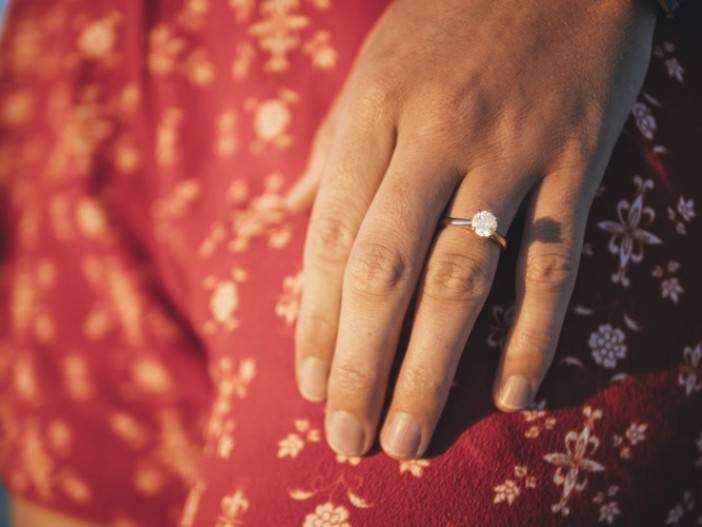 Image Source
Do you want a big diamond or a shining diamond?
If you are buying a diamond ring, you need to know how big you want it to be. Do your research on the critical Cs – cut, clarity, colour, and carat. You should know that the cost of diamond engagement rings go up dramatically depending on these factors. If you want a bigger diamond, you might have to compromise on the colour and clarity of the diamond. And if you do have to choose between either of them, we would suggest you go higher on the clarity and colour instead of the carat. The bigger the diamond, the more its impurities will show.
Do you want to match rings?
A lot of couples choose matching engagement rings for each other. Sometimes, the design has sentimental value and sometimes, it's just fun. Before you head out to buy a ring for your significant other, you should think about whether or not they might want matching rings. Finding couple engagement rings is a lot harder than a single one, so you'll need to look harder. You may also have to find a design online and get a jeweller to make it.
Image Source
Is it wearable?
A lot of people tend to go overboard with the size of an engagement ring. As a result, the ring turns out to be unwearable on a daily basis. The cut and setting of the stone should be in a comfortable design. If the stone is set too high, it will keep getting caught in clothes or bang against objects. That could also mean losing the stone accidentally. Similarly, the cut of a stone is important too if you want your significant other to wear the ring every day. It should be something that they will at least like, if not love.
Is it an evergreen design or the latest trend?
Never go by the latest trends when you're choosing an engagement ring. This is something that is supposed to last forever and should have an evergreen design. If it's only the latest celebrity trend, you risk your significant other losing interest in the ring and disliking it after a while. Instead of risking getting your feelings hurt, choose a design that has lasted through the years and seasons. A classic ring will never go out of style.
Make a wise choice when you're choosing an engagement ring. After all, this is a representation of you on your fiance's finger.