Whether you're stepping out for a small wedding or celebrating Diwali at home, you need the right attire. With Indian wear, it's not always easy to get dressed for an occasion, especially if you're going to wear a saree. While the elegance of a saree is unmatched, the efforts and precision needed to tie one are also quite unique. That's why we're so thankful for the brands which make gorgeous pre-draped sarees. We compiled a list of such brands for pre-draped sarees so that your festive and wedding look is elegant and hassle-free. With the elegance of a saree, you also get a touch of the latest trends to make you stand out.
Check out these designers and brands for pre-draped sarees and pick your favourite.
1. Sana Barreja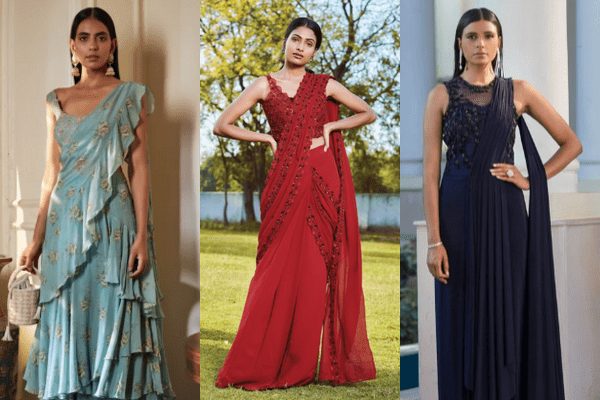 A blend of contemporary styles and romantic silhouettes, Sana Barreja's pre-draped sarees are perfect for a Diwali party or a wedding cocktail. They also make for great trousseau additions for a bride.
Click here to shop Sana Barreja's designs.
2. Vivek Patel Studio
Inspired by nature, Vivek Patel's designs are ideal for those who like a floral touch in their outfits. The brand's saree gowns are perfect for an evening cocktail or a day ceremony. The forms and silhouettes of the brand are quite diverse, so there's something for every kind of taste.
Click here to shop Vivek Patel Studio's designs.
3. Mint Blush
The fun blouses and quirky designs of Mint Blush make their sarees perfect to liven up at-home celebrations in Diwali season. The colours make it easy to accessorise and change your look completely every time you wear one of their designs.
Click here to shop Mint Blush's designs.
4. Varun Bahl
Apart from being one of the leading couturiers of India, Varun Bahl is also known now for his pret line. Part of this line is a collection of pre-draped and pre-stitched sarees which are not restricted to wedding fashion. Experiment with your look for the next party with one of Varun Bahl's exquisite pieces and watch heads turn.
Click here for more details.
5. Vikram Phadnis
Vikram Phadnis' designs have always stood out for their unique silhouettes and prints. His pre-stitched sarees are no different. They can be worn for multiple occasions like weddings, Diwali parties and even formal wear for work parties.
Click here to shop Vikram Phadnis' designs.
6. Mandira Wirk
From traditional to contemporary, Mandira Wirk's designs are timeless. The designer's pre-draped sarees represent that unique fusion of modernity and tradition in their silhouettes and cuts. Perfect for a winter brunch or cocktail.
Click here to shop Mandira Wirk's designs.
7. Rimzim Dadu
Fast becoming a celebrity favourite, Rimzim Dadu's sarees are like an elegant rebellion in fashion. The brand's gorgeous metallic sarees especially stand out in any crowd.
Click here to shop Rimzim Dadu's collection.
8. Mani Bhatia
Perfect for a bridal trousseau, Mani Bhatia's pre-draped sarees make for beautiful yet easy fashion. From dinners to weddings, these sarees are appropriate for a wide variety of occasions. The use of breezy ruffles makes these sarees great for summer weddings too.
Click here to shop Mani Bhatia's designs.
9. Ekru
A joint venture of two designers, Ekta Jaipuria and Ruchira Kandhari, Ekru is known for its luxury ready-to-wear pieces and statement designs. Their Indian cuts and styles have a distinctly contemporary touch, making their outfits appeal across several different kinds of tastes.
Click here to shop Ekru's designs.
10. Anushree Reddy
Known for her gorgeous floral designs, Anushree Reddy has been a bridal favourite for years. Similarly, her pre-draped sarees are a class apart. Anushree Reddy's pieces are the kind which a fashion-conscious person needs to see only once to know it as her exquisite work.
Click here to shop Anushree Reddy's collection.
11. Masaba
A unique sense of style gives Masaba's designs an outstanding quality. From florals to bright colours, Masaba's pre-draped sarees make for quite a style statement on every occasion.
Click here to shop Masaba's designs.
Have you picked your favourite brands for pre-draped sarees yet?
Related: Unique Saree Styles And Drapes That Will Make You Stand Out In Every Crowd