We are sure you have tried every available and widely advertised brand of sanitary napkins to find the one you can rely on. We are also sure that you have thought about switching to other options sometime in your period journey – for more comfort (and lesser chances of rashes) or simply to move to cleaner, natural options. If you haven't been motivated enough to try, or are simply confused between the choices, we've got your back! Here is your go-to guide for the best alternatives to sanitary pads to make your period woes vanish.
Related: 9 Tips For Period Pain Which Will Make Your Menstrual Cycle So Much Easier
1. Tampons
Of course, you have heard of them! Of course, you have thought about using them several times! And of course, the fear of 'how to insert a tampon', 'what if it doesn't come out', and 'what if it results in infection', has deterred your decision to try them.
First thing's first. It won't NOT come out.  It can be confusing (and awkward) to use for the first time, but once you get a hang of it, you won't even feel it's there! Go swimming, running or nap in a damn yoga pose without being uncomfortable. This small plug, when inserted into your vagina, expands and soaks the menstrual blood. It comes in different sizes to suit your flow.
Just remember to change your tampon every four to eight hours (lesser than four during heavy flow). Going longer than eight hours without changing your tampon puts you at risk of Toxic Shock Syndrome, a rare but potentially fatal illness associated with tampon use.
The most easily available brand in India is O.b which, despite having no applicator works well, if you get used to it. There are many other brands of tampons, with applicators, available online such as Sofy. 
Image Source
2. Menstrual Cups
For those experiencing heavy flow, menstrual cups may be your new bestie! Don't go by its appearance and think, "How the hell do I even put it in?" It isn't that big a task, actually.
These small cute cups are made from medical-grade silicone and can hold menstrual flow up to 12 hours (wow!). Many feel they are even more comfortable than a tampon and are a breeze once you get used to the correct way of insertion. To top the goodness, you need to buy a new one once a year, with some claiming that it can be used for as long as 10 years if maintained properly.
And they are, of course, more environment-friendly than regular pads and tampons. Boondh is one such brand in India that makes sustainable menstrual cups and aims to provide them at affordable prices all over the country. These menstrual cups are healthier, more economical, and comfortable. And with the accessibility issue being tackled, more and more of us can take a go at these cups.
Image Source
Related: The Real Reason For Cravings During Your Period
3. Reusable and Organic Pads
If you are looking for chemical-free, earth-friendly options, then look no further than reusable pads. They are definitely friendlier to your vagina as well as the planet. Mostly made from layers of soft, breathable cotton, reusable pads come in different sizes and types to suit your period flow. Some even have a built-in waterproof lining. They can be washed alongside the rest of your clothes (although, you may want to soak the blood stains beforehand).
One of the best available options in the Indian market are the Eco Femme reusable, organic pads. Apart from being eco-friendly, they also come in a variety of colours and prints.
Image Source
4. Period Panties
Don't like sticking pads on your panties or cups and tampons up your vagina? Your prayers have been answered with absorbent knickers, specially designed for your period days. With absorbent fabric and a leak-proof design, they are known to absorb two tampons worth of blood and come with different absorbency levels.
These magic panties are a boon for women with irregular periods and can give them freedom from waking up to dirty sheets. Just pop them in the washing machine between uses, and you are sorted.
Their popularity hasn't hit the roof as yet, but they can be found online, with some brands offering cute designs, so you don't have to compromise on your style quotient.
No more sacrificing those few pairs of unlucky panties, reserved for your period days. Hurray!
Image Source
5. Menstrual Sponges
Non-toxic, naturally anti-microbial, and environment-friendly, sea sponges are one of the newest entrants in the period world.  As is the case with tampons and menstrual cups, they are comfortable once you get the hang of inserting it right.  They adjust to the shape of your body and last a full day.
We will, however, have to wait for some more time before they are readily available in India.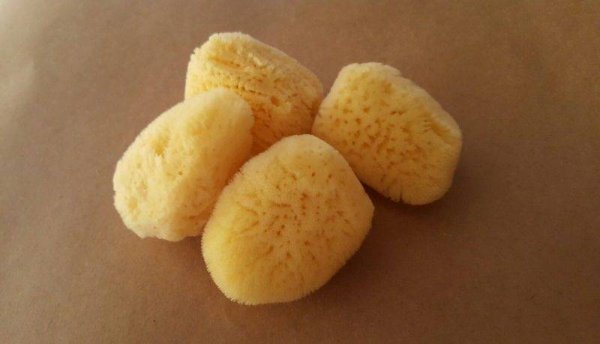 Image Source
Related: How To Get Rid Of That Strange Vaginal Odour
We can't wait for more period innovation to make our lives even simpler and the planet happier. Have you decided which one of these are the best alternatives for sanitary pads for you?