Packed with nutrition, beetroot is one of the healthiest vegetables to add to your diet in the winter. It's a great source of fiber, iron, Vitamin C and much more. Among the many benefits of this vegetable are increased immunity, which is important especially in the winter, glowing skin and a boost in energy. The best part is that it's not difficult to use in regular cooking. Adding beetroot to a regular recipe makes it healthier, tastier, and prettier. After all, that red tinge of beetroot is perfect for those winter, Christmas feels. Perfect to jazz up your child's tiffin or even your own! Here are some delicious, healthy beetroot recipes for the winter to keep you in the 'pink' of health.
Mark your favourite!
1. Beetroot and Carrot Salad
Image Source
Ingredients:
1 beetroot
1 carrot
2 tablespoons peanuts, roasted
20 gms feta cheese
1/2 teaspoon lemon juice
1 tablespoon olive oil
Salt and pepper, to taste
Parsley, optional
Method:
Cut the beetroot and feta cheese into cubes, and set aside in separate bowls. Grate the carrot and add it to the beetroot cubes. In a small bowl, add the olive oil and lemon juice and mix well. Add this mixture to the bowl with the beetroot and carrot. Mix well. Add salt and pepper according to your taste.
Add the feta cheese cubes and roasted peanuts on top. If you want, you can add parsley as garnish.
Serves 2.
2. Beetroot Apple Smoothie
Image Source
Ingredients:
1/2 beetroot
2 juicy apples
1 large pear
1/4 teaspoon of ginger, grated
Method:
Peel and cut the apples and pear into small cubes. Cut the beetroot into cubes as well. Put the apple, pear and beetroot cubes in a blender. Blend for a few seconds and check. If the fruits are juicy enough, keep blending till the mixture is smooth. If they don't look too juicy, add some water and blend till smooth. Add the grated ginger, if you'd like, and blend till it looks dissolved in the smoothie. Drink immediately.
Serves 2.
3. Beetroot and Spinach Wholewheat Pasta
Image Source
Ingredients:
200 gms wholewheat pasta
1 tablespoon olive oil
1 onion, finely chopped
2-3 garlic cloves, minced
150 gms beetroot, boiled and cut into cubes
100 gms spinach
50 ml fresh cream
100 ml chicken stock
1 lemon, juiced
Fresh thyme
50 gms goat's cheese, crumbled
Method:
Boil the pasta and set aside. Refer to pasta box for specific instructions. Heat half a tablespoon of olive oil in a pan and saute the onions and garlic. When the onions are soft, remove the pan from the heat and set the onion and garlic aside. In a bowl, mix the beetroot cubes with half a tablespoon of olive oil and thyme. Put the pan back on the heat and cook the beetroot in it for 5-6 minutes. Once the beetroot is cooked, take the pan off the heat and transfer its contents to a bowl. Put the pan back on the heat and add spinach with half a cup of water. Cook until the spinach wilts.
Add the garlic and onion mixture back into the pan and stir well. Add fresh cream, chicken stock and lemon juice. Cook for about 3-4 minutes and add the boiled pasta to the pan. Take it off the heat and add the beetroot mixture to the pasta. Combine well.
Add salt and pepper, according to taste. Garnish with goat's cheese crumbs.
Serves 2-3.
4. Beetroot and Potato Tikki
Image Source
Ingredients:
3 potatoes, boiled and peeled
1.5 cups semolina (sooji)
1 teaspoon red chilli powder
3 teaspoons ginger, grated
3 beetroots
3 teaspoons chaat masala
4 tablespoons cooking oil of choice
3 teaspoons fennel seeds powder (saunf)
3 teaspoons amchur powder
5 bread slices
1.5 teaspoons garam masala powder
2 green chillis, chopped
2 teaspoon coriander powder
Salt, to taste
Method:
Pressure cook the beetroot and potatoes for about 6-7 whistles. Once cooked through, take them out of the pressure cooker and let them cool down. When they are cool enough to handle, grate the beetroot and potatoes and mix well. Add pieces of the bread slices, green chillis, red chilli powder, ginger, chaat masala, fennel seeds powder, amchur powder, garam masala, coriander powder and salt. Mix thoroughly.
Make round tikkis from the mixture and set them aside. Coat each tikki uniformly with semolina. Heat cooking oil in a frying pan and add sufficient oil to shallow fry. Cook the tikkis on medium heat until they're crispy.
Makes 10 tikkis.
5. Beetroot Chutney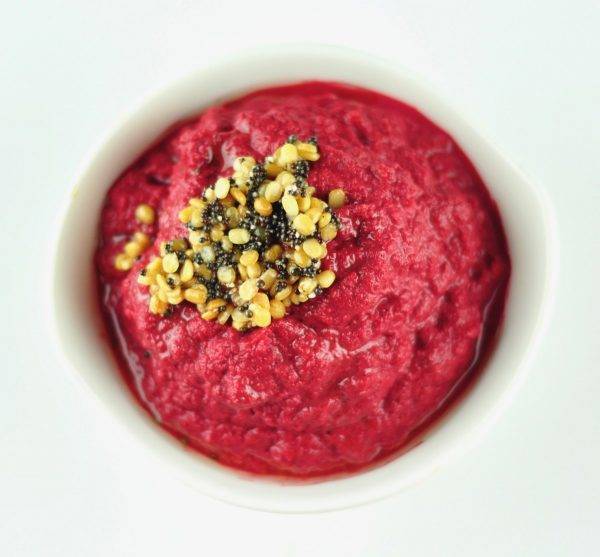 Image Source
Ingredients:
1 beetroot, grated
1 handful curry leaves (kadi patta)
2 green chillis
1-2 tablespoons sesame oil
1 tablespoon chana dal
1 tablespoon white urad dal
1/2 cup fresh coconut, grated
1/2 tablespoon mustard seeds
Salt, to taste
Method:
Heat oil in a pan on medium to low heat. Add both dals and saute them till they turn golden brown. Now, add half the curry leaves and saute for 1-2 minutes. Add beetroot and green chillis to the pan and cook for about 5-7 minutes. Take the pan off the heat and add grated coconut. Combine well. Set aside to cool.
Once this mixture is cool, put it in a grinder and add salt and about half a cup of water. Grind till the paste is smooth. Put it in a bowl and set aside.
Heat oil in another pan and add mustard seeds. When they start crackling, add curry leaves and mix well. Pour this over the beetroot chutney and mix well.
Serves 4-5.
Which of these beetroot recipes will you try this winter?