Marriages are seldom easy and finding a partner is even less so. When luck runs out in trying to find a partner by ourselves, we often turn to our parents and their undying faith in the arranged marriage system. Of course, there's no guarantee it's going to be a happy ending. But then again, life does not come with any guarantees. So, if you're thinking of telling your parents to find a good match for you, you should know all sides of the system.
These real-life experiences, shared by Redditors, might help you in making the right decision for yourself.
1. Enemies-to-lovers trope playing out IRL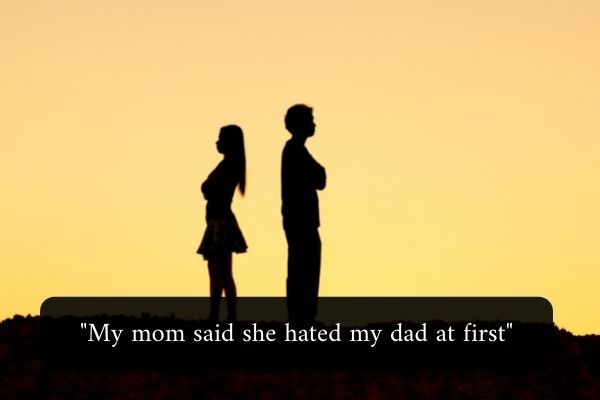 Reddit user Nansai shared their parents' arranged marriage story. "My parents had an arranged marriage and my dad said my mom was the most beautiful woman he had ever seen. My mom said she hated my dad at first hahahaha."
2. Till death do us part
"My parents were a love match. My grandparents, however, were arranged. My grandmother was married off to my grandfather when she was 14 and he was 22. He was a progressive feminist and they did not have sex until she was past 20 after she finished her schooling and things. This was in the British Raj, late 1930/early 40s times.", shared Autobahnaroo. They further added, "My grandparents were married until they died, within 5 months of each other, at the ages of 94/86. My parents…well, they divorced after 25 years of marriage."
3. At least there was some kind of happy ending…eventually
Jeremiahfira shared, "I was arranged in the Unification church by my mother (my father passed away) and my now ex-wife's parents. On the wedding night, we fooled around a little bit but we were still in a very public area to sleep in (we were in a mass wedding). A few days after, we got a hotel room in Seoul (we had this mass wedding in S.Korea) and attempted to fulfil the deed. Both of us were virgins and didn't have much of an inkling of how sex worked. It was dreadful. The sex did get way better though." Even if the marriage didn't work out, at least something did.
4. Na na karte pyaar tumhi se kar baithe
Samip19 shared, "It works. I grew up in the US and was so AGAINST an arranged marriage. It's been 10 years this Dec 26 since I met her. We've never had an awkward moment, and that's not a humblebrag. You learn to love this new person you're going to spend the rest of your life with. I'm Hindu, drink, eat meat, but my wife does none of that, yet we find common ground to meet on. I am always learning new things about her even to this day. It's definitely a plunge worth taking. It'll never be perfect, but it's way better than I thought it would be."
5. When you get a UNO reverse on your UNO reverse
masoomdon shared a rather tragic story. "Not me, rather someone I know through mutual. The guy pretends to be very well off and swimming in money, when in reality, they were barely scraping by, gave false information about business and stuff and surprisingly, the girl's family did not do too much digging. It seems that the guy's agenda was based on the properties owned by the girl's family – she is the only child, so in future, everything goes to him. Both parties were in a hurry to get the marriage done and here is the tragic kicker.
Turns out, the girl was scamming the guy as well – she has a bunch of life-threatening illnesses which require very expensive medical care and that was why they agreed to the marriage when they saw that the guy was rich and also had no properties left on their end. It would have been a comic case of both parties scamming one another if it wasn't so tragic."
6. You finally find your way through the maze
Painting a very realistic picture, nerdsofsteel88 said, "Sharing everything. Sudden loss of personal space. Figuring out schedules in the morning. Learning to be with a constant presence in the house whose opinion matters on every little decision you make. If your spouse is anything like mine, you'll gain a best friend for life who will break you out of your shell, make you try new things, create opportunities for both of you to experience new things, will be brutally honest and accept your flaws and all. Ten years down, we are a team who know each other's habits and reactions and can work with and around each other."
7. In love or not? Does it really matter?
Parents pressurising their kids to get married is nothing new, at least not in India. You reach a certain age, and you suddenly become expired or damaged goods. _onthebackburner shared, "I'm Indian and my parents' marriage was arranged. Since they lived in India at the time and arranged marriages were the norm, I don't think they thought too much of it.
Well, my dad does say he really didn't want to get married and was sort of forced into it. When my dad came to America, he didn't have enough money to bring my mother over, so she lived with her mother-in-law in India for a few years and was apparently treated like shit. Anyway, they're still married. I wouldn't say they're in love by the standard Western definition but they do respect each other. Sometimes, they hold hands but pretty sure they only had sex to procreate and they never kiss. But they think it's the best and that they have a great relationship."
8. The only true love is wealth
aliceayers69 shared, "My old boss had an arranged marriage. He was about 25, dating a white girl (they were Indian) and he was financially cut off. About a year later, his dad called and said, "If you want to be part of this family, you can't see a girl who isn't one of us, you will pick a wife, and marry her immediately." So, a week later, they flew to New Zealand, he chose a wife from a party they attended, brought her to America, and they have been married for about 5 years now."
They added, "She is sweet, has access to loads of money and drives a new Mercedes, and shops all day. From what I hear, he really has no respect for her and talks down to her. He only got married to be part of his family's wealth. All his siblings and cousins have had arranged marriages also. His cousin was in love with a beautiful Filipino woman who he secretly dated through high school and was forbidden to ever see her again. He married an Indian woman and has 3 kids. They seem happy."
9. When role-playing hands you true love
extremely_apathetic shared, "I'm American born but balanced that line between Indian and American. For American boys, I was too Indian. For Indian boys, I was too American. Never officially dated and studied a lot. Went through countless meetings with boys from Indian matrimonial sites and never clicked with anyone. As I reached my 30s, the pressure started to mount.
I had pretty much given up on finding someone and had grown content with my work and a small group of friends. My father sent me a random profile and said he wanted me to look at it. I was not at all interested. So, I pretended to be my dad and sent an email to his dad. His dad (who ended up being him) responded to my dad (me) that we should talk.
So, I send an email to the guy and wait to hear back. A month goes by and I'm like okay, fuck you then. Then, I get an email on the first of the new year in 2010. It's him. He wanted to start the year off with me. We talk on email for a bit. Then, the phone. Visit in February. Married in March. We have a 6-year-old son and he and my husband are my world. So, quasi arranged. And, I'm so grateful to my father for finding this man for me."
10. Love doesn't care how you meet
Possibly the cutest story, NikeJacket shared their cousin's tale of finding love in an arranged set-up. They shared, "My cousin is in an arranged marriage and he loves it. He always surprises his wife with flowers, they go on random trips no one else would think of going on, she never shuts up about him when they're not together. It's working out great for them. They've been married 10 years, I believe? Have 2 great kids who are both in school."
Well, whether you choose a love marriage, arranged marriage or no marriage at all, take your time. The decision to get married should not be a ticking bomb, so don't let anyone pressure you into anything.
Featured Image Source
Related: #AuntyEveTalks: Dating Is A Waste, Arranged Marriage Is #Goals, Bachche