Anger is an emotion that boils your blood, isn't that right, sugar? Your feelings are heightened and you are at your passionate best. Is it any surprise then that movies and novels love inserting an angry sex scene in their stories? After all, you are at your passionate, uninhibited best when you are angry, poppet, and sex is a great way to get rid of that pent-up frustration. But, darling, are you sure you are not crossing any boundaries in the heat of the moment?
Anger is perfectly fine
Listen, anger and arguments are completely fine. In fact, I suggest that you argue with your partner every once in a while. If there are no arguments, one of you is compromising too much and we don't want that, love. Make your intentions clear. Be passionate about your stand, but don't forget your boundaries.
You may be angry, but you've gotta have consent
If there's one thing you always need during sex, my dear, it's consent. If you feel like your partner is uncomfortable even for a second, stop right there. You are at risk of crossing a major boundary, darlin'. So, hit the brakes right away.
Are you trying to avoid an argument?
When tensions are running high, you try to deflect. What is angry sex, but a way of deflection? Poppet, if you are using sex as a means of avoiding conflict, you aren't doing your relationship any good. Enjoy the hot, animalistic boinking all you want, but don't forget to talk it out later. Non-communication is also crossing a boundary in a relationship.
Is sex a weapon for you?
Are you one of those people who uses sex to get what you want? If the answer is yes, stop right now. Whether it is having sex as a means to punish your lover or withholding sex for the same reason, neither of them bodes well. Don't be an ass and learn to talk it out rather than playing such hurtful games.
Do you bring up the argument mid-sex?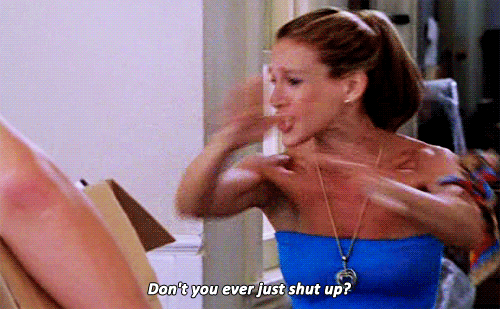 Sugar, while you are having a nookie, concentrate on that. Pay attention to the orgasm, boo, not the fight. Don't bring up your arguments in the middle of all that sweaty action. Leave it for later.
Do you push for something new?
Role-playing makes angry sex a hundred times better. Nothing like anger to lose all those inhibitions, remember? Bring out the handcuffs and the whip. But only if your partner is okay with it. Just because you are angry, you shouldn't push your partner to do something that makes them uncomfortable.
GIFs Source
Featured Image Source
Related: Roleplaying For Beginners: 6 Tips To Get Started And Scenes To Act Out